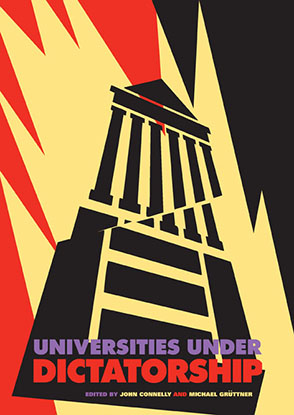 Universities Under Dictatorship
Edited by John Connelly, and Edited by Michael Grüttner
BUY
Universities Under Dictatorship
Edited by John Connelly, and Edited by Michael Grüttner
"Although the scholarship on the history of universities under dictatorships is extensive, this is the first volume to address this issue in comparative perspective. The book will help readers rethink the very content of the idea of 'academic freedom.'"
Description

Reviews

Bio

Table of Contents

Sample Chapters

Subjects
Dictatorships destroy intellectual freedom, yet universities need it. How, then, can universities function under dictatorships? Are they more a support or a danger for the system? In this volume, leading experts from five countries explore the many dimensions of accommodation and conflict, control and independence, as well as subservience and resistance that characterized the relationship of universities to dictatorial regimes in communist and fascist states during the twentieth century: Nazi Germany, Mussolini's Italy, Francoist Spain, Maoist China, the Soviet Union, and the Soviet bloc countries of Czechoslovakia, East Germany, Hungary, and Poland.
Comparisons across these cases reveal that the higher-education policies of modern dictatorships were characterized by a basic conflict of aims. On the one hand, universities were supposed to propagate reigning ideology and serve as training grounds for a dependable elite. Consequently, university autonomy was restricted, research used for political legitimation, personnel policies subjected to political calculus, and many undesired scholars simply put out on the street. On the other hand, modern dictatorships needed well-educated scientists, physicians, teachers, and engineers for the implementation of their political, economic, and military agendas.
Communist and fascist leaders thus confronted the basic question of whether universities should be seen primarily as producers of ideology and functionaries loyal to the party line or as places where indispensable knowledge was made available. Dictatorships that opted to subject universities to rigorous political control reduced their scholarly productivity. But if the institutes of higher learning were left with too much autonomy, there was a danger that they would go astray politically.
Besides the editors, the contributors are Ruth Ben-Ghiat, Michael David-Fox, Jan Havránek, Ralph Jessen, György Péteri, Miguel Ángel Ruiz Carnicer, and Douglas Stiffler.
"Although the scholarship on the history of universities under dictatorships is extensive, this is the first volume to address this issue in comparative perspective. The book will help readers rethink the very content of the idea of 'academic freedom.'"
John Connelly is Associate Professor of History at the University of California, Berkeley.
Michael Grüttner is Professor in the Department of History and Art History at the Technical University of Berlin.
Contents
Preface
Abbreviations
Introduction
1. Russian Universities Across the 1917 Divide
2. Italian Universities Under Fascism
3. German Universities Under the Swastika
4. Spanish Universities Under Franco
5. The Communist Idea of the University
6. Czech Universities Under Communism
7. Polish Universities and State Socialism, 1944–1968
8. Resistance to the Sovietization of Higher Education in China
9. Between Control and Collaboration
10. Concluding Reflections
Index
Mailing List
Subscribe to our mailing list and be notified about new titles, journals and catalogs.