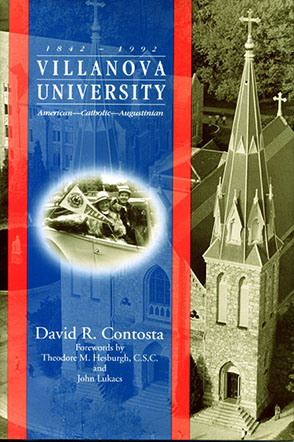 Villanova University, 1842–1992
American—Catholic—Augustinian
David R. Contosta
Buy
Villanova University, 1842–1992
American—Catholic—Augustinian
David R. Contosta
"This is a well-written, well-documented, fast-paced history of a long-lived and fully developed Pennsylvania institution."
Description

Reviews

Bio

Subjects
Villanova University is one of the nation's oldest and largest Catholic universities. Founded in 1842 by the Augustinian order, which continues to support the institution today, Villanova has seen great change and great continuity over its 150-year history. In
Villanova University, 1842–1992,
historian David Contosta presents a rich combination of text and photographs to recount the history of the school and the forces that shaped its growth.
Unlike a traditional commissioned history, Contosta's account shows Villanova in the wider context of American society. He closely examines the American culture, Catholic attitudes and beliefs, and Augustinian order that he finds were most influential in forming Villanova as we know it today.
"This is a well-written, well-documented, fast-paced history of a long-lived and fully developed Pennsylvania institution."
"David Contosta's history of Villanova is a wonderful contribution not only to our knowledge of the American Catholic past, but also to our self-understanding in the 1990s. I take pleasure in hailing its appearance and in recommending it to a much wider audience than old grads of Villanova, although they will, of course, take particular delight in the story it unfolds."
David R. Contosta is Professor of History at Chestnut Hill College in Philadelphia. His previous books include Suburb in the City: Chestnut Hill, Philadelphia, 1850-1990 (1992), A Philadelphia Family: The Houstons and Woodwards of Chestnut Hill (1988), America in the Twentieth Century (1988), and Henry Adams and the American Experiment (1980).
Mailing List
Subscribe to our mailing list and be notified about new titles, journals and catalogs.