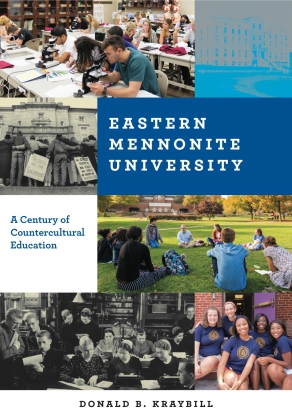 Eastern Mennonite University
A Century of Countercultural Education
Donald B. Kraybill
Buy
Eastern Mennonite University
A Century of Countercultural Education
Donald B. Kraybill
"This book pulsates with life. Unlike most institutional histories with their inexorable march across time, this one contains elements of conflict rarely found in higher education. Each era of the school's history presented new challenges, and the answers leaders found were unlike those of any other institution. Donald Kraybill offers insight without jargon, love without blindness, and language that sings."
Description

Reviews

Bio

Subjects
In this unique educational history, Donald B. Kraybill traces the sociocultural transformation of Eastern Mennonite University from a fledgling separatist school founded by white, rural, Germanic Mennonites into a world-engaged institution populated by many faith traditions, cultures, and nationalities.
The founding of Eastern Mennonite School, later Eastern Mennonite University, in 1917 came at a pivotal time for the Mennonite community. Industrialization and scientific discovery were rapidly changing the world, and the increasing availability of secular education offered tempting alternatives that threatened the Mennonite way of life. In response, the Eastern Mennonites founded a school that would "uphold the principles of plainness and simplicity," where youth could learn the Bible and develop skills that would help advance the church. In the latter half of the twentieth century, the university's identity evolved from separatism to social engagement in the face of churning moral tides and accelerating technology. EMU now defines its mission in terms of service, peacebuilding, and community.
Comprehensive and well told by a leading scholar of Anabaptist and Pietist studies, this social history of Eastern Mennonite University reveals how the school has mediated modernity while remaining consistently Mennonite. A must-have for anyone affiliated with EMU, it will appeal especially to sociologists and historians of Anabaptist and Pietist studies and higher education.
"This book pulsates with life. Unlike most institutional histories with their inexorable march across time, this one contains elements of conflict rarely found in higher education. Each era of the school's history presented new challenges, and the answers leaders found were unlike those of any other institution. Donald Kraybill offers insight without jargon, love without blindness, and language that sings."
"Careful history and colorful stories abound in this masterful narrative about Mennonite identity, values, and higher learning. More than just an institutional history, this is a riveting tale set against the broad backdrop of American cultural development that explores how one religious community sought to be simultaneously countercultural and culturally engaged. No one but Donald Kraybill, the world's premier Anabaptist scholar, could have written this story with such nuance and insight."
"An unlikely experiment? A countercultural initiative? Sociologist Donald B. Kraybill's centennial history of Eastern Mennonite University examines the cultural and religious forces that have shaped and transformed a fledgling Bible school into a university with global impact. This is an account of a passionate vision enlarged by an ability to change. Kraybill beautifully lures the reader into the drama, with a story of heroes, some unexpected heroics, and a few ornery characters along the way. An instructive and fascinating read."
"The volume is quite masterfully done. Richly illustrated, and strong in both theme and detail.
"
Donald B. Kraybill is Distinguished College Professor at Elizabethtown College and founding editor of the Young Center Books in Anabaptist and Pietist Studies series. He is the author or co-author of numerous books, including Horse-and-Buggy Mennonites: Hoofbeats of Humility in a Postmodern World, also published by Penn State University Press.
Mailing List
Subscribe to our mailing list and be notified about new titles, journals and catalogs.