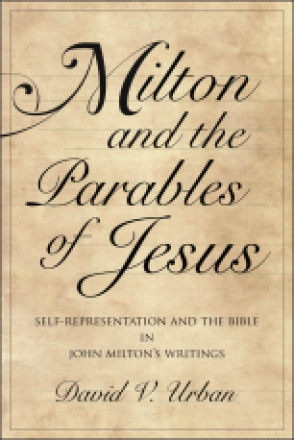 Milton and the Parables of Jesus
Self-Representation and the Bible in John Milton's Writings
David V. Urban
Buy
Milton and the Parables of Jesus
Self-Representation and the Bible in John Milton's Writings
David V. Urban
"Urban's book makes a valuable contribution to an understanding of the parables—of Milton's use of them—as well as to a comprehension of a significant aspect of the Renaissance and the Reformation."
Description

Reviews

Bio

Table of Contents

Sample Chapters

Subjects
In
Milton and the Parables of Jesus
, David V. Urban examines Milton's self-referential use of figures from the New Testament parables in his works of poetry and prose.
Urban's informative introduction explores the history of parable interpretation and the writings of sixteenth- and seventeenth-century Reformed biblical commentators, including John Calvin, Matthew Poole, and John Trapp, whose approaches to interpreting the parables resemble Milton's own. Urban then goes on to analyze Milton's early poetry and prose; his great epic, Paradise Lost; and his final major poetic works, Paradise Regained and Samson Agonistes. By chronologically tracing Milton's habit of identifying himself both directly and indirectly with figures represented in Jesus's parables, Urban delves deeply into the development of Milton's attitudes toward himself, God, and society.
This comprehensive study opens up a new avenue of inquiry regarding Milton's hermeneutic of parables and his writings as a whole. Urban's insightful analysis will be invaluable to scholars and students of John Milton, early modern Christianity and literature, and the Reformation.
"Urban's book makes a valuable contribution to an understanding of the parables—of Milton's use of them—as well as to a comprehension of a significant aspect of the Renaissance and the Reformation."
"A significant addition to Milton scholarship in its own right, the book's detailed endnotes provide a working critical compendium of major studies of Milton over at least the last half-century, up to and including very recent publications. There is not a significant controversy over Milton's work that David Urban is unwilling to engage, and he does so with judicious fair-mindedness even to scholars with whom he finds himself disagreeing."
"Shrewdly engaging Milton criticism, both new and old, and fastidiously taking stock of Milton's major works, early and late, Urban proves himself a faithful steward as well here. Subsequent studies on Milton's debt to the parables will have to track through Urban's house."
"Urban's chapters on the sonnets (especially 7 and 19) and the early poems, as well as his discussion of The Doctrine and Discipline of Divorce and De Doctrina Christiana, make a persuasive case for Milton's reliance on Jesus's parables as means of ethical self-conception."
"While Urban leaves more work to be done with Milton and parables, this book usefully extends the range of future conversations on that topic. I very much recommend it and urge readers to be sure to read all the notes."
"In this highly readable book, Urban offers a sharp focus on the relationship of the personal and the poetic by arguing that, over the course of his life, Milton found deep connections between his own concerns and four of Jesus's parables from the book of Matthew."
"Perhaps Urban's most evident strength is his extensive engagement with earlier scholarship and controversies within Milton studies, a prowess surely due at least in part to his role as cocompiler and coeditor of John Milton: An Annotated Bibliography, 1989–1999. With respect to the variety and extensiveness of the notes, Urban is a Miltonist's Miltonist."
"In seeing Milton through the spectacles of the parables and in projecting that vision into his dramatic and poetic works, Urban sheds light on Milton's meta-narrative of the self, which is at once artistic, theological and existential. Miltonists and readers of Christianity and Literature may welcome Milton and the Parables of Jesus as a major contribution to the study of Milton's hermeneutic of the Bible and of self."
David V. Urban is Professor of English at Calvin College. He is the coeditor of Visionary Milton: Essays on Prophecy and Violence and John Milton: An Annotated Bibliography, 1989–1999.
Contents
Acknowledgments
Introduction: Milton's Hermeneutic of Parables, Milton's Parabolic Imagination
Part 1: The Parable of the Talents and the Parable of the Laborers
1. The Talented Mr. Milton: A Parabolic Laborer and His Identity
2. Samson's Late Call: Parabolic Tension and Resolution in Samson Agonistes
3. Abdiel and the Son: Milton's Ideal Relationship with the Two Parables in Paradise Lost and Paradise Regained
Part 2: The Parable of the Wise and Foolish Virgins
4. A "Virgin Wise and Pure": Parabolic Self-Reference in Sonnet 9
5. The Wise Virgin in Action: The Lady of A Mask
6. Wise Virginity Lost in Paradise Lost
7. Perfect and Recovered Virginity in Paradise Regained and Samsom Agonistes
Part 3: The Parable of the Householder
8. "Out of His Treasury Things New and Old": The Doctrine and Discipline of Divorce and De Doctrina Christiana
9. Milton's Epic Narrators and the Son and Mary in Paradise Regained
10. Internal and External Scripture in Samson Agonistes
Notes
Index
From the Introduction
Milton's Hermeneutic of Parables,Milton's Parabolic ImaginationIn "Listening to the Parables of Jesus," Paul Ricoeur writes, "To listen to the Parables of Jesus . . . is to let one's imagination be opened to the new possibilities disclosed by the extravagance of these short dramas. If we look at the Parables as at a word addressed first to our imagination rather than to our will, we shall not be tempted to reduce them to mere didactic devices, to moralizing allegories. We will let their poetic power display itself within us." Although he preceded Ricoeur by three centuries, there is perhaps no writer who followed Ricoeur's admonitions more thoroughly than John Milton. For, as I seek to demonstrate in this book, certain of Jesus's parables—and the characters, or figures, presented in them—captured Milton's imagination, manifesting their poetic power throughout his writings, profoundly influencing his self-conception and self-presentation, inspiring and invigorating his art in verse and prose. As we shall see throughout this study, these parables excited Milton's imagination, and Milton in turn appropriated them in ways that made them his own.On one level, Milton incorporated these parables in a manner firmly in line with the established mode of Reformed Puritan parable interpretation of his day and in ways that demonstrated the common early modern English Protestant practice of finding a biblical "place" for oneself in certain passages of scripture. At the same time, Milton went beyond such standard practices, incorporating throughout his imaginative writings the larger ideals he found in these parables, all the while maintaining the parables' close relationship to his own conceptions of himself and his self-presentation. Indeed, I will go so far as to say that Milton's conceptions and representations of himself, both explicit and implicit, are largely manifestations of the connections he made between himself and certain parabolic figures. Moreover, I suggest throughout this study that the larger ideals Milton found within these parabolic figures become prominent, even dominant, concepts in his early, middle, and late works and are often used to demonstrate the particular kind of thoughtful, godly heroism that emerges as a consistent theme throughout his writings. Ultimately, I hope to show that a study of Milton's relationship to Jesus's parables reveals a new and helpful way to understand both Milton himself and his overall creative achievement, offering a valuable perspective on Milton the man and not a few prominent Miltonic characters who, as many critics have noted, bear a distinct resemblance to their creator.This introduction situates this book within the larger framework of previous studies of Milton's use of the Bible and specific biblical genres, and it explains Milton's hermeneutic of parables in light of the history of parable interpretation. It recognizes that Milton's more explicit references to parables place him squarely in line with the Reformed and Puritan practice of using the figures of Jesus's parables to reflect larger classes of persons, an interpretive framework also practiced by present-day biblical scholars who take the restrained allegorical approach to parable interpretation, a movement begun in the late twentieth century. This introduction also addresses both how Milton's strong connections with certain characters in Jesus's parables reflect the seventeenth-century English practice of believers' finding biblical passages or "places" to which they related their own spiritual experiences, and how Milton's imaginative use and pervasive awareness of the parables in his longer works anticipate the recent view that the parables are transformational metaphorical narratives that encourage readers "to reshape their vision of reality" and, in the words of Ricoeur, allow the parables' "poetic power [to] display itself within" them.This book investigates the relationship between Milton's writings and the biblical parables, specifically those parables with which Milton demonstrates a strong degree of self-identification. I hope to situate this study within the larger arena of Milton studies that explore Milton's use of the Bible as an imaginative and structural framework for his own writings. In this respect, I seek to extend the exploration of such themes initiated by James Sims's The Bible in Milton's Epics (1962), continued in Kitty Cohen's The Throne and the Chariot: Studies in Milton's Hebraism (1975), Sims and Leland Ryken's edited collection of essays Milton and Scriptural Tradition (1984), and Mary Ann Radzinowicz's "How Milton Read the Bible" (1989), and seen more recently in Regina Schwartz's "Milton on the Bible" (2001) and Phillip J. Donnelly's Milton's Scriptural Reasoning (2009). In investigating Milton's use of a particular genre or portion of biblical literature, I hope to complement such previous studies as Leland Ryken's The Apocalyptic Vision in "Paradise Lost" (1970), Timothy O'Keefe's Milton and the Pauline Tradition (1982), Youngwon Park's Milton and Isaiah (2000), and, more notably, Mary Ann Radzinowicz's Milton's Epics and the Book of Psalms (1989). Radzinowicz examines Milton's use of the biblical genre of the Psalms and demonstrates his tendency to portray the Psalms through their New Testament representations; she also reveals Milton's practice, while he incorporates the Psalms into his epics, of using a poetic parallelism that reflects the parallelism of the Psalms themselves.This study investigates the hermeneutical, stylistic, and imaginative issues that concern Milton in his use of biblical parables, a genre that has received tremendous attention in biblical studies throughout the twentieth and twenty-first centuries but has not been addressed sufficiently by Miltonists. In this sense, I seek to extend Barbara Kiefer Lewalski's discussion in her "Paradise Lost" and the Rhetoric of Literary Forms, in which she emphasizes that Milton uses various literary genres "to accomplish his poetic purposes." Significantly, Lewalski's seminal study includes no discussion of parabolic literature, an omission, I believe, that speaks to the appropriateness of the present investigation. More directly, I seek to build on the outstanding efforts of Dayton Haskin, whose Milton's Burden of Interpretation provides the most extensive investigation into Milton's identification with the unprofitable servant of the parable of the talents (Matt. 25:14–30). I seek to move beyond Haskin by analyzing in depth how Milton's identification with the unprofitable servant, evident in various works, is mitigated by his identification with the last-called laborers of the parable of the laborers (Matt. 20:1–16); moreover, I also address at length Milton's identification with the ideal of the wise virgin in the parable of the wise and foolish virgins (Matt. 25:1–13) and with the householder of the parable of the householder (Matt. 13:52). Defining "Parable"As we enter our discussion of John Milton's use of the biblical parables in his poetry and prose, we would do well to define as closely as possible the term "parable" (Greek parabolē) as it is found in the Christian scriptures and, from this definition, seek to place Milton within the history of parable interpretation. Klyne Snodgrass notes that "the Greek word parabolē has a much broader meaning in the Gospels than the English word 'parable,'" an assertion also made by Madeleine Boucher. John Sider points out that the common ancient Greek word for "analogy" was parabolē (as opposed to analogia, the word used for "resemblance"), and that the authors of the synoptic Gospels employ the same terminology. Sider notes that "the function of analogy" is "the most significant common denominator in all the parabolai," encompassing types as various as proverb, question, taunt, simile, metaphor, riddle, and others. Snodgrass writes that the semantic range of parabolē is derived from the Hebrew word mashal, which is generally translated as parabolē in the Septuagint, the Jewish Greek translation of the Hebrew scriptures. Sider also affirms that "parabolē as a label for particular sayings is reserved in the Gospels exclusively for instances of those various forms that embody analogy." Sider's broad concept of parable as analogy also encompasses the idea of allegory, recognizing that "the essence of allegory is elaborated analogy." We should note that Sider's approach differs from what has been the modern "scholarly consensus," which rejects any sort of allegorical interpretation in favor of an approach that contends that each parable is only making a single main point. While this "single main point" approach to parable interpretation has come under critical scrutiny in recent decades, it has accumulated a host of notable adherents. One of the most prominent champions of this earlier consensus, C. H. Dodd, offered the following definition of "parable" in 1935: "At its simplest a parable is a metaphor or simile drawn from nature or common life, arresting the hearer by its vividness or strangeness, and leaving the mind in sufficient doubt about its precise application to tease it into active thought." We should note that Dodd's representative definition hardly resembles the multifaceted manner in which Milton and his contemporaries made use of the parables, including their emphases on personal application. Literary scholars seeking insight into Milton's use of the parables would be better served by the parable theory articulated by scholars such as Sider, Craig Blomberg, Madeleine Boucher, and Leland Ryken. In contrast to those who, like Adolf Jülicher and his followers, insist on a sharp distinction between parable and allegory, these scholars advocate a broader understanding of allegory that recognizes the "exemplary characters" in parables as "examples of a particular category of people." Such a recognition is distinct from the fantastical "allegorizing" that was popular among many commentators until well into the nineteenth century. Furthermore, such a methodology more closely resembles Milton's own use of the parables, and helps to explain his tendency to apply particular parables to certain persons in a variety of different ways—a practice, as we shall see, that was common to many of Milton's contemporaries, especially in their tendency to identify with (or to encourage their audience to identify with) certain characters in the parables.A Brief History of Parable Interpretation, and Milton's Place in ItA brief examination of the overall history of parable interpretation will aid our investigation of Milton's parabolic hermeneutic and his place in the history of parable interpretation. This examination will also demonstrate why neither the elaborate allegorization commonly practiced from the early church through most of the nineteenth century, nor the total rejection of allegory that pervaded most twentieth-century parable theory, coincides with Milton's own incorporation of the biblical parables in his poetry and prose. Rather, the practice of understanding parable figures as "exemplary characters" is in fact the mode of parable interpretation practiced by Milton and many of his contemporaries; it is thus is a truly helpful interpretive framework through which we may discuss Milton's use of biblical parables. Because the history of parable interpretation is a vast, multifaceted, and much-covered enterprise, the following discussion emphasizes the interpretive movements that are most germane to our understanding of Milton's own use of the parables.Allegorical ApproachesThroughout most of church history, and most certainly before the Reformation, the dominant mode of interpreting the parables was allegorical. This mode was championed in varying degrees by different church fathers, and their attempts to demonstrate that each detail of a particular parable signifies a larger category often reached dimensions later judged ludicrous by certain Reformation exegetes and by the vast majority of post-nineteenth-century scholarship. Such exegesis is demonstrated by Clement of Alexandria (ca. 150–215) in his exposition of the parable of the prodigal son. Clement's extensive allegorization of this parable can be seen below:1. The lavish robe the father puts on the prodigal son = the robe of immortality.2. The ring the father puts on the son's finger = the divine seal that demonstrates consecration and glory.3. The shoes = imperishable shoes that clothe feet washed by Jesus for the journey to heaven. These heavenly shoes replace the earthly shoes that represent the sin that weighs down the sinful soul.4. The fatted calf the father kills for his son's feast = Jesus, the Lamb of God (cf. John 1.29). Another example of such overdone allegorical exegesis is Augustine's interpretation of the parable of the Good Samaritan in Quaestionum Evangeliorum 2.19. There, Augustine (354–430) contends the following:1. The wounded man = Adam.2. Jerusalem = the heavenly city from which Adam has fallen.3. Jericho = the moon, representing human mortality.4. The thieves = the devil and his angels, who rob Adam of his immortality.5. The priest and Levite = the Old Testament law, which was powerless to save anyone.6. The Samaritan and his binding of the man's wounds = Christ, who forgives sins.7. The inn = the church.8. The innkeeper = the Apostle Paul.9. The two denarii = the two commandments of love/the promise of this life and the promise of the life to come.[Excerpt ends here.]
Mailing List
Subscribe to our mailing list and be notified about new titles, journals and catalogs.