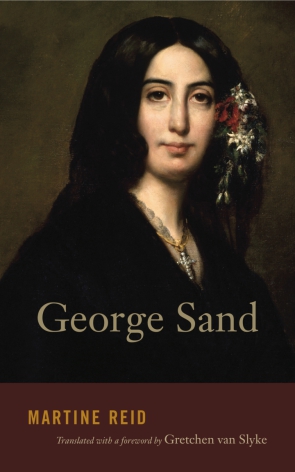 George Sand
Martine Reid, Translated with a foreword by Gretchen van Slyke
BUY
George Sand
Martine Reid, Translated with a foreword by Gretchen van Slyke
"Martine Reid's life of Sand is a miracle of concision and evenhandedness."
Description

Reviews

Bio

Table of Contents

Sample Chapters

Subjects
The romantic and rebellious novelist George Sand, born in 1804 as Amantine Lucile Aurore Dupin, remains one of France's most infamous and beloved literary figures. Thanks to a peerless translation by Gretchen van Slyke, Martine Reid's acclaimed biography of Sand is now available in English.
Drawing on recent French and English biographies of Sand as well as her novels, plays, autobiographical texts, and correspondence, Reid creates the most complete portrait possible of a writer who was both celebrated and vilified. Reid contextualizes Sand within the literature of the nineteenth century, unfolds the meaning and importance of her chosen pen name, and pays careful attention to Sand's political, artistic, and scientific expressions and interests. The result is a candid, even-handed, and illuminating representation of a remarkable woman in remarkable times.
With its clear, flowing language and impeccable scholarship, this Ernest Montusès Award–winning biography of the author of La Petite Fadette and A Winter in Majorca will be of great interest to those specializing in Sand and nineteenth-century literature—and to readers everywhere.
"Martine Reid's life of Sand is a miracle of concision and evenhandedness."
"Highly recommended for George Sand devotees, but the audience for this masterly and definitive biography should be legion."
"This biography offers an excellent point of entry into Sand's life and thought, encouraging reevaluation of a famed but perhaps underrated author who felt 'for humanity . . . because they are me.'"
"Patiently illustrates the author's paradoxes in a work intended for the non-specialist reader. . . . Reid's writing is level-headed and concise, showing Sand's engagement with contemporary issues and the way these interests found their way into her writing."
"This exciting, intelligent, and informative biography does not dwell solely on Sand's romantic escapades (though it does do them justice) nor finds it necessary to insist that she was a great writer (which she was); the author takes that as a matter of course. Instead, Reid treats Sand as a worthy biographer should treat a great author, while pointing out the obstacles Sand faced as a woman writer in a repressive century."
"A solid contribution to Sand studies, providing a clear, accessible, well-documented introduction to Sand's life and works for the uninitiated and a good review for the knowledgeable."
"Endowed with an impressive lightness of touch and remarkable concision, Reid's biography is clearly meant to be accessible to a non-specialist readership. In this, however, the book sacrifices none of its scholarliness."
Martine Reid is Professor of French Language and Literature at Lille University. She is the editor of several critical editions of George Sand's work, including Mademoiselle Merquem and La Petite Fadette, the latter also published by Penn State University Press.
Gretchen van Slyke is Professor of French at the University of Vermont and the translator of George Sand's novels The Countess von Rudolstadt and La Petite Fadette, the latter also published by Penn State University Press.
Contents
Foreword by Gretchen van Slyke
Chronological Points of Reference
Introduction
1832
I. 1804–1831
II. 1832–1851
III. 1852–1875
1876
Notes
Bibliography
Index
Also of Interest
Mailing List
Subscribe to our mailing list and be notified about new titles, journals and catalogs.