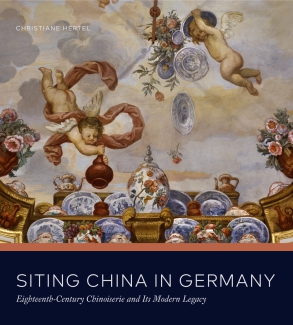 Siting China in Germany
Eighteenth-Century Chinoiserie and Its Modern Legacy
Christiane Hertel
BUY
Siting China in Germany
Eighteenth-Century Chinoiserie and Its Modern Legacy
Christiane Hertel
"The process by which a culture regards another is complex. That ambivalence lies at the center of Christiane Hertel's brilliant study of chinoiserie, the so-called Chinese taste, as it developed in eighteenth-century Germany. Hertel demonstrates how this seemingly frivolous, disconnected evocation of a distant land was a process by which Germany negotiated its place in an ever-changing world, with its effects detectable in twentieth-century German literature and German Expressionist painting. Her profoundly insightful study results from a deep, career-long knowledge of its subjects."
Description

Reviews

Bio

Subjects
Chinoiserie—the use of motifs, materials, and techniques considered "Chinese" in ceramics, furniture, interior design, and landscape architecture—has often been associated with courtly decadence and shallow escapism. In
Siting China in Germany
, Christiane Hertel challenges conventional assumptions about this art form by developing a fresh, complex perspective on collections, gardens, and literature in the long eighteenth century.
From the extraordinary porcelain palaces at Dresden and Rastatt and the gardens of Wilhelmsthal and Wilhelmshöhe in Kassel to the literary and artistic translation practices in Dresden and Thomas Mann's historical novel Lotte in Weimar, Hertel interprets the extensive history of chinoiserie within but also beyond court culture. In particular, her study focuses on how manifestations of chinoiserie in Germany oscillated between the imagination, judgment, and critique of cultural and historical difference as well as identity.
Hertel's erudite analysis of the cultural significance of German chinoiserie will interest art historians and scholars of Orientalism, German Sinophilia, and German Sinophobia.
"The process by which a culture regards another is complex. That ambivalence lies at the center of Christiane Hertel's brilliant study of chinoiserie, the so-called Chinese taste, as it developed in eighteenth-century Germany. Hertel demonstrates how this seemingly frivolous, disconnected evocation of a distant land was a process by which Germany negotiated its place in an ever-changing world, with its effects detectable in twentieth-century German literature and German Expressionist painting. Her profoundly insightful study results from a deep, career-long knowledge of its subjects."
"Hertel deftly weaves visual, textual, and philosophical materials together to produce a fresh, critical study of the Germanic engagement with China in the eighteenth century. Siting China in Germany provides a major contribution to the recent critical integration of lesser-analyzed visual materials into the more familiar analysis of textual history. It also makes a major contribution to the current scholarly reassessment of chinoiserie, offering a new interpretation of German chinoiserie that situates the visual within a broader cultural and intellectual framework."
"In this beautifully written book, Christiane Hertel 'sites' China across a range of eighteenth-century German court arts, allowing the reader to travel between imagery as varied as silhouettes, the 'Chinese' village of Mulang, commedia dell'arte, and dining utensils. Each 'siting' creates, or is informed by, frames, mediations, imitations, and assimilations that challenge our conceptions of what 'China' might have meant in the eighteenth century. The work's most important contribution is its ability to open the decorative arts to interpretive acts akin to sophisticated textual readings."
"In this erudite book Hertel makes an important contribution to the recent reassessment of chinoiserie."
Christiane Hertel is Professor Emerita of History of Art at Bryn Mawr College. She is the author of several books, including Pygmalion in Bavaria: The Sculptor Ignaz Günther and Eighteenth-Century Aesthetic Art Theory, also published by Penn State University Press.
Mailing List
Subscribe to our mailing list and be notified about new titles, journals and catalogs.