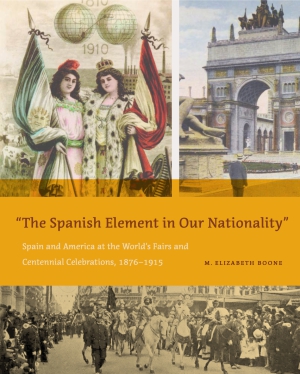 "The Spanish Element in Our Nationality"
Spain and America at the World's Fairs and Centennial Celebrations, 1876–1915
M. Elizabeth Boone
BUY
"The Spanish Element in Our Nationality"
Spain and America at the World's Fairs and Centennial Celebrations, 1876–1915
M. Elizabeth Boone
"With 'The Spanish Element in Our Nationality,' M. Elizabeth Boone confirms her role as the leading interpreter of the complex interactions between the United States and Spain as revealed in the visual arts. This thoroughly researched analysis of key international expositions held between 1876 and 1915 demonstrates the nuances of these trans-Atlantic relations and provides insight into Hispanic/Latinx identity and presence in the United States over a century later."
Description

Reviews

Bio

Table of Contents

Sample Chapters

Subjects
"The Spanish Element in Our Nationality"
delves beneath the traditional "English-only" narrative of U.S. history, using Spain's participation in a series of international exhibitions to illuminate more fully the close and contested relationship between these two countries.
Written histories invariably record the Spanish financing of Columbus's historic voyage of 1492, but few consider Spain's continuing influence on the development of U.S. national identity. In this book, M. Elizabeth Boone investigates the reasons for this problematic memory gap by chronicling a series of Spanish displays at international fairs. Studying the exhibition of paintings, the construction of ephemeral architectural space, and other manifestations of visual culture, Boone examines how Spain sought to position itself as a contributor to U.S. national identity, and how the United States—in comparison to other nations in North and South America—subverted and ignored Spain's messages, making it possible to marginalize and ultimately obscure Spain's relevance to the history of the United States.
Bringing attention to the rich and understudied history of Spanish artistic production in the United States, "The Spanish Element in Our Nationality" recovers the "Spanishness" of U.S. national identity and explores the means by which Americans from Santiago to San Diego used exhibitions of Spanish art and history to mold their own modern self-image.
"With 'The Spanish Element in Our Nationality,' M. Elizabeth Boone confirms her role as the leading interpreter of the complex interactions between the United States and Spain as revealed in the visual arts. This thoroughly researched analysis of key international expositions held between 1876 and 1915 demonstrates the nuances of these trans-Atlantic relations and provides insight into Hispanic/Latinx identity and presence in the United States over a century later."
"Pioneering in every respect, this handsomely-illustrated volume offers unique insights into the extent to which political circumstances, combined with long-standing racial and religious prejudices, frustrated Spain's campaign for recognition of the artistic and creative genius of its people at various world's fairs. The volume is a must for anyone interested in Spain's modern history along with those concerned with attitudes towards the place of both Spanish and Hispanic culture in the United States."
"A meticulously researched and engagingly written account of the genesis, the promotion, and also the avoidance of Spanish identity and culture, including in Spain's former colonies. This impressive book is a major contribution to transnational cultural studies, demonstrating Boone's deep and nuanced command of Spanish, Latin American, and U.S. art and culture."
"The Spanish Element in Our Nationality mines a wealth of visual and textual evidence from the later 19th and early 20th century world's fairs in order to convincingly demonstrate Spain's marginalization in the construction of an American identity that leaned more heavily toward England. While well-versed in theoretical approaches to its subject and detailed in unraveling the complexities of Spain's reception at world's fairs, Boone's book remains grounded in a careful examination of the fine arts and material culture, and how the visual arts functioned politically in an international context."
"A wonderfully detailed investigation of the shaping of Spain's national-ethnic identity through several key international exhibitions with art in the United States and Latin America. Drawing upon unpublished archival sources, the engaging study analyzes the strategies of, and the international stakes for administrators, statespersons, and critics from different nations. This book offers readers an indispensable understanding of the politics of display in the creation and reception of these exhibitions."
"Special attention is devoted to Spanish art in the 19th century—presented through remarkable plates and photographs—including paintings, architectural displays, and rare materials."
M. Elizabeth Boone is Professor of the History of Art, Design and Visual Culture at the University of Alberta. She is the author of Vistas de España: American Views of Art and Life in Spain, 1860–1914.
List of Illustrations
Acknowledgments
Introduction
1 Inventing America at the 1876 Philadelphia Centennial
2 Defining (and Defending) Spain in Barcelona and Paris, 1888 and 1889
3 Marginalizing Spain (and Embracing Cuba) at the 1893 Columbian Exposition
4 Reasserting Spain in America at the 1910 Centennial Exhibitions
5 Using Spain to Ignore Mexicans at the 1915 California Fairs
Notes
Bibliography
Index
Mailing List
Subscribe to our mailing list and be notified about new titles, journals and catalogs.