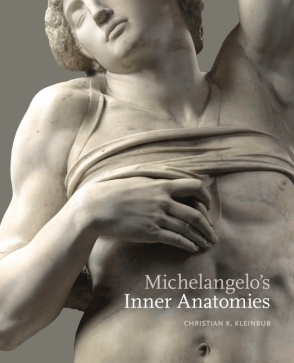 Michelangelo's Inner Anatomies
Christian K. Kleinbub
Buy
Michelangelo's Inner Anatomies
Christian K. Kleinbub
"Michelangelo's Inner Anatomies offers an entirely fresh perspective on Michelangelo, the Renaissance's most original thinker on the human body. By amassing a wealth of often little-known contemporary sources combined with a new way of looking at Michelangelo's art, Kleinbub makes us reconsider what the human body meant to Michelangelo and his public—and to us. This book is a must-read for everyone interested in early modern art, poetry, and medicine."
Description

Reviews

Bio

Table of Contents

Subjects
This book challenges the notion that Michelangelo, renowned for his magnificent portrayals of the human body, was merely concerned with "superficial" anatomy—that is, the parts of the body that can be seen from the outside. Christian K. Kleinbub provides a fresh perspective on Michelangelo's art of the human figure by investigating what he calls the artist's "inner anatomical poetics," revealing these beautiful bodies as objects of profound intellectual and spiritual significance.
Michelangelo's Inner Anatomies illuminates how Renaissance discourses on anatomical organs and organ systems informed Michelangelo's figures, linking the interior experiences of his subjects to physiological processes associated with sex, love, devotion, and contemplation, among other thoughts and feelings. Kleinbub presents new and compelling interpretations of some of Michelangelo's most significant works of painting, sculpture, poetry, and architecture. The book's case studies cover the full range of Michelangelo's prodigious output—including such iconic works as the Sistine Ceiling, Dying Slave, and Last Judgment—and reconstructs what Michelangelo knew of internal anatomy and how he projected that knowledge into his most important works. Drawing upon theological, poetic, philosophical, and scientific texts, Michelangelo created a context-dependent, adaptable practice that could be adjusted according to the needs of an individual situation or commission and manipulated to embody, literally and figuratively, a variety of meanings.
Deeply researched and convincingly argued, this study heralds a significant shift in thinking about the Italian Renaissance body as it pertains not only to the work of Michelangelo but also to the era as a whole.
"Michelangelo's Inner Anatomies offers an entirely fresh perspective on Michelangelo, the Renaissance's most original thinker on the human body. By amassing a wealth of often little-known contemporary sources combined with a new way of looking at Michelangelo's art, Kleinbub makes us reconsider what the human body meant to Michelangelo and his public—and to us. This book is a must-read for everyone interested in early modern art, poetry, and medicine."
"It is rare when a book offers a fundamentally new way of considering the artist. Christian K. Kleinbub's book Michelangelo's Inner Anatomies does just that. It offers meaningful and original investigations into Michelangelo's sense of self and the meaning of his art."
"The author argues that from . . . various literary sources Michelangelo created a flexible system for representing the human form that is often problematic for the modern viewer. Kleinbub's intelligent discussion helps to explain unusual gestures, poses, and other compositional details in Michelangelo's art and also adds new layers of meaning to the specific works he considers. Particularly admirable are Kleinbub's close study of a great number of texts, as well as the resultant nuanced readings of Michelangelo's sculpture, painting, and architecture."
"Through careful consideration of images and ideas [this book] helps us to understand how Michelangelo gave visual form to the internal organs and all they represent."
"Michelangelo's Inner Anatomies is an overdue addition that brings histories of the humoral body to bear on Michelangelo scholarship with relevance to art and architectural historians."
Christian K. Kleinbub is Professor of Italian Renaissance Art at The Ohio State University and CoDirector of the New Foundation of Art History. He is the author of the award-winning Vision and the Visionary in Raphael, also published by Penn State University Press.
List of Illustrations
Acknowledgments
Introduction
1. The Liver and Desire
2. The Heart Under Siege
3. The Love of the Heart
4. Faith in the Heart
5. The Brain, Judgment, and Movement
Conclusion
Notes
Bibliography
Index
Mailing List
Subscribe to our mailing list and be notified about new titles, journals and catalogs.