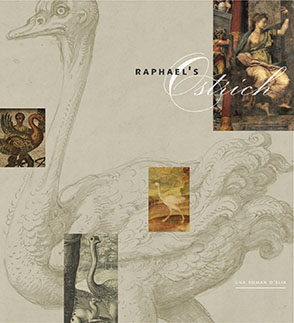 Raphael's Ostrich
Una Roman D'Elia
BUY
Raphael's Ostrich
Una Roman D'Elia
"[Raphael's Ostrich] covers a vast time-span comprising a rich collection of events and stories, some of which are novel while others are well known. But it is the unusual point of view from which these stories unfold that makes the book such a pleasure to read. Throughout, a wealth of texts and images of skillfully interwoven, making this book important for the study of the ostrich's iconography in Italian art to 1600."
Description

Reviews

Bio

Table of Contents

Sample Chapters

Subjects
Raphael's Ostrich begins with a little-studied aspect of Raphael's painting—the ostrich, which appears as an attribute of Justice, painted in the Sala di Costantino in the Vatican. Una Roman D'Elia traces the cultural and artistic history of the ostrich from its appearances in ancient Egyptian hieroglyphs to the menageries and grotesque ornaments of sixteenth-century Italy. Following the complex history of shifting interpretations given to the ostrich in scientific, literary, religious, poetic, and satirical texts and images, D'Elia demonstrates the rich variety of ways in which people made sense of this living "monster," which was depicted as the embodiment of heresy, stupidity, perseverance, justice, fortune, gluttony, and other virtues and vices. Because Raphael was revered as a god of art, artists imitated and competed with his ostrich, while religious and cultural critics complained about the potential for misinterpreting such obscure imagery. This book not only considers the history of the ostrich but also explores how Raphael's painting forced viewers to question how meaning is attributed to the natural world, a debate of central importance in early modern Europe at a time when the disciplines of modern art history and natural history were developing. The strangeness of Raphael's ostrich, situated at the crossroads of art, religion, myth, and natural history, both reveals lesser-known sides of Raphael's painting and illuminates major cultural shifts in attitudes toward nature and images in the Renaissance. More than simply an examination of a single artist or a single subject, Raphael's Ostrich offers an accessible, erudite, and charming alternative to Vasari's pervasive model of the history of sixteenth-century Italian art.
"[Raphael's Ostrich] covers a vast time-span comprising a rich collection of events and stories, some of which are novel while others are well known. But it is the unusual point of view from which these stories unfold that makes the book such a pleasure to read. Throughout, a wealth of texts and images of skillfully interwoven, making this book important for the study of the ostrich's iconography in Italian art to 1600."
"Who would have thought that an ugly, earthbound bird, perceived as a hybrid monster, would play such a significant part in Renaissance art? In her fascinating and scholarly study, Una Roman D'Elia has meticulously demonstrated how and why 'these images of hybrid creatures are both marginal and central to major cultural shifts in attitudes toward nature—at the crossroads of art, religion, myth, and natural history.'"
"Including excellent images and an ample scholarly apparatus, this is a book for those fascinated by iconography in art, in particular the iconography of the ostrich. Recommended."
"This is a delightful, massively erudite, well-written, and well-composed treatise on an unexpected subject. It will be of interest to art historians, classicists, medievalists, literary scholars, social historians, iconographers, scholars of the classical revival, historians of science, experts in Renaissance emblems, and (above all) scholars of sixteenth-century art, especially scholars of the grotesque. It is the history of a particular bird, along with its various meanings and implications, and deals with the tension between naturalism and allegory, carrying us from ancient Egypt and Israel through Greece and Rome to the Middle Ages, the High Renaissance, and beyond."
"Raphael's Ostrich is a learned, ambitious, and very original book. Taking as its starting point a curious detail in a painting generally credited to Raphael, it throws new light on Italian sixteenth-century ideas about artistic invention and about the ways in which works of art were meant to be understood or enjoyed by the audience for which they were made."
Una Roman D'Elia is Associate Professor of Art History at Queen's University.
Contents
List of Illustrations
Acknowledgments
Introduction: Raphael's Disputed Legacy
1 A Brief History of the Ostrich: Antiquity and the Middle Ages
2 The Eagle and the Ostrich: The Court of Urbino
3 Pope Leo X and Raphael's Ostriches
4 Raphael's Heirs
5 Farnese Ostriches and Vasari's Raphael
6 Fortune Is an Ostrich: Discontent in the 1550s and 1560s
7 Curiosity and the Ostrich in the Counter-Reformation
8 Taming the Ostrich: Ripa and Aldrovandi Notes
Bibliography
Index
Also of Interest
Mailing List
Subscribe to our mailing list and be notified about new titles, journals and catalogs.