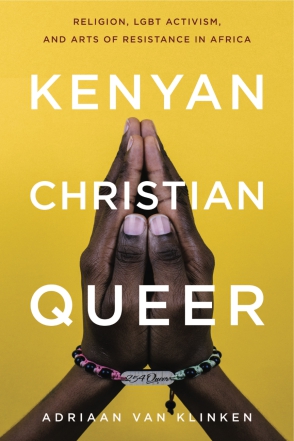 Kenyan, Christian, Queer
Religion, LGBT Activism, and Arts of Resistance in Africa
Adriaan van Klinken
BUY
Kenyan, Christian, Queer
Religion, LGBT Activism, and Arts of Resistance in Africa
Adriaan van Klinken
"In a fascinating dynamic that speaks to the passion and intimacy of the book, the author weaves his story with the stories of those whose lives he narrates. Thus, the author tells us about his connection to the communities he studied and how he is even assigned the position of an ambassador and advocate for these communities."
Media

Description

Reviews

Bio

Table of Contents

Sample Chapters

Subjects
Popular narratives cite religion as the driving force behind homophobia in Africa, portraying Christianity and LGBT expression as incompatible. Without denying Christianity's contribution to the stigma, discrimination, and exclusion of same-sex-attracted and gender-variant people on the continent, Adriaan van Klinken presents an alternative narrative, foregrounding the ways in which religion also appears as a critical site of LGBT activism.
Taking up the notion of "arts of resistance," Kenyan, Christian, Queer presents four case studies of grassroots LGBT activism through artistic and creative expressions—including the literary and cultural work of Binyavanga Wainaina, the "Same Love" music video produced by gay gospel musician George Barasa, the Stories of Our Lives anthology project, and the LGBT-affirming Cosmopolitan Affirming Church. Through these case studies, Van Klinken demonstrates how Kenyan traditions, black African identities, and Christian beliefs and practices are being navigated, appropriated, and transformed in order to allow for queer Kenyan Christian imaginations.
Transdisciplinary in scope and poignantly intimate in tone, Kenyan, Christian, Queer opens up critical avenues for rethinking the nature and future of the relationship between Christianity and queer activism in Kenya and elsewhere in Africa.
"In a fascinating dynamic that speaks to the passion and intimacy of the book, the author weaves his story with the stories of those whose lives he narrates. Thus, the author tells us about his connection to the communities he studied and how he is even assigned the position of an ambassador and advocate for these communities."
"This book evokes many feelings but also forces one to confront one's own uninformed biases. It's a good read for those who often shout the loudest, without sufficient understanding of LGBTI lives."
"This book takes scholarship on religion and sexuality in a new direction towards a focus on queer activisms taking place in unlikely spaces in unexpected ways."
"This book offers an important intervention in demonstrating that LGBT activism in Africa—indeed, in Kenya itself and even solely in Nairobi—is complex, varied, and both richer and more robust than it is typically made out to be. Van Klinken also persistently presses the important case that the ongoing resistance in queer studies circles to taking religion seriously not only is restrictive and irresponsible but actively excludes LGBT people of color and LGBT people in the global South."
"Van Klinken has written a significant book on LGBTQ activism in Africa that presents a compelling ethnographic account of individual and social resistance, which the author analyzes with interdisciplinary tools, making clear that the questions of justice and belonging raised by LGBTQ persons invite readers to recognize our coevalness because the debate about sexuality is also a debate about our common and shared humanity. A must-read for those who want to understand the nuances of resistance and new approaches to the reformation of social beliefs today."
"By showcasing a rich array of Kenyan queer creative practices, Adriaan van Klinken makes a compelling case for religion as a discursive site of African queer subjectivity, agency, and queer inventiveness that point to a nascent African queer theology. This book's boundary-pushing methodology lends it a remarkable blend of integrity and risk that is generative for future reflections on ethnographic practice and the productive modes of addressing questions of positionality in research practice."
"The simple wish of the book is to serve as a counter narrative to the idea of African homophobia, an aim which is amply achieved. This book undoubtedly enriches the small but emerging area of sexual storytelling in global queer and religious studies, with its particular focus on questions of justice and the debates around human sexuality."
"Van Klinken's willingness to innovate through his embrace of 'scavenger methodology' and his close attention to sites of possibility, to prophetic vision, have produced a creative hybrid, a bricolage, that will stimulate further engagement between disparate fields, especially between queer studies and religious studies. The book also provides new perspectives in the burgeoning field of queer African studies."
"Calling for a nuanced understanding of Christianity's entanglements in queer politics, Adriaan van Klinken's Kenyan, Christian, Queer (2019) challenges secularist ideologies that construe sexual emancipation and public religion as irreconcilable opposites. In detailing how this occurs, the book demonstrates a very keen dialectical imagination: it shows how a most outspoken Kenyan critic of religious homophobia borrows the very means and modes of charismatic leadership from Pentecostal evangelism, turning himself into a "queer prophet" of sorts; how a controversial queer rap video adopts and adapts stylistic elements from gospel performances, rendering "fluid boundaries between gospel and hip hop" (66); or how various queer subjects make religion central to their lives, by either keeping it separate from or reconciling it in various ways with their sexual selves."
"The book is . . . graceful in its style and sensible approach to controversial issues in Nairobi and in scholarship. It is a pleasure to read; it manages to take readers by the hand and make them part of the ins and outs of queer lives, their artistic expressions, while at the same time it provides interesting insights in the uptake of theological treatises."
"Van Klinken managed to do something that we, in African studies, are told isn't possible. He took very real and very tangible complex sociocultural, religious, and theological critical theories of Kenya and framed them in a reimagined African setting where love was viable. A new standard has been set. In his own words, Van Klinken found a way for love to be "read as disruptive of Kenya's dominant heteronormative culture" while at the same time platforming love as Kenyan LGBTQI communities' most important asset."
"Van Klinken has written a book that breaks new grounds through his passionate commitment and optimism, which allows him to give pride of place to the creativity and courage of lgbt activists in Kenya in a hostile context."
"The hopeful nerve that striates the book is gripping and inspiring."
"More than anything else, as I read this text, I found myself saying: This text delivers. It delivers stories of resilience and vulnerability. And it delivers these stories as invitations to otherwise possibilities. This text delivers these things to us. And, perhaps, in so doing, this text may offer us new resources for our own deliverance."
"By foregrounding the researcher as an embodied being and by paying attention to the relational and indeed intimate and at times erotic dimensions of ethnographic research, van Klinken's Kenyan, Christian, Queer unsettles traditional ways of knowing and offers us a deeply enfleshed lens wherein which the notion of being vulnerable emerges as a delicate embodied response to research relationships that generates emotional, erotic, and affective sentiments. Van Klinken shows us that when embodying the field, our bodies act as powerful mediators of relationships, of intimacy, and of the erotic—delicately navigating the complicated terrain between sameness and difference."
"This is a book that celebrates interdisciplinarity and does so with a boldness that is chastened by an ethnographic openness."
"The book is beautifully written and is a real "page-turner." Page-turner is hardly a conventional epithet used to describe an academic book, but this book combines creative flair and authentic self-reflection, so skillfully and delightfully, with academic rigor and deep theoretical reflection, that it wholeheartedly deserves this description."
"Kenyan, Christian, Queer . . . is not only eloquently written, but also pushes boundaries and allows us moments of intro- and retrospection, forcing us to both confront and rethink our personal and collective biases concerning ethnography, Christianity, Africa, homophobia, and sexualities to name but a few."
"Van Klinken seeks to . . . combat essentializing narratives of "homophobic Africa" in the academy and the general public. In so doing, he utilizes an interdisciplinary set of methodological tools that draw from Queer Studies, Religious Studies, and African Studies, and also cuts across these disciplines to form a truly interdisciplinary, or possibly even transdisciplinary perspective."
Adriaan van Klinken is Associate Professor of Religion and African Studies at the University of Leeds. He is the author of Transforming Masculinities in African Christianity: Gender Controversies in Times of AIDS and coeditor of several books, including Public Religion and the Politics of Homosexuality in Africa and Christianity and Controversies over Homosexuality in Contemporary Africa.
Contents
Preface
Acknowledgments
Introduction: From "African Homophobia" to Queer Arts of Resistance
1 | Kenyan Queer Critique of Christianity and
Homophobia
Interlude 1 Prophetess
2 | Kenyan Claim to Queer and Christian Love
Interlude 2 Bodywork
3 | Kenyan Queer Stories of Sexuality and Faith
Interlude 3 Positive
4 | Kenyan Queer Christian Community
Interlude 4 Ambassador
Conclusion
Notes
Bibliography
Index
Mailing List
Subscribe to our mailing list and be notified about new titles, journals and catalogs.