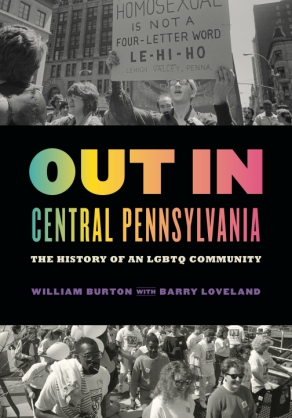 Out in Central Pennsylvania
The History of an LGBTQ Community
William Burton with Barry Loveland
Buy
Out in Central Pennsylvania
The History of an LGBTQ Community
William Burton with Barry Loveland
Winner of the 2020 Arline Custer Memorial Award
"Out in Central Pennsylvania offers an important addition to LGBTQ history, giving us an expertly researched and compelling story of local activism told by the men and women who built community and political consciousness in the decades after Stonewall. In situating the particular challenges and creative efforts of LGBTQ organizing within broader national movements, William Burton and Barry Loveland remind us that the history of our fight for equality is found not only in big cities but also in small towns and rural areas across the country."
Media

Description

Reviews

Bio

Table of Contents

Sample Chapters

Subjects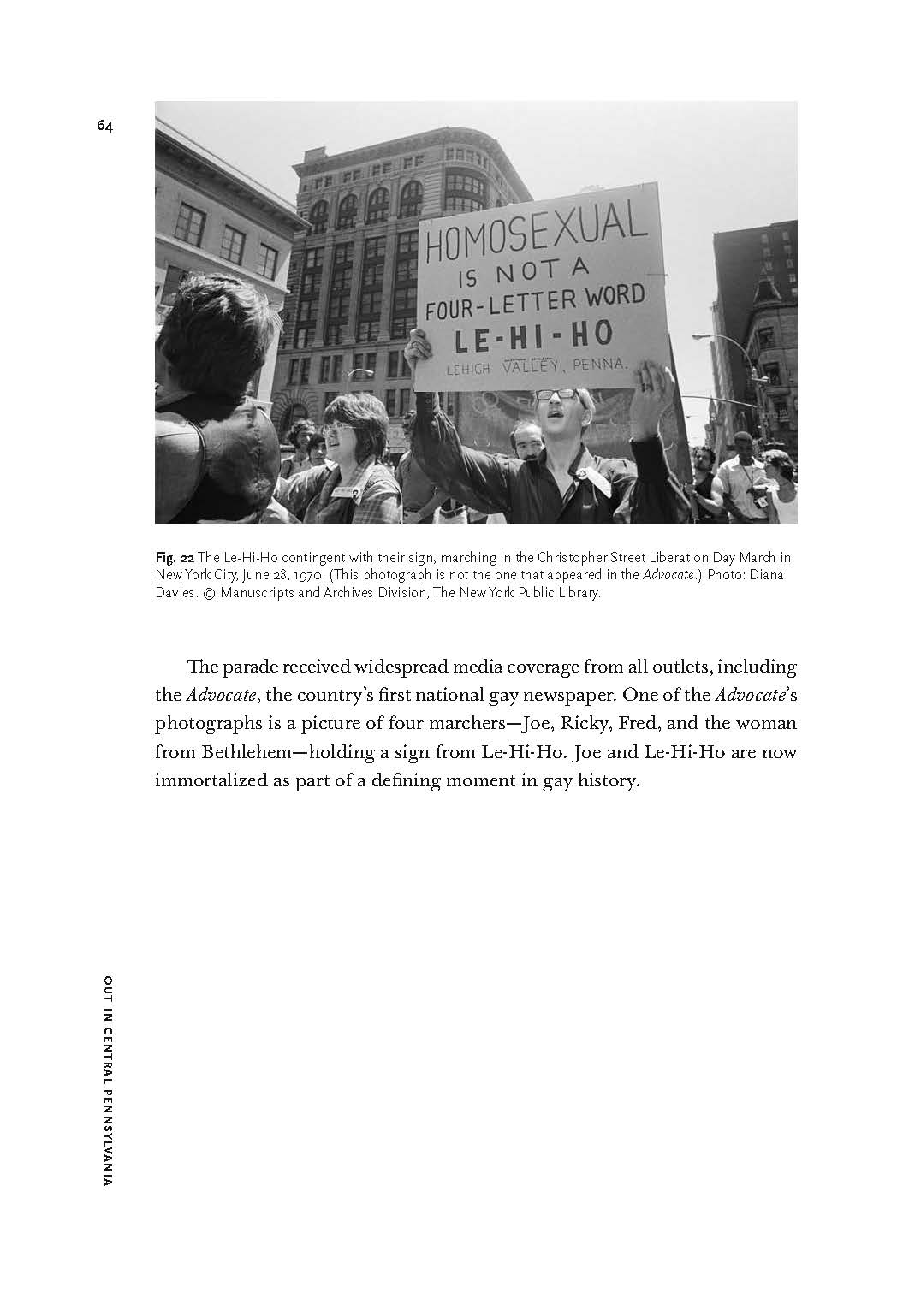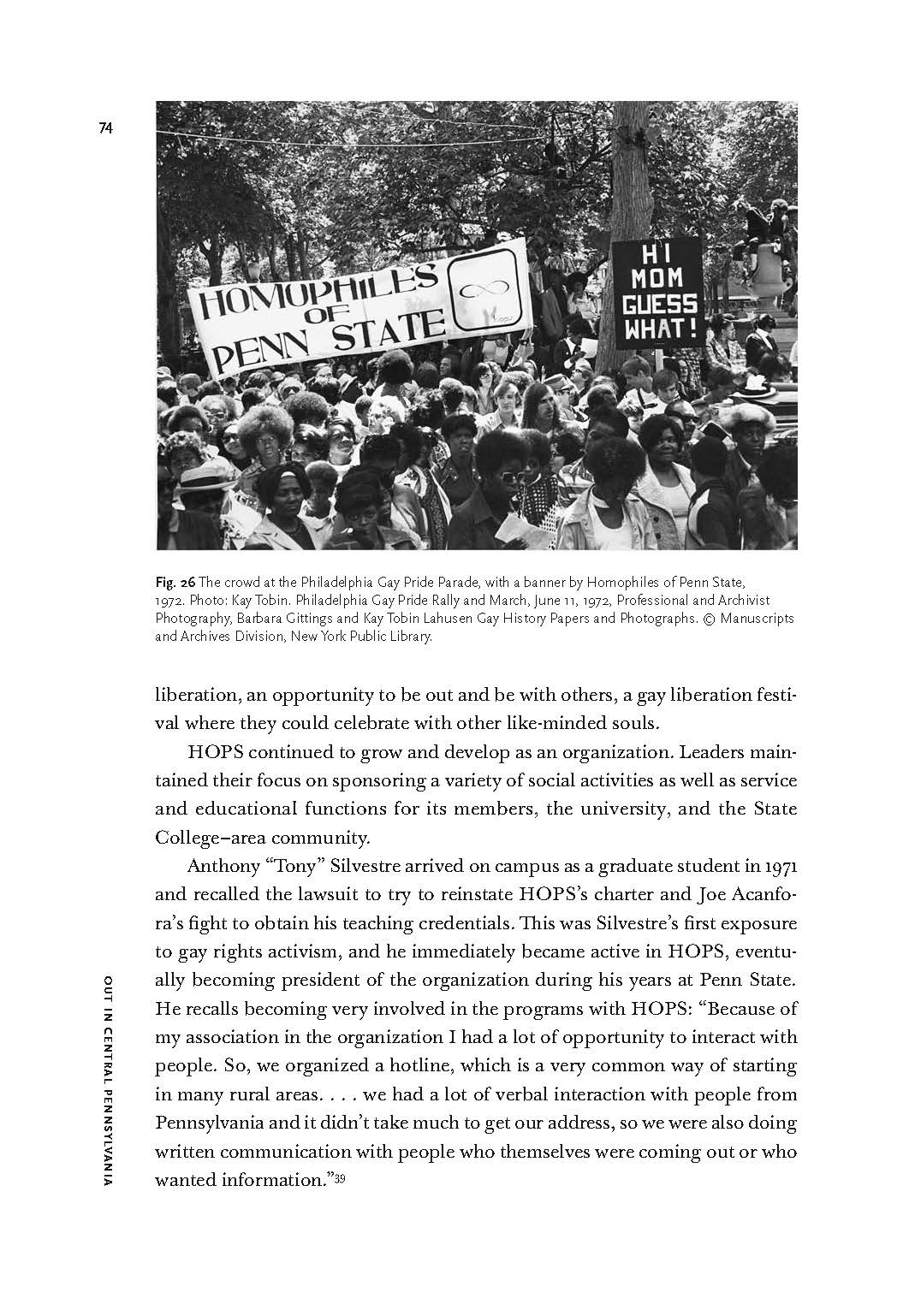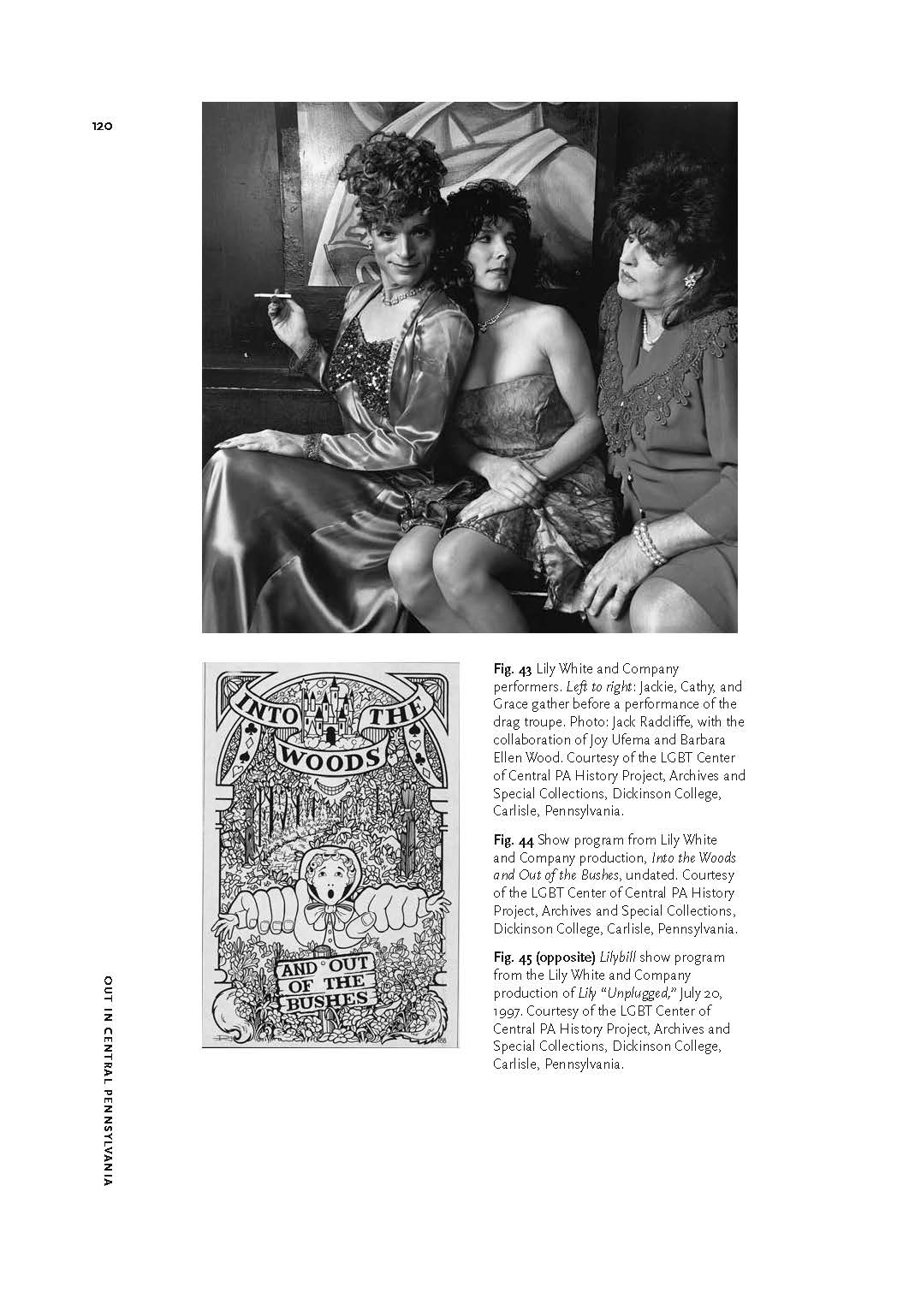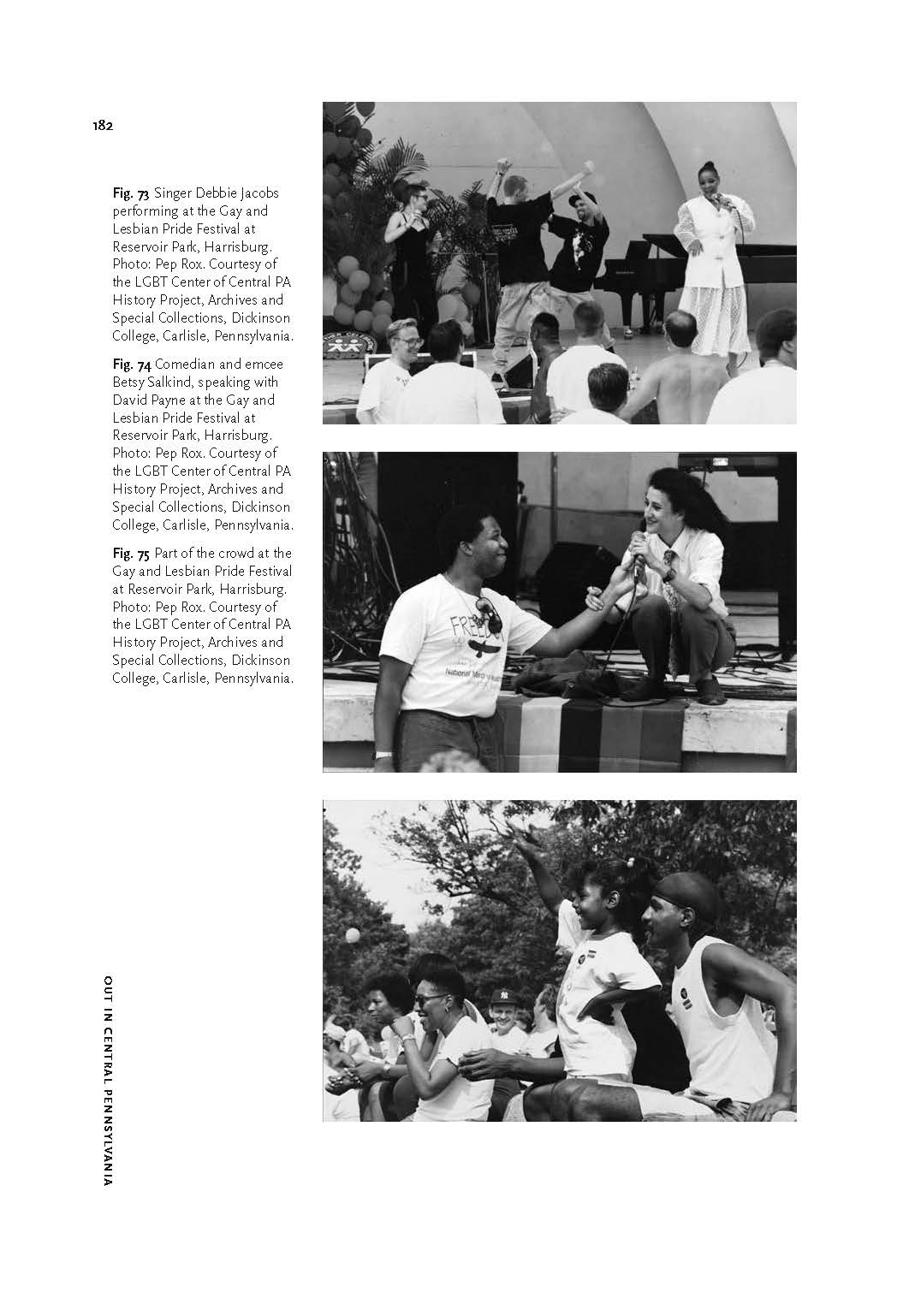 Outside of major metropolitan areas, the fight for lesbian, gay, bisexual, and transgender rights has had its own unique and rich history—one that is quite different from the national narrative set in New York and California.
Out in Central Pennsylvania
highlights one facet of this lesser-known but equally important story, immersing readers in the LGBTQ community building and social networking that has taken place in the small cities and towns in the heart of Pennsylvania from the 1960s to the present day.
Drawing from oral histories and the archives of the LGBT Center of Central PA History Project, this book recounts the innovative ways that LGBTQ central Pennsylvanians organized to demand civil rights and to improve their quality of life in a region that often rejected them.
Full of compelling stories of individuals seeking community and grappling with inequity, harassment, and discrimination, and featuring a distinctive trove of historical photographs, Out in Central Pennsylvania is a local story with national implications. It brings rural and small-town queer life out into the open and explores how LGBTQ identity and social advocacy networks can form outside of a large urban environment.
"Out in Central Pennsylvania offers an important addition to LGBTQ history, giving us an expertly researched and compelling story of local activism told by the men and women who built community and political consciousness in the decades after Stonewall. In situating the particular challenges and creative efforts of LGBTQ organizing within broader national movements, William Burton and Barry Loveland remind us that the history of our fight for equality is found not only in big cities but also in small towns and rural areas across the country."
"As there is no national liberation movement without regional activists and organizers, Burton and Loveland offer an important amendment to LGBTQ histories that center upon New York City and San Francisco. Out in Central Pennsylvania is this season's must-read book for our community as it powerfully shows how LGBTQ people in our region contributed to the national movement while making regional change from which we all benefit today."
"A profoundly important addition to the history of the LGBTQ movement in our country. Too often we think of gay radicalism as occurring only in our busy, liberal metropolises. But William Burton casts a light on what queer community and activism have looked like in small towns and rural areas, far away from the refuges of the cultural mega-capitals. The result is a rich, astonishing account of individuals who braved all to create a place for themselves, for their friends and lovers, and for the generations that have reaped what they sowed. It is also a reminder that not all gay people have to run away from home to be open. This book is an inspiration!"
"Out in Central Pennsylvania has a well-crafted mix of local, national, electoral, and grassroots politics that provides a firm historical grounding. All of this is carefully augmented and brought together in a clear narrative, punctuated and enlivened by anecdotes, interviews, and personal stories. Out in Central Pennsylvania is not only moving and illuminating, but historically significant."
William Burton is an author based in Provincetown, Massachusetts.
Barry Loveland is retired from the Pennsylvania Historical and Museum Commission and is the cofounder and chair of the LGBT Center of Central PA History Project.
Foreword
Acknowledgments
Introduction
1. Discovery
2. Sparks!
3. Awakening
4. Convergence
5. Turbulence
6. Battles
7. Pride
8. Fruition
Conclusion
Notes
Selected Bibliography
Index
From the Introduction
Most people automatically associate lesbian, gay, bisexual, transgender, and queer/questioning (LGBTQ) communities with large urban areas. Cities such as New York, San Francisco, Los Angeles, and Boston all feature iconic gay enclaves: Greenwich Village, the Castro, West Hollywood, and the South End. The majority of LGBTQ people migrate to major urban centers because they are considered safe havens and have a large number of bars, clubs, and organizations that cater to the way they live. Such cities provide anonymity (for those who want it) and social support that LGBTQ people often cannot find in smaller and more conservative places. Many cities have distinct gay neighborhoods, and a number have passed antidiscrimination laws that protect LGBTQ citizens' jobs, homes, and access to public services. In addition, big cities are usually more progressive in their social and political views, making it easier for LGBTQ people to live openly and to create a thriving community.
I was one of those young gay men who left his home (in my case, Arizona) and moved to Houston in 1974—at the time the nation's fifth-largest city. Although Houston was located in a "red state," there I found a gay neighborhood, the Montrose District, with more than a dozen gay bars and clubs and a thriving gay and lesbian community. In the early 1980s I relocated to Boston, where I found a utopian existence: a progressive city and state, a gay neighborhood, and a well-established gay and lesbian community, with plenty of bars, clubs, restaurants, bookstores, activist organizations, and medical facilities all catering to LGBTQ people. In 1989 Massachusetts became the second state in the nation to pass an antidiscrimination law protecting gays and lesbians in employment, housing, and all public accommodations.
After living in Houston and Boston, I moved to Philadelphia in 2015. This was my third city with a well-established gay district, the Gayborhood. There I became aware of the LGBT Center of Central PA History Project, headquartered in Harrisburg. In coordination with the Dickinson College Archives and Special Collections in Carlisle, Pennsylvania, the all-volunteer organization was in the midst of collecting and archiving oral histories, photographs, artifacts, and ephemera of the LGBTQ community in central Pennsylvania. I met Barry A. Loveland, the founder and chair of the project, who gave me fifty transcripts of oral histories. They both shocked and mesmerized me. There were stories of rejection, prejudice, discrimination, threats and acts of violence, and the daily minutiae of simply coping with the challenges of being LGBTQ in central Pennsylvania. These stories captured how the LGBTQ community evolved and how its social networks developed, but predominantly—and this is what startled me—in a nonurban environment. The challenges faced in these contexts had not yet been well documented or researched. It was a story that needed to be told.
At the same time I realized that I had been living in a bubble for the past thirty years. I had endured none of these hardships because I had been living in environments that were safe havens. LGBTQ people who live in smaller or rural communities face very different circumstances that require different survival skills and support systems. In rural and even urban central Pennsylvania, there were no laws to protect LGBTQ people. Much of the region is culturally conservative and has stereotypically been seen as backward. This dismissive caricature, however, fails to do justice to the actual experience of inhabiting central Pennsylvania. Pittsburgh and Philadelphia have long had thriving LGBTQ communities and neighborhoods protected by antidiscrimination laws. But throughout the rest of the state and even in Harrisburg, the state capital, few such laws existed. The vast majority of central Pennsylvania's LGBTQ citizens remain unprotected to this day.
I told Barry that no book had ever been written about the varied geographic cross-sections of LGBTQ communities outside of a large city. To be sure, books have been written about growing up or living as an adult gay or lesbian in rural America. Those books focus mainly on the southern and midwestern rural gay and lesbian experience and center on the development of queer identity, gender nonconformity, and the particular characteristics of each region. They detail how race, class, religion, and gender affect gay identity. Some share coming-out stories, while others explore how gays and lesbians meet and socialize. None of these books, however, has explored the development of a gay and lesbian community in a rural and conservative area in the eastern United States. Out in Central Pennsylvania: The History of an LGBTQ Community is the story of the people and the LGBTQ community that formed over decades in central Pennsylvania in the late twentieth and early twenty-first centuries.
Gay life has always existed outside of large urban areas, but generally in secret and hidden from public view. As Nan Alamilla Boyd and Horacio N. Roque Ramírez state in their book Bodies of Evidence: The Practice of Queer Oral History, "Recognizing that queer histories often go unmentioned in mainstream historical texts, activists and scholars have used a variety of methods to gather data and, thus, evidence of the existence of queer lives." This book uses oral histories to understand and document the history of the development of the LGBTQ community in central Pennsylvania. More specifically, it takes up a suggestion from Bodies of Evidence that "oral history transcripts might allow historians to comprehend better how a person or group of people make sense today of successful or disappointing experiences that took place years ago." Like Making History: The Struggle for Gay and Lesbian Equal Rights, 1945–1990, by Eric Marcus, Out in Central Pennsylvania uses oral histories and an assortment of recollections to represent "a cross section of people, from high-profile leaders to little-known and largely forgotten contributors," who built this community.
The communities that settled in the fertile lands of central Pennsylvania still remain embedded in their agricultural and industrial past and retain their religious inheritances. Like much of the rural United States, many families in the region hold morally conservative values. Growing up gay or lesbian in a smalltown environment in central Pennsylvania meant that many people never had the opportunity to have homosexuality explained or even acknowledged. Many, too, endured discrimination and harassment. Without the benefit of urban attitudes, protections, amenities, or defined neighborhoods, sexual minorities in central Pennsylvania had no choice but to find other ways to unite and build their community. LGBTQ residents of small cities and towns such as Lancaster, Harrisburg, Lebanon, Williamsport, State College, and York formed grassroots support organizations that reached gay people beyond the bar scene.
The primary focus of this book is the region generally known as southcentral Pennsylvania, or the Lower Susquehanna Valley. The geographic range of this book occasionally ventures beyond this territory to provide a broader context, but the primary area of study comprises the three small cities that are the heart of this region: Lancaster, York, and Harrisburg, with their populations of 59,000, 43,000, and 49,000, respectively, as of 2018. These cities are in turn surrounded by associated suburbs and other small boroughs and towns. The Susquehanna River is a defining geographic feature, as are the mountains of the Alleghenies, which provide a picturesque forested break in the landscape from towns and farms.
Harrisburg, York, and Lancaster have been sanctuaries, in some ways, offering more liberal politics and inclusive communities. But beyond these areas, hostility often remains acute. Out of this inhospitable environment, both urban and rural, have emerged brave pioneer gay and lesbian activists who managed to find one another, create networks, and build a community that enhanced the quality of life in the region.
The stories chronicled in this book are of coming out, contending with family reactions, navigating bars and social life from the 1960s to the 1980s, facing AIDS, and dealing with a culturally conservative society. They tell how the LGBTQ residents of central Pennsylvania organized for their civil rights protections and how they secured their quality of life. Amid inequities, harassment, and discrimination, courageous but unheralded leaders stepped forward to create social networks and political organizations that would ensure their treatment as citizens with equal dignity under the law.
(Excerpt ends here.)
Mailing List
Subscribe to our mailing list and be notified about new titles, journals and catalogs.