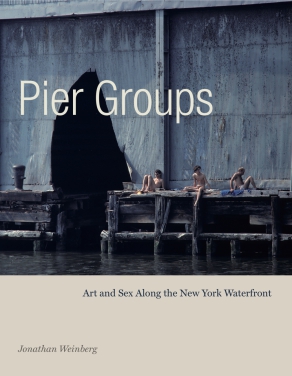 Pier Groups
Art and Sex Along the New York Waterfront
Jonathan Weinberg
Buy
Pier Groups
Art and Sex Along the New York Waterfront
Jonathan Weinberg
"An alluring homage to a time, a community, and a landscape that have long since vanished."
Description

Reviews

Bio

Table of Contents

Subjects
In 1970s New York City, the abandoned piers of the Hudson River became a site for extraordinary works of art and a popular place for nude sunbathing and anonymous sex. Jonathan Weinberg's provocative book—part art history, part memoir—weaves interviews, documentary photographs, literary texts, artworks, and film stills to show how avant-garde practices competed and mingled with queer identities along the Manhattan waterfront.
Artists as varied as Vito Acconci, Alvin Baltrop, Shelley Seccombe, and David Wojnarowicz made work in and about the fire-ravaged structures that only twenty years before had been at the center of the world's busiest shipping port. At the same time, the fight for the rights of gay, lesbian, and transgendered people, spurred by the 1969 Stonewall riots, was dramatically transforming the cultural and social landscape of New York City. Gay men suddenly felt free to sunbathe on the piers naked, cruise, and have sex in public. While artists collaborated to transform the buildings of Pier 34 into makeshift art studios and exhibition spaces, gay men were converting Pier 46 into what Delmas Howe calls an "arena for sexual theater."
Featuring one hundred exemplary works from the era and drawing from a rich variety of source material, interviews, and Weinberg's personal experience, Pier Groups breaks new ground to look at the relationship of avant-garde art to resistant subcultures and radical sexuality.
"An alluring homage to a time, a community, and a landscape that have long since vanished."
"Eminent queer art historian Jonathan Weinberg makes the case for how powerfully gay male social life, cruising, and public sex were of a piece in the early days of LGBT liberation. In the wake of oppression that brutally enforced queer invisibility, a newly burgeoning movement sought to colonize public spaces for queer desires. Merging the political with the erotic, queer public spaces such as the piers have become quasi-mythic embodiments of gay life before AIDS changed everything. Weinberg here strips away the myth with a careful social history of the most influential, if unseen, crucible of gay liberation at the moment when the full meaning of that term was only beginning to be realized."
"A compelling memorial to a lost world."
"Weinberg's careful research of these diverse practices makes for a meandering read, but one that offers surprising moments of beauty and coincidence as artists encounter each other on the waterfront."
"Powerfully moving and full of life, Pier Groups immerses the reader in an episode on the literal fringe, the derelict Hudson waterfront of lower Manhattan, and makes it central to the legendary art scenes of the 1970s and 1980s. Vividly illustrated with new photographic discoveries, Jonathan Weinberg's fluent and searching work captures a vibrant lost community in which he plays a part as chronicler, interpreter, and participant."
"Weinberg looks deeply into sexual cultures and artistic practices unfolding on the piers in the 1970s and considers the ways the art and cruising scenes are intercalated. His understanding of history, which rejects the logic of cause and effect, and his nonlinear approach to historical narration open new perspectives on artists about whom much has already been written."
"The strength of Weinberg's book lies in its ability to illustrate to the reader the verisimilitude of life and activity at the piers . . . while also offering significant interpretations and reinterpretations of artworks, installations, and happenings."
"Visuals and stimulating text . . . will be a fascinating surprise to younger readers unaware of the activity in 1970s gay Manhattan. For older readers who remember this era of danger, sex, desire, and public cruising, the book is a time capsule from a bygone era where on the fringes of a vibrant city thrived a microcosm of the gay community where sex and art reigned supreme."
"An incredible contribution to gay history in particular and to American art history in general. . . . A valuable work of scholarship, but also a fascinating glimpse at a place and time that may be gone but which, thanks to Weinberg, will not be forgotten."
"This game-changing book by Jonathan Weinberg draws on about a decade of research into the art made along Manhattan's West Side piers. It's an important commentary on how—and to whom—value is assigned."
"What makes reading Weinberg's book significant within writing on queer art history is his specific focus on relation, both among the many queer men, such as David Wojnarowicz and Leonard Fink, who cruised and created within the piers and the 'straight' artists, ranging from Gordon Matta-Clark to Vito Acconci, who made art there as well and responded to the same spaces."
"The author candidly frames his history with the admission that he, as an occasional participant in the life of the waterfront, may be prone to a certain nostalgia. Admirably, then, his book offers a markedly ambivalent picture of the piers."
"Through first-person narration Weinberg delivers a captivating account of these intercalated boundary-pushing groups, merging over two decades of academic research with interviews, photographic documentation and his own vivid memories of cruising on the city's derelict waterfront as a youth."
"Along with its plentiful illustrations, the innovative tone of the book makes it an engaging read suitable for a wide readership in and outside of academia."
"The most comprehensive look into a key period in New York City's queer history which has long deserved to have its story told."
"On the surface, the story of the Hudson Piers in the '70s was salacious. But it's also a case study in occupying public space to create a community that became synonymous with artistic and sexual freedom."
"Pier Groups is a work of scholarship that is both rigorously researched and movingly personal. But it is also, and no less urgently, a work of art."
"Particularly vivid."
Jonathan Weinberg is the curator of the Maurice Sendak Foundation and teaches at the Yale School of Art and the Rhode Island School of Design. He is the author of Male Desire: The Homoerotic in American Art and Ambition and Love in Modern American Art and a coeditor, with Alejandro Anreus and Diana Linden, of The Social and the Real, also published by Penn State University Press. He is the lead curator for the touring exhibition Art After Stonewall, 1969–1989, organized by the Columbus Museum of Art to celebrate the fiftieth anniversary of the Stonewall riots. His paintings are in many public and private collections, including those of the Metropolitan Museum of Art and the Montclair Art Museum.
Contents
List of Illustrations
Acknowledgments Introduction 1. Initiations 2. Material for Blackmail 3. Degenerate Structure 4. David Wojnarowicz in New York 5. The Pickup Machine 6. Something Possible Everywhere Epilogue Notes Index
Mailing List
Subscribe to our mailing list and be notified about new titles, journals and catalogs.