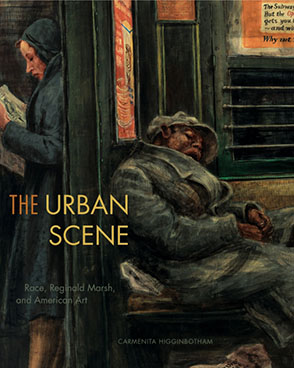 The Urban Scene
Race, Reginald Marsh, and American Art
Carmenita Higginbotham
BUY
The Urban Scene
Race, Reginald Marsh, and American Art
Carmenita Higginbotham
"A scholarly project undertaken with clarity and precision, The Urban Scene is an important and innovative contribution to the literature on American culture and art during the interwar decades."
Description

Reviews

Bio

Table of Contents

Sample Chapters

Subjects
In The Urban Scene, Carmenita Higginbotham offers a significant and innovative reassessment of the ways in which race is deployed and read in interwar American art. By focusing on the works of urban realist Reginald Marsh and his contemporaries, Higginbotham explores how black figures acted as substantive cultural and visual markers in American art and embodied complex concerns about the presence of African Americans in urban centers. The book breaks from previous scholarship that insists interwar American art employed racial types primarily to emphasize the inferiority of blacks. Instead, it reframes the interchange between Marsh's pictorial language and prevailing representations of race in American art and visual culture to explore negotiations over urban space and constructions of national identity in American Scene painting. The Urban Scene is significant for its consideration of the intricate ways in which dominant culture adopts and disseminates black representation and how aesthetic and representational strategies operate within broader social and political tactics to regulate urban blacks.
"A scholarly project undertaken with clarity and precision, The Urban Scene is an important and innovative contribution to the literature on American culture and art during the interwar decades."
"The Urban Scene skillfully re-creates for readers the social and racial contexts in which Reginald Marsh's paintings first circulated. The book deftly explores early twentieth-century artistic practice, urban development, consumerism, and racial identity to help readers better understand how white and black audiences made sense of the artist's canvases of blacks."
"Readers of this finely nuanced interpretation of Reginald Marsh's African American imagery will gain a clear sense of the artist's positive—and negative—contributions to American Scene painting's portrayal of race during the Depression. With close attention to stylistic, critical, and social contexts, Carmenita Higginbotham cogently reveals Marsh's pictorial balancing act. His integrated portrayals of New York's subways, beaches, Harlem nightclubs, and Bowery dives intimated a more democratic opening of the urban scene. But they simultaneously offered visual containment to keep blacks in place. Such pictorial strategies, Higginbotham argues, provided a comfortable and negotiable imagery for Marsh's white upper-middle-class audience."
"Carmenita Higginbotham explores how Marsh's late 1920s and 1930s paintings of mass congestion and congregation—on the subway or the beach, in nightclubs or breadlines—stage the interracial negotiations that were increasingly understood as a key feature of modern urban experience. Vividly contextualizing the works in the visual field of the period, she teases out the meanings of 'blackness' they encode, unfolding a variety of power dynamics, libidinal investments, essentializations, and performances on the parts of both the figures in the paintings and their creator. The Urban Scene is a powerful exegesis of the contemporary pleasures, dangers, and potentialities of reading race."
"A fine addition to our understanding of race (and gender) as elements in the artistic representation of urban America."
Carmenita Higginbotham is Associate Professor of Art History at the University of Virginia.
Mailing List
Subscribe to our mailing list and be notified about new titles, journals and catalogs.