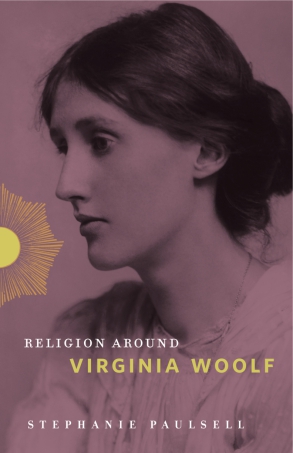 Religion Around Virginia Woolf
Stephanie Paulsell
Buy
Religion Around Virginia Woolf
Stephanie Paulsell
"[Paulsell's] is a meditative, 'slow-reading' approach that enables readers to investigate Woolf's works with restored appreciation for religious language and resonances. It builds into a dazzling survey of religion around Woolf which makes the history of ideas exciting—and revelatory."
Media

Description

Reviews

Bio

Subjects
Click here
to hear author Stephanie Paulsell discuss her book as part of the Open Div Summit in February 2021.
Virginia Woolf was not a religious person in any traditional sense, yet she lived and worked in an environment rich with religious thought, imagination, and debate. From her agnostic parents to her evangelical grandparents, an aunt who was a Quaker theologian, and her friendship with T. S. Eliot, Woolf's personal circle was filled with atheists, agnostics, religious scholars, and Christian converts. In this book, Stephanie Paulsell considers how the religious milieu that Woolf inhabited shaped her writing in unexpected and innovative ways.
Beginning with the religious forms and ideas that Woolf encountered in her family, friendships, travels, and reading, Paulsell explores the religious contexts of Woolf's life. She shows that Woolf engaged with religion in many ways, by studying, reading, talking and debating, following controversies, and thinking about the relationship between religion and her own work. Paulsell examines the ideas about God that hover around Woolf's writings and in the minds of her characters. She also considers how Woolf, drawing from religious language and themes in her novels and in her reflections on the practices of reading and writing, created a literature that did, and continues to do, a particular kind of religious work.
A thought-provoking contribution to the literature on Woolf and religion, this book highlights Woolf's relevance to our post-secular age. In addition to fans of Woolf, scholars and general readers interested in religious and literary studies will especially enjoy Paulsell's well-researched narrative.
"[Paulsell's] is a meditative, 'slow-reading' approach that enables readers to investigate Woolf's works with restored appreciation for religious language and resonances. It builds into a dazzling survey of religion around Woolf which makes the history of ideas exciting—and revelatory."
"Stephanie Paulsell takes our appreciation of Virginia Woolf's religious sensibilities to a new level. An important read for Woolf scholars, this book also demonstrates her significance for anyone interested in the spiritual value of literature."
"Religion Around Virginia Woolf will inspire poets, novelists, theologians, scholars—anyone who has ever wondered about the origins of Virginia Woolf's genius. Stephanie Paulsell's brilliant and impassioned study uncovers the ways in which Woolf's life—and especially her life as a reader—shaped her writing about the hidden connections among humans, the making of art, and her notions of the divine. In brilliant, lucid prose, Paulsell's insights and close readings describe the 'fresh chapels' where we might find new forms of devotion. This is a book I'm recommending to all the serious readers and writers I know."
"Stephanie Paulsell has written a landmark book on Virginia Woolf. It is revelatory. She has dared to name what we all have intuited: Woolf is not just a literary writer with a politics of her own, but she is also a spiritual writer who touches the ineffable, so we can touch it too. With uncommon insight and brilliant scholarship, Paulsell illuminates and elucidates Woolf's prose for what it is: sacred text. I now want to reread everything Virginia Woolf has written as if I were on a pilgrimage with fresh eyes."
"Paulsell offers valuable context and thoughts for further exploration."
"From this well-researched book, readers will take away a new understanding of how religion works in and 'around' literature and a deeper appreciation of Virginia Woolf's religious contribution, despite her professed atheism, to secular modernity and literary modernism."
Stephanie Paulsell is Susan Shallcross Swartz Professor of the Practice of Christian Studies at Harvard Divinity School.
Mailing List
Subscribe to our mailing list and be notified about new titles, journals and catalogs.