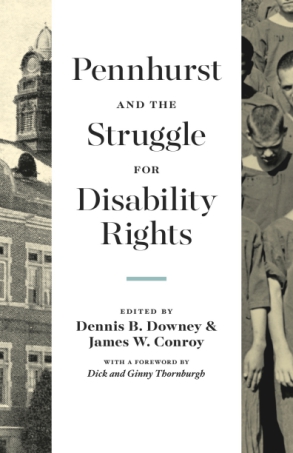 Pennhurst and the Struggle for Disability Rights
Edited by Dennis B. Downey, James W. Conroy, Foreword by Dick Thornburgh, and Ginny Thornburgh
Buy
Pennhurst and the Struggle for Disability Rights
Edited by Dennis B. Downey, James W. Conroy, Foreword by Dick Thornburgh, and Ginny Thornburgh
"The singular importance of Pennhurst—to people with disabilities, American history, and humanity's long arc toward justice—cannot be overstated. Wisely, brilliantly, the editors of this multilayered and illuminating book chose to tell the tale of this one place in a way that encompasses all it epitomized, from eminent physicians urging tragic beliefs to the flesh and blood individuals who lived with (and loved amidst) the consequences, from the brave reporters who exposed the concealed and the cruel to the dogged advocates who battled for rights and freedom. Even the ghastly misuse of the site in our own time—as infuriating as it is emblematic—is laid bare. I wish every politician with a conscience, indeed, every person with a heart and a soul, would pick up this book. A compelling feat of truth-telling, it is essential reading for all."
Description

Reviews

Bio

Table of Contents

Subjects
Conceived in the era of eugenics as a solution to what was termed the "problem of the feeble-minded," state-operated institutions subjected people with intellectual and developmental disabilities to a life of compulsory incarceration. One of nearly 300 such facilities in the United States, Pennhurst State School and Hospital was initially hailed as a "model institution" but was later revealed to be a nightmare, where medical experimentation and physical and psychological abuse were rampant. At its peak, more than 3,500 residents were confined at Pennhurst, supervised by a staff of fewer than 600.
Using a blended narrative of essays and first-person accounts, this history of Pennhurst examines the institution from its founding during an age of Progressive reform to its present-day exploitation as a controversial Halloween attraction. In doing so, it traces a decades-long battle to reform the abhorrent school and hospital and reveals its role as a catalyst for the disability rights movement. Beginning in the 1950s, parent-advocates, social workers, and attorneys joined forces to challenge the dehumanizing conditions at Pennhurst. Their groundbreaking advocacy, accelerated in 1968 by the explosive televised exposé Suffer the Little Children, laid the foundation for lawsuits that transformed American jurisprudence and ended mass institutionalization in the United States. As a result, Pennhurst became a symbolic force in the disability civil rights movement in America and around the world.
Extensively researched and featuring the stories of survivors, parents, and advocates, this compelling history will appeal both to those with connections to Pennhurst and to anyone interested in the history of institutionalization and the disability rights movement.
"The singular importance of Pennhurst—to people with disabilities, American history, and humanity's long arc toward justice—cannot be overstated. Wisely, brilliantly, the editors of this multilayered and illuminating book chose to tell the tale of this one place in a way that encompasses all it epitomized, from eminent physicians urging tragic beliefs to the flesh and blood individuals who lived with (and loved amidst) the consequences, from the brave reporters who exposed the concealed and the cruel to the dogged advocates who battled for rights and freedom. Even the ghastly misuse of the site in our own time—as infuriating as it is emblematic—is laid bare. I wish every politician with a conscience, indeed, every person with a heart and a soul, would pick up this book. A compelling feat of truth-telling, it is essential reading for all."
"In this historical study of Pennhurst, the authors take us from the fears about disabilities raised by eugenics to the horrors of institutional life, then to the central role of Pennhurst in litigation that ushered in a new era of disability rights, and finally back to fears, this time by the use of some of the property for "haunted" Halloween tours that play on the collective memories embedded in its institutional walls. The book is a much more fitting remembrance of those who fought and survived."
"Speaks to the connections between disability history and public history and provides insight and context into a key place and moment in the movement for disability rights. The book deserves a wide audience."
Dennis B. Downey is Emeritus Professor of History at Millersville University. He is the author or coauthor of numerous books, including A Season of Renewal: The Columbian Exposition and Victorian America and Coatesville and the Lynching of Zachariah Walker: Death in a Pennsylvania Steel Town.
James W. Conroy is President of the Center for Outcome Analysis and President of the Pennhurst Memorial and Preservation Alliance. He is the author of more than a dozen longitudinal studies, including one on Pennhurst.
List of Illustrations
Foreword
Dick and Ginny Thornburgh
Acknowledgments
Introduction
Dennis B. Downey and James W. Conroy
Part 1: Pennhurst in Time and Place
1. The Idea of Pennhurst: Eugenics and the Abandonment
of Hope
Dennis B. Downey
2. Living in a World Apart
J. Gregory Pirmann
3. The Veil of Secrecy: A Legacy of Exploitation and Abuse
James W. Conroy and Dennis B. Downey
Part 2: The Power of Advocacy
4. Suffer the Little Children: An Oral Remembrance
Bill Baldini
5. The Rise of Family and Organizational Advocacy
Janet Albert-Herman and Elizabeth Coppola
6. From PARC to Pennhurst: The Legal Argument for Equality
Judith A. Gran
7. The Rise of Self-Advocacy: A Personal Remembrance
Mark Friedman and Nancy K. Nowell
8. The Pennhurst Longitudinal Study and Public Policy: How We Learned That People Were Better Off
James W. Conroy
Part 3: A View to the Future
9. Touring the Ecology of the Abandoned
Heath Hofmeister and Chris Peecho Cadwalader
10. Preservation: A Case Study of Collective Conscience
Nathaniel Guest
11. The Final Indignity and the Dawning of Hope
Emily Smith Beitiks
Conclusion
Dennis B. Downey and James W. Conroy
Timeline of Pennhurst State School and Hospital
Suggestions for Further Reading
Contributors
Index
Mailing List
Subscribe to our mailing list and be notified about new titles, journals and catalogs.