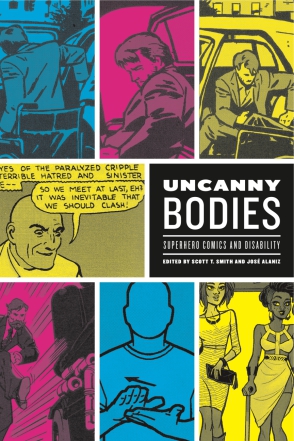 Uncanny Bodies
Superhero Comics and Disability
Edited by Scott T. Smith and José Alaniz
Buy
Uncanny Bodies
Superhero Comics and Disability
Edited by Scott T. Smith and José Alaniz
"A remarkably significant contribution to both disability studies and comics studies. The essays collected here interrogate how superhero comics have struggled with reconciling the fantasy of the superbody with a growing concern, among producers and readers, for a more diverse and more adequate treatment of disabilities ranging from autism and dissociative identity disorder to deafness and progressive muscular dystrophy. A truly eye-opening book!"
Description

Reviews

Bio

Subjects
Superhero comics reckon with issues of corporeal control. And while they commonly deal in characters of exceptional or superhuman ability, they have also shown an increasing attention and sensitivity to diverse forms of disability, both physical and cognitive. The essays in this collection reveal how the superhero genre, in fusing fantasy with realism, provides a visual forum for engaging with issues of disability and intersectional identity (race, ethnicity, class, gender, and sexuality) and helps to imagine different ways of being in the world.
Working from the premise that the theoretical mode of the uncanny, with its interest in what is simultaneously known and unknown, ordinary and extraordinary, opens new ways to think about categories and markers of identity, Uncanny Bodies explores how continuums of ability in superhero comics can reflect, resist, or reevaluate broader cultural conceptions about disability. The chapters focus on lesser-known characters—such as Echo, Omega the Unknown, and the Silver Scorpion—as well as the famous Barbara Gordon and the protagonist of the acclaimed series Hawkeye, whose superheroic uncanniness provides a counterpoint to constructs of normalcy. Several essays explore how superhero comics can provide a vocabulary and discourse for conceptualizing disability more broadly. Thoughtful and challenging, this eye-opening examination of superhero comics breaks new ground in disability studies and scholarship in popular culture.
In addition to the editors, the contributors are Sarah Bowden, Charlie Christie, Sarah Gibbons, Andrew Godfrey-Meers, Marit Hanson, Charles Hatfield, Naja Later, Lauren O'Connor, Daniel J. O'Rourke, Daniel Pinti, Lauranne Poharec, and Deleasa Randall-Griffiths.
"A remarkably significant contribution to both disability studies and comics studies. The essays collected here interrogate how superhero comics have struggled with reconciling the fantasy of the superbody with a growing concern, among producers and readers, for a more diverse and more adequate treatment of disabilities ranging from autism and dissociative identity disorder to deafness and progressive muscular dystrophy. A truly eye-opening book!"
"Historically, the mad villain and the supercrip have embodied comics' problematic relationship to disability. However, Smith, Alaniz, and their contributors use an intersectional lens to capture the diverse range of superhero comics that move beyond these stereotypes. Through discussions of chronic, temporary, and fluid visible and invisible disabilities in such comics as Birds of Prey, Hawkeye, and El Deafo, the volume expands our understanding of the superhero figure and pushes the limits of disability studies."
"What is particularly laudable about Uncanny Bodies is that it remains nuanced and specific throughout. Reflections complicating the motif of empowerment are present just as are descriptions of truly empowering moments and projects. As such, the volume is an important contribution to the discourse on dis/ability—and its links to the depiction of bodies in recent visual popular culture."
"Uncanny Bodies offers nuanced interrogations of how dis/ability is presented within superhero narratives. The strength of the volume lies in the wide range of topics treated and in the diverse methodological approaches chosen, from posthumanist considerations to queer theory. A constant is an unwavering commitment to taking seriously the multifaceted and intersectional nature of the issue(s) at hand. As such, Uncanny Bodies will be a point of reference for further scholarship in the field."
"Published as part of the "Graphic Medicine" series from Penn State University Press, Uncanny Bodies is a significant and essential contribution to comics studies as well as to the expanding body of research on and interrogation of the depiction of disability in society and culture."
Scott T. Smith is Associate Professor of English and Comparative Literature at Penn State University.
José Alaniz is Professor of Slavic Languages and Literatures and Adjunct Professor of Comparative Literature at the University of Washington.
Mailing List
Subscribe to our mailing list and be notified about new titles, journals and catalogs.