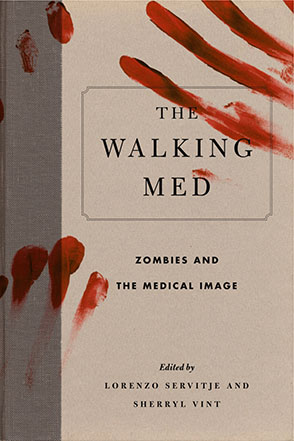 The Walking Med
Zombies and the Medical Image
Edited by Lorenzo Servitje and Sherryl Vint, Foreword by Steven C. Schlozman
BUY
The Walking Med
Zombies and the Medical Image
Edited by Lorenzo Servitje and Sherryl Vint, Foreword by Steven C. Schlozman
"Beautifully presented, with numerous illustrations and figures, this collection will make the reader approach the zombie with fresh eyes."
Description

Reviews

Bio

Table of Contents

Sample Chapters

Subjects
The zombie craze has infected popular culture with the intensity of a viral outbreak, propagating itself through text, television, film, video games, and many other forms of media. As a metaphor, zombies may represent political notions, such as the return of the repressed violence of colonialism, or the embodiment of a culture obsessed with consumerism. Increasingly, they are understood and depicted as a medicalized phenomenon: creatures transformed by disease into a threatening vector of contagion.
The Walking Med brings together scholars from across the disciplines of cultural studies, medical education, medical anthropology, and art history to explore what new meanings the zombie might convey in this context. These scholars consider a range of forms—from comics disseminated by the Centers for Disease Control and Prevention to graphic novels and television shows such as The Walking Dead—to show how interrogations of the zombie metaphor can reveal new perspectives within the medical humanities.
An unprecedented forum for dialogue between cultural studies of zombies and graphic medicine, The Walking Med is an invaluable contribution to both areas of study, as well as a potent commentary on one of popular culture's most invasive and haunting figures.
In addition to the editors, the contributors are Tully Barnett, Gerry Canavan, Daniel George, Michael Green, Ben Kooyman, Sarah Juliet Lauro, Juliet McMullin, Kari Nixon, Steven Schlozman, Dan Smith, and Darryl Wilkinson.
"Beautifully presented, with numerous illustrations and figures, this collection will make the reader approach the zombie with fresh eyes."
"This collection takes a most innovative and interdisciplinary approach to the very prevalent cultural phenomenon of the zombie. Instead of retracing conventional methodological pathways, the editors have done a remarkable job in guiding their contributors toward new and challenging perspectives on the subject. For anyone wanting a swerve from their own well-trodden paths researching or teaching the zombie, I wholeheartedly recommend a deep and thorough look into this book for inspiration."
"Lorenzo Servitje and Sherryl Vint have combined the disparate threads of medical science, the graphic novel, and zombie studies into an unlikely yet highly successful anthology of essays. By assembling a cast of some of the most influential scholars working today in these fields, they have produced a valuable interdisciplinary collection of thought-provoking and timely essays."
"The Walking Med represents interdisciplinary scholarship at its best, situating the necropolitical stakes of zombie media in relation to the undead tropes of clinical discourse, addressing the liminal condition of the body—even life itself—under the regime of contemporary biomedicine. Ghastly smart stuff!"
"The Walking Med shows, in no uncertain way, the power of interdisciplinary inquiry at the intersection of medical humanities, visual culture, and monster studies. This highly innovative and original collection illustrates how contemporary zombie narratives and images help us think of crises and opportunities in medicine and health care systems. As a whole, The Walking Med convincingly argues that zombies are powerful and necessary symbols of medicine and its politics."
Lorenzo Servitje is a Ph.D. candidate in English at the University of California, Riverside, and the coeditor of Endemic: Essays in Contagion Theory.
Sherryl Vint is Professor and Director of the Speculative Fiction and Cultures of Science program at the University of California, Riverside, editor of Science Fiction and Cultural Theory: A Reader, and an editor of the journals Science Fiction Studies and Science Fiction Film and Television.
Table of Contents
Foreword
Steve Schlozman
Preface
Lorenzo Servitje and Sherryl Vint
Introduction
Lorenzo Servitje
Diagnosing Zombie Culture
1. Don't Point that Gun at My Mum: Geriatric Zombies
Gerry Canavan
2. Viral Virulence, Postmodern Zombies, and the American Healthcare Enterprise in the Antibiotic Age
Kari Nixon
3. "The Cure Has Killed Us All": Dramatizing Medical Ethics through Zombie and Period Fiction Tropes in The New Deadwardians
Tully Barnet and Ben Kooyman
Reading the Zombie Metaphor
4. The Walking Med: Zombies, Comics, and Medical Education
Michael Green, Daniel George, and Darryl Wilkinson
5. Zombie Toxins: Abjection and Cancer's chemicals
Juliet McMullin
6. Administering the Crisis: Zombies and Public Health in the 28 Days Later Comic Series
Sherryl Vint
Visualizing Medical Zombies
7. Blurred Lines and Human Objects: The Zombie Art of George Pfau
Sarah Juliet Lauro
8. Open Up a Few Zombie Brains: Objectivity, Medical Visuality, Brain Imaging in The Zombie Autopsies
Lorenzo Servitje
9. The Anorexic as Zombie Witness: Illness and Recovery in Katie Green's Lighter Than My Shadow
Dan Smith
Mailing List
Subscribe to our mailing list and be notified about new titles, journals and catalogs.