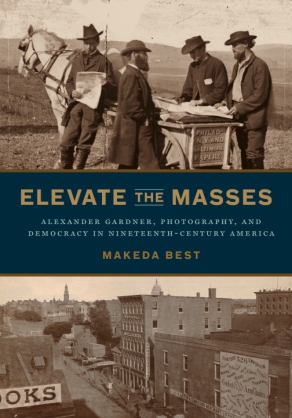 Elevate the Masses
Alexander Gardner, Photography, and Democracy in Nineteenth-Century America
Makeda Best
Buy
Elevate the Masses
Alexander Gardner, Photography, and Democracy in Nineteenth-Century America
Makeda Best
"Elevate the Masses takes a fresh look at the career of Alexander Gardner by focusing on his social and photographic work in his home country of Scotland and situating that work in a transatlantic discourse on political rights and reform. The book's reconsideration of Gardner's photographs in the context of the US Civil War promises to shift how scholars think about this well-studied area of photography's history."
Description

Reviews

Bio

Table of Contents

Sample Chapters

Subjects
Alexander Gardner is best known for his innovative photographic history of the Civil War. What is less known is the extent to which he was involved in the international workers' rights movement. Tying Gardner's photographic storytelling to his transatlantic reform activities, this book expands our understanding of Gardner's career and the work of his studio in Washington, DC, by situating his photographic production within the era's discourse on social and political reform.
Drawing on previously unknown primary sources and original close readings, Makeda Best reveals how Gardner's activism in Scotland and photography in the United States shared an ideological foundation. She reads his Photographic Sketch Book of the War as a politically motivated project, rooted in Gardner's Chartist and Owenite beliefs, and illuminates how its treatment of slavery is primarily concerned with the harm that the institution posed to the United States' reputation as a model democracy. Best shows how, in his portraiture, Gardner celebrated Northern labor communities and elevated white immigrant workers, despite the industrialization that degraded them. She concludes with a discussion of Gardner's promotion of an American national infrastructure in which photographers and photography played an integral role.
Original and compelling, this reconsideration of Gardner's work expands the contribution of Civil War photography beyond the immediate narrative of the war to comprehend its relation to the vigorous international debates about democracy, industrialization, and the rights of citizens. Scholars working at the intersection of photography, cultural history, and social reform in the nineteenth century on both sides of the Atlantic will find Best's work invaluable to their own research.
"Elevate the Masses takes a fresh look at the career of Alexander Gardner by focusing on his social and photographic work in his home country of Scotland and situating that work in a transatlantic discourse on political rights and reform. The book's reconsideration of Gardner's photographs in the context of the US Civil War promises to shift how scholars think about this well-studied area of photography's history."
"Alexander Gardner's pathbreaking photography developed from long-term commitments to democracy and social reform, mixed with shrewd enterprise. Makeda Best's transatlantic biographical frame shapes stimulating readings of enduring images."
"Drawing on Gardner's artisan and immigrant identities and his writing in the Glasgow newspaper he owned, Best connects the photographer's sociopolitical views to Chartism and other European reform movements. Using this international perspective, she provides fresh insight into Gardner's Civil War photographs, which have been read mostly as American expression and commercial opportunism. Best draws meaningful parallels between the communicative role and strategies of progressive newspapers and those of Gardner's paper-based photography, and she repositions his best-known work, Photographic Sketch Book of the War (1866; republished, 1959), as a political project and innovative visual form."
"Through Best's deliberate and revelatory analysis, Gardner's belief in transformative social change, and in photography's power to envision this, is brought forth."
Makeda Best is Deputy Director of Curatorial Affairs at the Oakland Museum of California.
List of Illustrations
Acknowledgments
Introduction: Elevate the Masses
1 The Fierce Flames of Democracy
2 Remove the Foul Blot
3 Labor's Portrait Gallery
4 Washington's Promise
Conclusion: Convince the Understanding, Arouse the Conscience
Notes
Index
Mailing List
Subscribe to our mailing list and be notified about new titles, journals and catalogs.