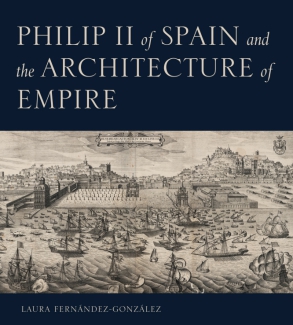 Philip II of Spain and the Architecture of Empire
Laura Fernández-González
BUY
Philip II of Spain and the Architecture of Empire
Laura Fernández-González
"Laura Fernández-González's attention to understudied buildings is admirable, as is her characterization of the Spanish Empire as one under construction. Philip II of Spain and the Architecture of Empire makes an important contribution to the study of domestic architecture and will certainly put the Royal Archive at Simancas on the map of important undertakings by Philip II."
Description

Reviews

Bio

Table of Contents

Sample Chapters

Subjects
Philip II of Spain was a major patron of the arts, best known for his magnificent palace and royal mausoleum at the Monastery of San Lorenzo of El Escorial. However, neither the king's monastery nor his collections fully convey the rich artistic landscape of early modern Iberia. In this book, Laura Fernández-González examines Philip's architectural and artistic projects, placing them within the wider context of Europe and the transoceanic Iberian dominions.
Philip II of Spain and the Architecture of Empire investigates ideas of empire and globalization in the art and architecture of the Iberian world during the sixteenth century, a time when the Spanish Empire was one of the largest in the world. Fernández-González illuminates Philip's use of building regulations to construct an imperial city in Madrid and highlights the importance of his transformation of the Simancas fortress into an archive. She analyzes the refashioning of his imperial image upon his ascension to the Portuguese throne and uses the Hall of Battles in El Escorial as a lens through which to understand visual culture, history writing, and Philip's kingly image as it was reflected in the funeral commemorations mourning his death across the Iberian world. Positioning Philip's art and architectural programs within the wider cultural context of politics, legislation, religion, and theoretical trends, Fernández-González shows how design and images traveled across the Iberian world and provides a nuanced assessment of Philip's role in influencing them.
Original and important, this panoramic work will have a lasting impact on Philip II's artistic legacy. Art historians and scholars of Iberia and sixteenth-century history will especially value Fernández-González's research.
"Laura Fernández-González's attention to understudied buildings is admirable, as is her characterization of the Spanish Empire as one under construction. Philip II of Spain and the Architecture of Empire makes an important contribution to the study of domestic architecture and will certainly put the Royal Archive at Simancas on the map of important undertakings by Philip II."
Laura Fernández-González is Senior Lecturer in Architectural History at the University of Lincoln. She is the coeditor, with Marjorie Trusted, of the special issue of Renaissance Studies titled "Visual and Spatial Hybridity in the Early Modern Iberian World" and, with Fernando Checa Cremades, of the book Festival Culture in the World of the Spanish Habsburgs.
Contents
List of Illustrations
Acknowledgements
Introduction: Philip II of Spain, Architecture, and Visual Circulations
1. "A World, an Empire, Under Construction": Domestic Architecture and Spanish Imperial Authority
2. Ruling an Empire Through Paper: Architecture and the Simancas Archive
3. The Global Empire and Its Circulations: Philip II and the Iberian Union
4. On History and Fame: Philip II's Kingly Image and the Spanish Monarchy
Epilogue
Glossary
Notes
Bibliography
Index
Mailing List
Subscribe to our mailing list and be notified about new titles, journals and catalogs.