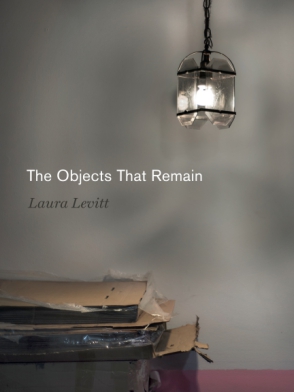 The Objects That Remain
Laura Levitt
Buy
The Objects That Remain
Laura Levitt
"[An] aching, concentric rumination on loss, in which writing through the aftermath leads to insights on letting go and holding on."
Media

Description

Reviews

Bio

Table of Contents

Sample Chapters
On a November evening in 1989, Laura Levitt was raped in her own bed. Her landlord heard the assault taking place and called 911, but the police arrived too late to apprehend Laura's attacker. When they left, investigators took items with them—a pair of sweatpants, the bedclothes—and a rape exam was performed at the hospital. However, this evidence was never processed.
Decades later, Laura returns to these objects, viewing them not as clues that will lead to the identification of her assailant but rather as a means of engaging traumatic legacies writ large.
The Objects That Remain is equal parts personal memoir and fascinating examination of the ways in which the material remains of violent crimes inform our experience of, and thinking about, trauma and loss. Considering artifacts in the United States Holocaust Memorial Museum and evidence in police storage facilities across the country, Laura's story moves between intimate trauma, the story of an unsolved rape, and genocide. Throughout, she asks what it might mean to do justice to these violent pasts outside the juridical system or through historical empiricism, which are the dominant ways in which we think about evidence from violent crimes and other highly traumatic events.
Over the course of her investigation, the author reveals how these objects that remain and the stories that surround them enable forms of intimacy. In this way, she models for us a different kind of reckoning, where justice is an animating process of telling and holding.
"[An] aching, concentric rumination on loss, in which writing through the aftermath leads to insights on letting go and holding on."
"A difficult, painful, and compelling book in which Levitt weaves a complex analysis of the materiality and meaningfulness of what remains of the quotidian (objects, clothing, detritus) as testimony and witness to trauma."
"How does evidence function in the pursuit of justice? Laura Levitt was violently raped decades ago, and The Objects That Remain attends to the reverberations of that experience. Rare in her capacity to create a book both analytically rigorous and imaginatively capacious, Levitt here juxtaposes a remarkable range of events, objects, archives, and stories that she has gathered from extensive research. She tracks how official histories are told, and how she remembers what is lost and forever gone. As she does this work, the book turns toward a new horizon of justice and an underdetermined future."
"At times provocative and uncomfortable, yet persistently inquisitive, The Objects That Remain is an autobiographically framed investigation—a forensic search, if you will—for traces of evidence in the objects that carry sexual and state violence. The book is an imaginative rethinking of sensory knowledge across multiple scales and eras, and it marks a memorable contribution to cultural analyses of material artifacts as carriers of a crime and a silence."
"The Objects That Remain . . . represents a tour de force and a significant contribution to Jewish studies and to feminist perspectives in religious studies more broadly."
Laura Levitt is Professor of Religion, Jewish Studies, and Gender at Temple University. She is the author of American Jewish Loss After the Holocaust and Jews and Feminism: The Ambivalent Search for Home.
Acknowledgements
Prelude: An Affection for Objects, A Memory of Blood
Introduction
Part I: Sacred Texts, The Red Parts
Chapter One: The Allure of Bloody Garments: A Medieval Interlude
Chapter Two: In the Poet's Hand: The Red Parts
Chapter Three: In the Potter's Hands: Containers of Loss
Part II: The Arts and Rites of Holding
Chapter Four: The Art of Custody: Police Property Management
Chapter Five: The Arts of Conservation and Collections Management
Chapter Six: Tending to Sacred Objects and Their Afterlives
Coda/Conclusion: Returning to Atlanta, Carrying On
Notes
Bibliography
Index
Prelude
An Affection for Objects, a Memory of Blood
I have always liked things. I have a special fondness for shoes and clothing. As a child, I even talked to my shoes. I was especially attached to my school shoes in the days when we all had a special pair to be worn every day for the entire year. We would go shoe shopping every fall and I would get to pick them out. The hardest part was coming home and having to displace the prior year's shoes. I felt sorry for them. It hurt to say goodbye.
I had strong feelings about other everyday pieces of clothing, especially my childhood undershirts, a white cotton sleeveless variety with a bow on the front. Inside the back was the tag. The bow made the front special and I felt sorry for the back. Not only did it never get to be in front, but it also had no adornment. As a very young child, I taught myself a trick to help make up for this discrepancy. I learned how to put my undershirts on inside out and upside down. This allowed the back to be in front at least once each day as I put the undershirt on. I still tend to put on tops in this manner, inside out and upside down, and I have been embarrassed when caught unconsciously doing this seemingly abnormal thing in a public place, like the locker room at the gym. In these awkward moments, I am often abruptly reminded that this is not the way most people put on their shirts.
When I was about four going on five, my family visited my grandmother in her Long Island home. My grandmother lived up a hill, and a very long, intricate cement staircase led up to the house, punctuated with rocks on the railings and turrets at the landings that made the whole property look like a castle. We had to walk down those stairs as we said goodbye and returned to our car. It was a long haul for my four-year-old legs and even longer for my little brother.
I was the big sister. My brother was eighteen months younger, and although I don't remember exactly what happened, as we descended the stairs that day, he fell. I may have pushed him. Or I may have wished that I had pushed him, but when it happened, I was completely unnerved, overcome with guilt for whatever ill wishes I may have harbored just moments before the fall.
He landed on his chin and had to be rushed to the hospital for stitches. That was the first of three falls he took on those steps, but this, the first, lingers in my memory. I could not forgive myself for what had happened and focused on all the blood. En route to the hospital, I said the word over and over, blood, blood, blood, blood. I said it so many times that I could no longer distinguish the meaning of the word from the sound of the letters as I enunciated them. I do not remember my brother covered in blood. I have no recollection of his stained clothing. I only remember repeating the word to myself over and over again. And, after he came home, I remember the big bandage on his chin. I recall that it scared the kids on our block. In the past, he'd been known as a biter, and the wound served to call attention to his mouth once again.
Introduction
The Afterlife of Objects
It was early August when I took the Metro out to a suburban station to meet the chief conservator of the United States Holocaust Memorial Museum (USHMM). She was taking me to the museum's off-site storage facility. I would spend the day in this most unlikely space. As I entered the nondescript suburban building—the museum's off-site repository had not yet moved into its new state-of-the art facility—I was struck by its bland character, a deliberate choice. This was my impression until I entered the first of many rooms and, eventually, the vast storage space that housed so much of the museum's collection. As if I had entered into a folded Le Sac bag, it was hard to believe that the building could be so large.
In that first room, a conservation space, I watched a woman seated beside an ironing board, sewing intently. She was working on a damaged blue-and-white-striped prisoner uniform. Of course, I had never been this close to one of these iconic garments. I thought about the uniforms I had seen on display and those I had seen in photographs. This jacket was much more elaborate than any I had ever seen. It was carefully tailored with many seams and pockets, but it was also in terrible shape. There were huge holes and tears in it (why is this word the same as tears?). These wounds were the focus of the seamstress's careful attention. The room was electric with the energy that crackled from this fragile object, and I was deeply affected by the experience.
In my last book, I wrote about a different kind of Holocaust object, family photographs and the allure of those precious traces of life before. I wrote about holding and touching such photographs, the ways in which many people carried these images with them. I built on powerful scholarly works that described these attachments in terms of haptic cinema and photography, the touching of images, but now I find myself homing in to consider clothing and other material objects as much more intimate. These are objects that cover and hold our bodies. We wear these textiles. We live inside them. The longer we inhabit them, the more of us they contain. As Maggie Nelson suggests, millions of traces of our DNA, in skin cells, sweat, piss, blood, saliva, tears, permeate such garments. But clothing that is worn day in and day out for long periods of time is also marked in a different way. It is shaped by our bodies. Not only were these uniforms worn constantly, but because they were handed out haphazardly, they often did not fit and so were carefully tailored by the very prisoners who wore them, who used whatever was at hand to try to make them fit. The uniform jacket I saw being mended was unusual in its intricate tailoring. It was altered to fit a specific person.
The camp uniforms held in the USHMM collection are so fragile that careful efforts must be made simply to keep them from disintegrating. And because the bodies of those who inhabited these garments have been missing for so long, in order to preserve them, to keep them from falling apart, each uniform has its own body-shaped hanger. These effigies are custom fit. They are specially made for each jacket, shirt, or pair of pants. These stuffed, mannequin-like hanging figures help take the stress off fragile seams and frayed panels. The prisoners are gone but the hangers convey a semblance of their presence. In reverse logic, the bodies beneath the fabric protect the garment, not the other way around.
Because these pieces of clothing are also witnesses to the atrocities performed on those who wore them, they attest to those crimes. They constitute a form of criminal as well as historical evidence. Bound to those bodies and those legacies, they offer silent testimony, but their presence in the museum is not simply material.
An aura emanates from these intimate articles of clothing. Once an abiding presence in the lives of those who wore them, these garments carry the traces of those now absent bodies. Such haptic connections are what attract us to these tainted pieces of clothing. Not unlike religious relics whose proximity to the bodies of saints and martyrs makes them holy, these garments hold and embody the horrors they witnessed and the memory of the lives lost. They transmit a semblance of what happened to the now ghostly figures whose shapes come back to us in the form of hanging effigies. These modern relics carry a kind of living presence. They hold traces of the blood, the sweat, the tears of those whose lives were brutally violated. They continue to bristle with meaning.
The sacred status of these pieces of clothing is bound up in visceral bodily connections similar to those that inhere in other sacred objects, such as the contact relic, the cloth that touched the martyr, the clothing that revered figures wore when they were tortured or killed. And although this notion of the relic is bound to a profoundly Christian legacy of reverence for objects, its allure is more pervasive. In part, this book is about the lingering afterlives of Christian notions of the sanctity of such objects.
Let me elaborate on this strange connection. I recently stumbled onto a striking example of precisely this phenomenon. As I began reading Israeli photographer Miki Kratsman's The Resolution of the Suspect (2016), a book of haunting images about the horrors of the Israeli occupation of the Palestinian territories, I was struck by the ways in which Kratsman and his collaborator, the scholar of visual culture Ariella Azoulay, enact their engagement with this subject. Through photography, they show the compelling attraction of contemporary bloody garments in their attempt to address the violence of the occupation.
As I began looking through the pages of Kratsman's book, I was taken aback to find an image from another time and place, an image reframed by the photographer, Francois Aubert's Shirt of Emperor Maximilian of Mexico. This stark historical image depicts the shirt the emperor wore at his execution on June 19, 1867, in Queretaro, Mexico. What is striking is that this Christian-inflected image was so crucial to Kratsman's project.
In Kratsman's text, the Aubert image is part of a diptych that pairs two photographs of tainted shirts accompanied by bright red handwritten inscriptions. Each photograph is the trace of a dead martyr. Atop the historical image, the text reads all in capital letters: "Although Aubert wasn't allowed to photograph the actual execution, he at least managed to document the 'scene of the crime' afterwards." Running down the inner margin of the page, we read in the same shaky, bright red handwriting, "In the tradition of Christian reverence for relics, Aubert placed the emperor's shirt in the center of his composition" (fig. 2).
It was startling to find this overt invocation of a Christian tradition used as the connecting tissue between the two portions of this diptych. Here was an aging relic of a politically problematic figure, an emperor no less, a colonizer, alongside another image of "late photography," a portrait of the jacket of a contemporary Palestinian shahid , or martyr. Together, these images not only speak to the allure of bloody garments as contemporary relics; they overtly point to a Christian tradition of reverence for tainted objects as an ongoing and shared communal practice.
I am struck by the persistence of this overtly Catholic understanding of the bodily, the tactile relationship between such intimate objects and persons who suffer. Even in Kratsman's work about men whose politics and practices are far from innocent, such remains nevertheless reverberate. They hold these violent legacies, allowing us to imagine the people who wore them. In these ways, the objects become holy.
Like the woman mending the camp uniform in the museum's storage facility, those who perform such rites assume a reverential attitude to their task. For these keepers of accounts, the work is a calling. Their jobs harken back to an earlier historical moment when conservation began. Once upon a time, the preservation of Christian relics, the soiled clothing of Christian saints and martyrs in late antique and medieval churches, was the work of conservators.
The trace. The relic. We often approach such objects with reverence. These remains are evidence of crimes both great and small. The striped uniform, the bloody hoody, each allows us to stitch connections between ourselves and these different violent legacies. Abiding affective engagements reside in these tattered objects.
Our tongues falter to explain how an event so expansive in scope as the genocide of the Holocaust shares features with an intimate and personal assault upon a single individual. The two things do not correlate. And yet these crimes stand next to each other; they touch precisely where the material artifacts mark us and enable us to retell these narratives.
The story before you is about trauma and loss and how material objects embody such suffering. It is also a tale of life after such violence and the things, the artifacts and the places, that make them manifest. Such objects keep the event tangible, suspended, and within our reach. This resonance between artifacts and their power to witness to the crimes against humanity, against individuals, and their ability to make holy the profane, is the essence of this volume.
Atlanta, November 1989
Early in the evening on the first Tuesday in November 1989, I was raped in my home in Atlanta, Georgia. As it turned out, this happened just as the Berlin Wall was about to fall. A strange man broke into my home, hid, and then attacked me. I screamed, and this only exacerbated his rage. He choked me. And then he raped me in my own bed. He threatened to kill me.
At the time, I was a graduate student at Emory completing my doctoral studies in religion. After the police finally arrived on the scene—itself a protracted and exasperating experience—they began to ask questions and collect evidence. But I need to say that the police came late, too late to apprehend the suspect. Not only had I waited on hold with 911 until I finally got through to the police, but I later learned that my landlady, having heard my cries, had also called the police to no avail. She too could not get through to report the crime in process. This is a gap in time I still cannot fully fathom. By the time the police arrived, the man was long gone.
Before I was taken to Grady Hospital, a large urban public institution, the only hospital in the vicinity equipped to deal with rape—and, I should add, the only hospital in the region with an AIDS clinic—I remember the police in my apartment. I was taken to Grady for a rape exam only after the Atlanta police had combed the scene for evidence. They attempted to take fingerprints from my refrigerator after I told them that the rapist had opened it. They also gathered other evidence. They took the comforter and some of the sheets that had been on my bed, and after the rape exam at the hospital, I believe, they also took possession of various pieces of my clothing, including my sweatpants and underwear.
But here my memory falters. I hardly remember the order of these events or what the police took. What I do know is that once they left, I threw away the rest of the clothing I had been wearing. I placed these items in a dumpster outside the hospital. At least this is how I remember it, although none of these items appear in any police documents. None of my possessions are listed in the inventory from the crime scene, for example, on the official police report. There are other discrepancies in the case file; one is my address at the time. The crime scene is listed incorrectly on the first page of this official document. The correct address does appear later in the report, but without comment. I only received a copy of this report in the fall of 2014, after I filed a request for information with the Atlanta police about my case and my evidence. To date, nothing has been found, neither the evidence procured from my rape kit nor any of the clothing or bedding taken from my home and my person that night. These items no longer appear to be accessible. I do not know what happened to any of them. Nor do I know whether my rape kit was ever processed. That information cannot be verified. I can only assume that it was not.
Nevertheless, even as I have learned that these possessions are no longer accessible, I am moved by my memory, by the imprint of these once tactile everyday objects on how I think about this past and the fact that I had for so many years forgotten all about them.
What I have learned is that these objects seem to have been lost in the confusion of various moves between storage facilities in and around Atlanta in the intervening thirty-something years since that November night.
Within days of my rape, I found myself staying in a renovated 1920s bungalow just a few blocks from my house, the home of the man I was falling in love with, a potter. It was there that I began to get used to my altered life. I had not awakened. Instead, I spent those first few days in the main room of the house, an oddly disco-like open glass enclosure. It was there that I watched the Berlin Wall come down. I saw it over and over again, reflected in all those panes of glass. Nightfall came early, so the television screen was all over those glass walls. My world had been shattered alongside this world-historic event. Nothing was the same. The whole world was off kilter. Even then, I struggled with how to navigate this new terrain.
Clothing taken. Relics, bloody garments, handmade earthenware bowls, loving gifts, and the places where they were given—a first-floor apartment, a renovated house, city streets in a once divided landscape—matter. Held in such material containers, the trauma is made concrete. These tangible objects testify to the fact that these events are not a figment of the imagination. They are one important way we know that these events actually happened, that this is not a dream.
Excerpt ends here.
Mailing List
Subscribe to our mailing list and be notified about new titles, journals and catalogs.