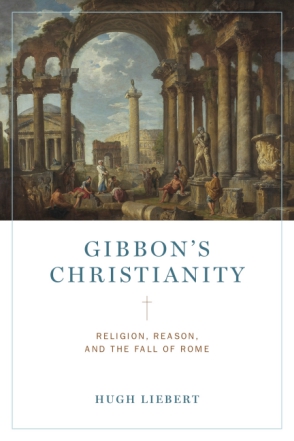 Gibbon's Christianity
Religion, Reason, and the Fall of Rome
Hugh Liebert
Buy
Gibbon's Christianity
Religion, Reason, and the Fall of Rome
Hugh Liebert
"Liebert has made extensive use of the most recent scholarship, and his study broadens the context for understanding Gibbon's words by discussing in detail the kinds of narratives of conversion that were familiar to Gibbon and in light of which he shaped his own distinctive story. One of the most striking features of Gibbon's Christianity is that it re-creates the genealogy of Gibbon's evolution in telling his own story and that of Rome. The connection of the two, as shown here in detail, is an outstanding advance in the scholarship on the author and his great work."
Media

Description

Reviews

Bio

Table of Contents

Sample Chapters

Subjects
Listen to an interview
with Hugh Liebert on the New Work in Intellectual History podcast from the University of St. Andrews Institute of Intellectual History.
There has never been much doubt about the faith of the "infidel historian" Edward Gibbon. But for all of Gibbon's skepticism regarding Christianity's central doctrines, the author of
The History of the Decline and Fall of the Roman Empire
did not merely seek to oppose Christianity; he confronted it as a philosophical and historical puzzle.
Gibbon's Christianity
tallies the results and conditions of that confrontation.
Using rich correspondence, private journals, early works, and memoirs that were never completed, Hugh Liebert provides intimate access to Gibbon's life in order to better understand his complex relationship with religion. Approaching the Decline and Fall from the context surrounding its conception, Liebert shows how Gibbon adapted explanations of the Roman republic's rise to account for a new spiritual republic and, subsequently, the rise of modern Europe. Taken together, Liebert's analysis of this context, including the nuance of Gibbon's relationship to Christianity, and his readings of Gibbon's better- and lesser-known texts suggest a historian more eager to comprehend Christianity's worldly power than to sneer at or dismiss it.
Eminently readable and wholly accessible to anyone interested in or familiar with the Decline and Fall, this groundbreaking reassessment of Gibbon's most famous work will appeal especially to scholars of eighteenth-century studies.
"Liebert has made extensive use of the most recent scholarship, and his study broadens the context for understanding Gibbon's words by discussing in detail the kinds of narratives of conversion that were familiar to Gibbon and in light of which he shaped his own distinctive story. One of the most striking features of Gibbon's Christianity is that it re-creates the genealogy of Gibbon's evolution in telling his own story and that of Rome. The connection of the two, as shown here in detail, is an outstanding advance in the scholarship on the author and his great work."
Hugh Liebert is Associate Professor of American Politics in the Department of Social Sciences at the United States Military Academy in West Point, New York. He is the author of Plutarch's Politics: Between City and Empire.
Acknowledgements
List of Abbreviations
Introduction
1. Religious Controversies and Conversions in the Time of Gibbon
2. Gibbon's Autobiographies
3. Essai
4. The Rise of Christianity
5. General Observations
Conclusion
Notes
Bibliography
Index
Mailing List
Subscribe to our mailing list and be notified about new titles, journals and catalogs.