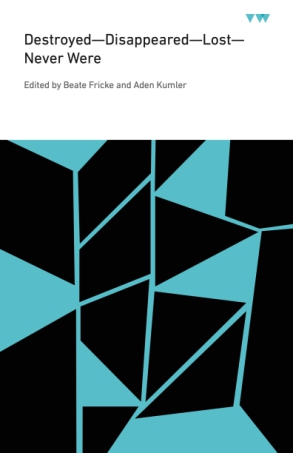 Destroyed—Disappeared—Lost—Never Were
Edited by Beate Fricke and Aden Kumler
Buy
Destroyed—Disappeared—Lost—Never Were
Edited by Beate Fricke and Aden Kumler
"Destroyed—Disappeared—Lost—Never Were makes a fresh contribution to the field, one that dexterously balances historical perspectives and theoretical awareness. Its short essays cover a variety of topics with a global reach but with a common concern: how the 'existential uncertainty' resulting from works that are no longer extant or may never have existed outside verbal evocations has shaped and continues to shape the practice of art history."
Description

Reviews

Bio

Table of Contents

Sample Chapters

Subjects
To write about works that cannot be sensually perceived involves considerable strain. Absent the object, art historians must stretch their methods to, or even past, the breaking point. This concise volume addresses the problems inherent in studying medieval works of art, artifacts, and monuments that have disappeared, have been destroyed, or perhaps never existed in the first place.
The contributors to this volume are confronted with the full expanse of what they cannot see, handle, or know. Connecting object histories, the anthropology of images, and historiography, they seek to understand how people have made sense of the past by examining objects, images, and architectural and urban spaces. Intersecting these approaches is a deep current of reflection upon the theorization of historical analysis and the ways in which the past is inscribed into layers of evidence that are only ever revealed in the historian's present tense.
Highly original and theoretically sophisticated, this volume will stimulate debate among art historians about the critical practices used to confront the formative presence of destruction, loss, obscurity, and existential uncertainty within the history of art and the study of historical material and visual cultures.
In addition to the editors, the contributors to this volume are Michele Bacci, Claudia Brittenham, Sonja Drimmer, Jaś Elsner, Peter Geimer, Danielle B. Joyner, Kristopher W. Kersey, Lena Liepe, Meekyung MacMurdie, and Michelle McCoy.
"Destroyed—Disappeared—Lost—Never Were makes a fresh contribution to the field, one that dexterously balances historical perspectives and theoretical awareness. Its short essays cover a variety of topics with a global reach but with a common concern: how the 'existential uncertainty' resulting from works that are no longer extant or may never have existed outside verbal evocations has shaped and continues to shape the practice of art history."
"Both as a whole and as individual essays, the contents of Destroyed - Disappeared - Lost - Never Were contribute significantly to various urgent scholarly conversations in art history today. Highly original and written by experts in their respective fields, each of the book's chapters focus on serious lacunae in the medieval discipline, unpacking them in creative ways in relation to both primary and secondary materials. Between them, these exciting essays offer novel readings of previously untreated objects, important revisions to existing historical and theoretical narratives, and original critiques of received historiographies."
"Destroyed—Disappeared—Lost—Never Were is the sort of scholarship that begins to fill the literal lacunae cautiously avoided by premodern art historians for so long, but perhaps no longer."
Beate Fricke is Professor of History of Art at the University of Bern. She is the author of Fallen Idols, Risen Saints: Saint Foy of Conques and the Revival of Monumental Sculpture in Medieval Art and coeditor of The Public in the Picture: Involving the Beholder in Antique, Islamic, Byzantine, and Western Medieval and Renaissance Art.
Aden Kumler is Professor of Art History at the University of Basel. She is the author of Translating Truth: Ambitious Images and Religious Knowledge in Late Medieval France and England.
List of Illustrations
Acknowledgements
Introduction: Destroyed—Disappeared—Lost—Never Were
Beate Fricke and Aden Kumler
1. Jerusalem's Local Sancta and Their Perishable Frames
Michele Bacci
2. John Lloyd Stephens and the Lost Lintel of Kabah
Claudia Brittenham
3. The Sanguine Art: Four Fragments
Sonja Drimmer
4. The Dreamwork of Positivism: Archaeological Art History and the Imaginative Restoration of the Lost
Jaś Elsner
5. Finding Delight in Gardens Lost
Danielle B. Joyner
6. Impermanence, Futurity, and Loss in Twelfth-Century Japan
Kristopher W. Kersey
7. Lonely Bones: Relics sans Reliquaries
Lena Liepe
8. The Manuscript Machine: Assemblages and
Divisions in Jazarī's Compendium
Meekyung MacMurdie
9. Cave and Camera: Shades of Loss in the
Library Cave of Dunhuang
Michelle McCoy
10. Mourning the Loss of Works / Praising Their Absence: A Response
Peter Geimer
List of Contributors
Mailing List
Subscribe to our mailing list and be notified about new titles, journals and catalogs.