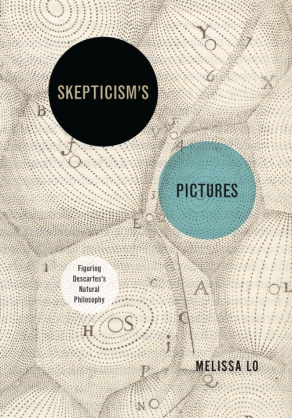 Skepticism's Pictures
Figuring Descartes's Natural Philosophy
Melissa Lo
Buy
Skepticism's Pictures
Figuring Descartes's Natural Philosophy
Melissa Lo
"Lo gives us a fresh and lively framework for understanding anew both Descartes's work in his time and the emergence of a Cartesianism fit for other purposes. Skepticism's Pictures is an important intervention in several current historical and philosophical debates."
Description

Reviews

Bio

Table of Contents

Sample Chapters

Subjects
In seventeenth-century northern Europe, as the Aristotelian foundations of
scientia
were rocked by observation, experiment, confessional strife, and political pressure, natural philosophers came to rely on the printed image to fortify their epistemologies—and none more so than René Descartes. In
Skepticism's Pictures
, historian of science Melissa Lo chronicles the visual idioms that made, sustained, revised, and resisted Descartes's new philosophy.
Drawing on moon maps, political cartoons, student notebooks, treatises on practical mathematics, and other sources, Lo argues that Descartes transformed natural philosophy with the introduction of a new graphic language that inspired a wide range of pictorial responses shaped by religious affiliation, political commitment, and cultural convention. She begins by historicizing the graphic vocabularies of Descartes's Essais and Principia philosophiae and goes on to analyze the religious and civic volatility of Descartes's thought, which compelled defenders (such as Jacques Rohault and Wolferd Senguerd) to reconfigure his pictures according to their local visual cultures—and stimulated enemies (such as Gabriel Daniel) to unravel Descartes's visual logic with devastating irony. In the epilogue, Lo explains why nineteenth-century French philosophers divorced Descartes's thought from his pictures, creating a modern image of reason and a version of philosophy absent visuality.
Engaging and accessible, Skepticism's Pictures presents an exciting new approach to Descartes and the visual reception of seventeenth-century physics. It will appeal to historians of early modern European science, philosophy, art, and culture and to art historians interested in histories that give images their argumentative power.
"Lo gives us a fresh and lively framework for understanding anew both Descartes's work in his time and the emergence of a Cartesianism fit for other purposes. Skepticism's Pictures is an important intervention in several current historical and philosophical debates."
Melissa Lo is a historian of early modern European science, medicine, and visual culture and a program officer at the Getty Foundation. Her website is www.melissa-lo.com.
List of Illustrations
Acknowledgements
List of Abbreviations
Introduction: Arguing with Pictures
1. The Picture Multiple
2. The Composite Universe
3. Matters of Replacement
4. Twists of Realism
5. Ironic Copies
Epilogue: Descartes Without Pictures
Notes
Bibliobraphy
Index
Mailing List
Subscribe to our mailing list and be notified about new titles, journals and catalogs.