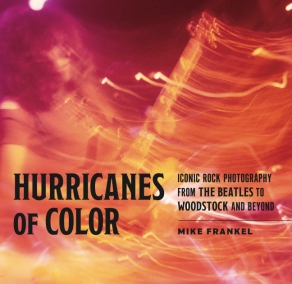 Hurricanes of Color
Iconic Rock Photography from the Beatles to Woodstock and Beyond
Mike Frankel and foreword by Kenneth Womack
Coming in April
Hurricanes of Color
Iconic Rock Photography from the Beatles to Woodstock and Beyond
Mike Frankel and foreword by Kenneth Womack
"Mike Frankel's keen eye manages to capture the essence of rock 'n roll in all its sexually charged, mysterious, and hallucinatory intensity. His images are unsparing and authentic."
Description

Reviews

Bio

Subjects
In 1964, fifteen-year-old Mike Frankel found himself among professional photojournalists covering a Beatles concert during the band's first tour in the United States. A few years later, he was a regular photographer at the Fillmore East, a storied venue in classic rock. And in 1969, he was onstage at Woodstock, documenting one of the most important events in American music history.

Featuring Frankel's stunning photographs of nearly every major rock figure from the 1960s and '70s—including Led Zeppelin, Pink Floyd, the Rolling Stones, Janis Joplin, and the Grateful Dead—as well as many unpublished images of the Beatles,
Hurricanes of
Color
chronicles an extraordinary moment. Frankel, who was for a time a personal photographer for Jefferson Airplane and Hot Tuna, developed an innovative style—one that layered images with multiple exposures to capture the spirit of the music of the era and the experience of listening to the bands live.

A must-have for fans of classic rock, this is a spectacular and profound collection of photography that complements the music of the world's biggest performers.
"Mike Frankel's keen eye manages to capture the essence of rock 'n roll in all its sexually charged, mysterious, and hallucinatory intensity. His images are unsparing and authentic."
"Some of the top rockers of the 1960s and early 1970s, photographed with boldly adventurous techniques reflecting the most exhilarating innovations of the era."
"It's old news that the 1960s and '70s were an explosive and revolutionary cultural period—especially in music—but those words say way too little. Rarely has the phrase 'you had to be there' been more apt, and most literary and photographic attempts to illustrate the excitement and heady thrill of the new bands and other sea changes in flux fall short. In Hurricanes of Color, though, Mike Frankel succeeds in evoking the transcendence, wild creativity, and sheer joy that permeated so much of the era and radiated through the musicians and their performances. I know because I was there, and I am so honored to be included in this stunning book."
Mike Frankel is a professional photographer and artist. His work has appeared on the covers and interiors of rock LPs as well as books, magazines, and T-shirts, and he was a pioneer in the artistic use of lasers and holograms. Frankel currently resides in Flagstaff, Arizona, where he is the Executive Director of the Artists' Coalition of Flagstaff.
Mailing List
Subscribe to our mailing list and be notified about new titles, journals and catalogs.