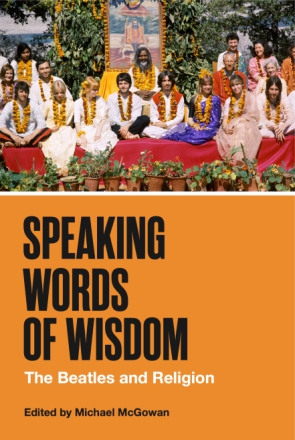 Speaking Words of Wisdom
The Beatles and Religion
Edited by Michael McGowan
Coming in June
Speaking Words of Wisdom
The Beatles and Religion
Edited by Michael McGowan
"More popular than Jesus."
Description

Bio

Subjects
"More popular than Jesus."

Despite the uproar it caused in America in 1966, John Lennon's famous assessment of the Beatles vis-à-vis religion was not far off. The Beatles did mean more to kids than the religions in which they were raised, not only in America but everywhere in the world.

By all accounts, the Beatles were the most significant musical group of the twentieth century. Their albums sold in the hundreds of millions, and the press was always eager to document their activities and perspectives. And when fan appreciation morphed into worship, Beatlemania took on religious significance. Many young people around the world began to look to the Beatles—their music, their commentary, their art—for meaning in a turbulent decade.
Speaking Words of Wisdom
is a deep dive into the Beatles' relationship to religion through the lenses of philosophy, cultural studies, music history, and religious studies. Chapters explore topics such as religious life in Liverpool, faith among individual band members, why and how India entered the Beatles' story, fan worship/deification, and the Beatles' long-lasting legacy.

In the 1960s, the Beatles facilitated a reevaluation of our deepest values. The story of how the Beatles became modern-day sages is an important case study for the ways in which consumers make culturally and religiously significant meaning from music, people, and events.

In addition to the editor, the contributors to this book include David Bedford, Kenneth Campbell, John Covach, Melissa Davis, Anthony DeCurtis, Mark Duffett, Scott Freer, Murray Leeder, Sean MacLeod, Grant Maxwell, Christiane Meiser, and Eyal Regev.
Michael McGowan is Professor of Philosophy and Religion at Florida Southwestern State College. He is the coeditor of David Foster Wallace and Religion: Essays on Faith and Fiction and author of The Bridge: Revelation and Its Implications.
Mailing List
Subscribe to our mailing list and be notified about new titles, journals and catalogs.