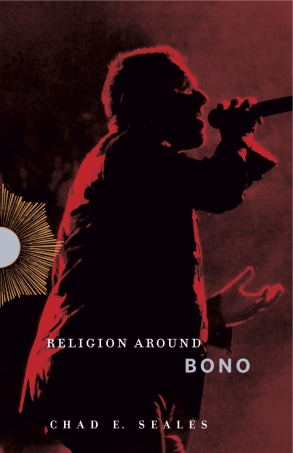 Religion Around Bono
Evangelical Enchantment and Neoliberal Capitalism
Chad E. Seales
Buy
Religion Around Bono
Evangelical Enchantment and Neoliberal Capitalism
Chad E. Seales
"A tough but needed critique of how U2 and Bono's themes of human unity, racial reconciliation, and love are deployed in the service of larger market-driven projects."
Description

Reviews

Bio

Table of Contents

Subjects
For many, U2's Bono is an icon of both evangelical spirituality and secular moral activism. In this book, Chad E. Seales examines the religious and spiritual culture that has built up around the rock star over the course of his career and considers how Bono engages with that religion in his music and in his activism.
Looking at Bono and his work within a wider critique of white American evangelicalism, Seales traces Bono's career, from his background in religious groups in the 1970s to his rise to stardom in the 1980s and his relationship with political and economic figures, such as Jeffrey Sachs, Bill Clinton, and Jesse Helms. In doing so, Seales shows us a different Bono, one who uses the spiritual meaning of church tradition to advocate for the promise that free markets and for-profits will bring justice and freedom to the world's poor. Engaging with scholarship in popular culture, music, religious studies, race, and economic development, Seales makes the compelling case that neoliberal capitalism is a religion and that Bono is its best-known celebrity revivalist.
Engagingly written and bitingly critical, Religion Around Bono promises to transform our understanding of the rock star's career and advocacy. Those interested in the intersection of rock music, religion, and activism will find Seales's study provocative and enlightening.
"A tough but needed critique of how U2 and Bono's themes of human unity, racial reconciliation, and love are deployed in the service of larger market-driven projects."
"From the parking lot of a Baptist church in the Florida Panhandle to Dublin, New York, Johannesburg, and the G-8 Summit at Gleneagles, Seales takes his readers on a tour of the evangelical grammar of humanitarian neoliberalism with Bono as his guide. Seales convincingly argues that when Bono speaks for Africa, he speaks for religious, cultural, and economic systems far more complex

—

and far less empowering

—

than his identity as a rock-and-roll saint may imply."
"When I said that I never wanted to read one more word about the aid celebrity Bono again, I had not imagined the possibility of Religion Around Bono! This book is a concise, eloquent tour de force using Bono as a keyhole through which we can peer into the intimate workings of the religion of racialized, neoliberal, millennial capitalism. The intersectional critique of class, race, and gender draws on anthropology, ethnomusicology, politics, and religious studies to explain how religious sincerity and love obfuscate relations of exploitation."
"Chad Seales boldly claims that as Jesus is to Jewish law or Luther to Roman Catholicism, so Bono is to evangelical Protestantism: the prophet of a new religion, repurposed from the materials of the old. The gospel of Bono is the neoliberal promise that free markets bring salvation to the world's poor. In his lyrics, his politics, and above all his consumer brand, Bono preaches the good news of millennial capitalism to evangelicalism's rebellious kids: buy, believe, save, and be saved. A richly satisfying deep dive into the logics of consumer capitalism and evangelical self-fashioning, Religion Around Bono urges us to listen, question, and learn more."
Chad E. Seales is Associate Professor of Religious Studies at the University of Texas at Austin. He is the author of The Secular Spectacle: Performing Religion in a Southern Town.
Contents
Acknowledgments
Introduction
1. Evangelicalism Around
2. Around Bono
3. Neoliberalism Around
4. Around Africa
5. Love and Debt
Notes
Bibliography
Index
Mailing List
Subscribe to our mailing list and be notified about new titles, journals and catalogs.