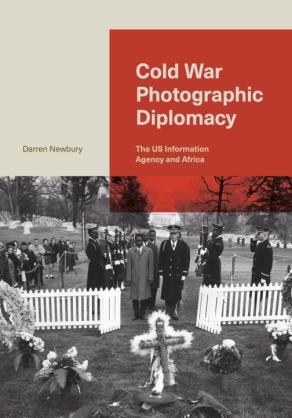 Cold War Photographic Diplomacy
The US Information Agency and Africa
Darren Newbury
Coming in February
Cold War Photographic Diplomacy
The US Information Agency and Africa
Darren Newbury
"Cold War Photographic Diplomacy's major achievement is the way that it theorizes a large archive by showing the transatlantic interactions between the image makers, the imagery, and the audiences of the images. It is a fascinating read."
Description

Reviews

Bio

Subjects
The emergence of newly independent African nations onto the world stage in the mid-twentieth century precipitated a contest for influence among Cold War superpowers, leading the United States to mount an international campaign of photographic diplomacy underpinned by a faith in the medium's capacity to cross cultural boundaries. However, the increasing global visibility of racial injustice undermined US claims that the nation had transcended colonial racism.
Drawing on extensive research in the archives of the United States Information Agency (USIA) and concentrating on the period from the mid-1950s through to the late 1960s, Darren Newbury traces the role of photography in the United States' appeal to Africa. Newbury shows how photographing the political, cultural, and educational visits of Africans to the United States provided a space for the imagination of international cooperation and friendship; how the United States presented the civil rights struggle as an example of democracy in action; and how it pictured a world of integration and racial coexistence. Cold War Photographic Diplomacy chronicles this careful scripting of images and picture stories and details the cultural and pedagogical work that photography was expected to perform as it was inserted into the visual culture of African cities through magazines, posters, pamphlets, and window displays.
Locating photography at the intersection of African decolonization, racial conflict in the United States, and the cultural Cold War, this study will especially appeal to students and scholars of the history of photography, American studies, and Africana studies.
"Cold War Photographic Diplomacy's major achievement is the way that it theorizes a large archive by showing the transatlantic interactions between the image makers, the imagery, and the audiences of the images. It is a fascinating read."
Darren Newbury is Professor of Photographic History at the University of Brighton. He is the author of Defiant Images: Photography and Apartheid South Africa and People Apart: 1950s Cape Town Revisited.