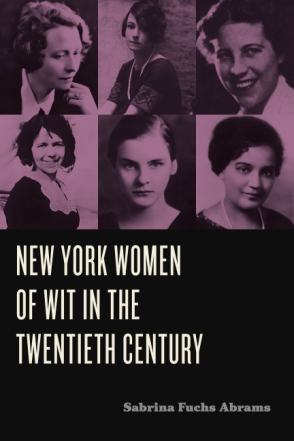 New York Women of Wit in the Twentieth Century
Sabrina Fuchs Abrams
Coming in November
New York Women of Wit in the Twentieth Century
Sabrina Fuchs Abrams
"This book never flattens out its subject to construct a single, monolithic New York or gendered 'type' of wit. All these writers are represented as complex individuals, whose comedy came in many varieties and served diverse functions, reflecting the creators' identities and the concerns of their different communities. Fuchs Abrams's admiration for these women, with their groundbreaking approaches to urban style and humor, is evident throughout. She does a superb job of making readers share it."
Description

Reviews

Bio

Subjects
Seen as too smart, too sassy, too sexy, and too strident, female humorists have been resisted and overlooked.
New York Women of Wit in the Twentieth Century
corrects this tendency, focusing on the foremothers of women's humor in modern America, who used satire, irony, and wit as indirect forms of social protest.
This book focuses on the women who stood on the periphery of predominantly male New York intellectual circles in the twentieth century. Sabrina Fuchs Abrams argues that the advent of modernism, the women's suffrage movement, the emergence of the New Woman and the New Negro Woman, and the growth of urban centers in the 1920s and '30s gave rise to a new voice of women's humor, one that was at once defiant and conflicted in defining female identity and the underlying assumptions about gender roles in American society. Her study gives special attention to the contributions of the satirists Edna St. Vincent Millay (pseudonym Nancy Boyd), Tess Slesinger, Dorothy Parker, Jessie Redmon Fauset, Dawn Powell, and Mary McCarthy.
Grounded in theories of humor, feminist and critical race theory, and urban studies, this book will find an audience among scholars and students interested in women writers, feminist humor, modern American literature, and African American studies.
"This book never flattens out its subject to construct a single, monolithic New York or gendered 'type' of wit. All these writers are represented as complex individuals, whose comedy came in many varieties and served diverse functions, reflecting the creators' identities and the concerns of their different communities. Fuchs Abrams's admiration for these women, with their groundbreaking approaches to urban style and humor, is evident throughout. She does a superb job of making readers share it."
"Fuchs Abrams makes a critical and overdue intervention in comedy studies with this book. Through personal accounts, criticism, biography, and textual analysis, she gives texture to our understanding of these six women, their impetus for writing, and the response in their own time. New York Women of Wit in the Twentieth Century offers us a persuasive argument for how the legacy of these sardonic writers continues to influence satire, and especially satire written by women, today."
Sabrina Fuchs Abrams is Professor of English in the School for Graduate Studies at the State University of New York, Empire State. She is the author of Mary McCarthy: Gender, Politics, and the Postwar Intellectual and editor of Transgressive Humor of American Women Writers and Literature of New York. She is founder and cochair of the Mary McCarthy Society and Associate Editor of Studies in American Humor.
Mailing List
Subscribe to our mailing list and be notified about new titles, journals and catalogs.