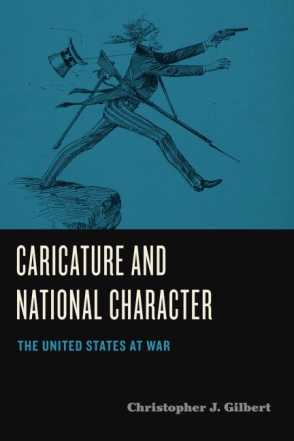 Caricature and National Character
The United States at War
Christopher J. Gilbert
Buy
Caricature and National Character
The United States at War
Christopher J. Gilbert
"By examining the editorial cartoons of James Montgomery Flagg, Theodor Geisel (Dr. Seuss), Ollie Harrington, and Ann Telnaes—whose powerful imagery 'animated American values in war cultures from the First World War forward'—Gilbert provides a vigorously argued account of the contribution of political cartooning to the construction and deconstruction of contending national myths."
Description

Reviews

Bio

Table of Contents

Sample Chapters

Subjects
According to the popular maxim, a nation at war reveals its true character. In this incisive work, Chris Gilbert examines the long history of US war politics through the lens of political cartoons to provide new, unique insights into American cultural identity.
Tracing the comic representation of American values from the First World War to the War on Terror, Gilbert explores the power of humor in caricature to expose both the folly in jingoistic virtues and the sometimes-strange fortune in nationalistic vices. He examines the artwork of four exemplary American cartoonists—James Montgomery Flagg, Dr. Seuss, Ollie Harrington, and Ann Telnaes—to craft a trenchant image of Americanism. These examinations animate the rhetorical, and indeed comic, force of icons like Uncle Sam, national symbols like the American Eagle, political stooges like President Donald J. Trump, and more, as well as the power of political cartoons to comment on issues of race, class, and gender on the home front. Throughout, Gilbert portrays a US culture rooted in and riven by ideas of manifest destiny, patriotism, and democracy for all, yet plagued by ugly forms of nationalism, misogyny, racism, and violence.
Rich with examples of hilarious and masterfully drawn caricatures from a diverse range of creators, this unflinching look at the evolution of our conflicted national character illustrates how American cartoonists use farce, mockery, and wit to put national character in the comic looking glass.
"By examining the editorial cartoons of James Montgomery Flagg, Theodor Geisel (Dr. Seuss), Ollie Harrington, and Ann Telnaes—whose powerful imagery 'animated American values in war cultures from the First World War forward'—Gilbert provides a vigorously argued account of the contribution of political cartooning to the construction and deconstruction of contending national myths."
"This study offers a valuable extension of the important work of Martha Banta, Henry Wonham, and others who have studied caricature in American culture. Gilbert has read widely in this literature, linking it to critical approaches to humor in general and to new modes of interpreting visual caricature in particular. Just as important, however, is his superb delineation of the ways in which humor has factored in the intricate interplay between national character, global combat, and the dynamics of democratic culture."
"This is a valuable book about a field that is fading away."
"Gilbert's astute analysis of political caricatures as canaries in the coal mine, as warning signals of flaws in the body politic, is revealing. . . . His book represents an important addition to the study of cartoons, American humor, and American political history."
Christopher J. Gilbert is Assistant Professor of English at Assumption University.
List of Illustrations
Acknowledgements
Introduction
1. Pledges of Allegiance, Sexualized Politics, and Comic Pillories in James Montgomery Flagg's America
2. Dr. Seuss and His Wacky War on American Culture
3. Children of War in Ollie Harrington's Dark Comedy
4. The Battle Rages on in Ann Telnaes's Comic Travesties of the War on Terror
Conclusion: Warring Caricatures
Coda: Caricature in End Times, or the Future of Caricature
Notes
Bibliography
Index
Mailing List
Subscribe to our mailing list and be notified about new titles, journals and catalogs.