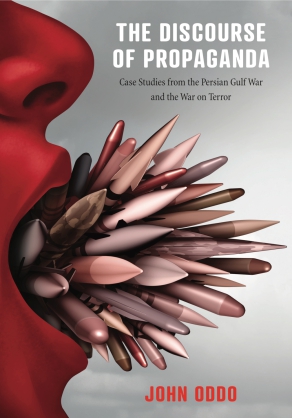 The Discourse of Propaganda
Case Studies from the Persian Gulf War and the War on Terror
John Oddo
BUY
The Discourse of Propaganda
Case Studies from the Persian Gulf War and the War on Terror
John Oddo
"John Oddo provides a much-needed theoretical update to the concept of propaganda. Central to his theory is recognition that propaganda involves an intertextual process that allows it to propagate—both vertically and horizontally—throughout society. His book provides valuable insights into the mechanisms of this propagation, showing how even unwitting actors contribute to its circulation. The discussion holds important implications for how we might immunize democratic discourse from the harms of manipulative rhetoric."
Description

Reviews

Bio

Table of Contents

Sample Chapters

Subjects
In the early 1990s, false reports of Iraqi soldiers in Kuwait allowing premature infants to die by removing them from their incubators helped to justify the Persian Gulf War, just as spurious reports of weapons of mass destruction later undergirded support for the Iraq War in 2003. In
The Discourse of Propaganda
, John Oddo examines these and other such cases to show how successful wartime propaganda functions as a discursive process.

Oddo argues that propaganda is more than just misleading rhetoric generated by one person or grou
p
; it is an elaborate process that relies on recontextualization, ideally on a massive scale, to keep it alive and effective. In a series of case studies, he analyzes both textual and visual rhetoric as well as the social and material conditions that allow them to circulate, tracing how instances of propaganda are constructed, performed, and repeated in diverse contexts, such as speeches, news reports, and popular, everyday discourse.

By revealing the agents, (inter)texts, and cultural practices involved in propaganda campaigns,
The Discourse of Propaganda
shines much-needed light on the topic and challenges its readers to consider the complicated processes that allow propaganda to flourish. This book will appeal not only to scholars of rhetoric and propaganda but also to those interested in unfolding the machinations motivating America's recent military interventio
ns.
"John Oddo provides a much-needed theoretical update to the concept of propaganda. Central to his theory is recognition that propaganda involves an intertextual process that allows it to propagate—both vertically and horizontally—throughout society. His book provides valuable insights into the mechanisms of this propagation, showing how even unwitting actors contribute to its circulation. The discussion holds important implications for how we might immunize democratic discourse from the harms of manipulative rhetoric."
"Oddo's analysis of propaganda supporting recent US military actions reveals that the effect of propaganda lies in the intertextual uptake within social systems by which messages spread and transform, taking on their own viral life. By implication, the art of propaganda depends on understanding intertextually linked social systems, having the authority and power to activate those systems for replicating messages, locating diverse motives that will increase the spread, and designing messages that will reverberate in multiple systems. The appearance of social media now increases the visibility, rapidity, and intensity of these processes, making Oddo's analysis especially timely."
"John Oddo's book takes great strides in political discourse studies, bringing together a wealth of rhetorical, sociopsychological, and critical linguistic approaches and applying them to decisive texts in the contemporary world. Exploring American discourses of the Gulf War and the War on Terror, he develops a new theory of propaganda, which provides a viable handle on several hitherto underresearched yet crucial aspects of propagandistic discourse, such as intertextuality and (forced) recontextualization."
"In a period of fake news, troll factories, and WikiLeaks, John Oddo shows how propaganda circulates covertly, manipulates publics, and threatens democracy. Taking a novel approach in The Discourse of Propaganda, Oddo reveals the intertextuality of propaganda by studying some of the U.S. military's most consequential campaigns in the Middle East."
"John Oddo's The Discourse of Propaganda is a timely and provocative follow-up to his elegant Intertextuality and the 24-Hour News Cycle (2014). Grounded in discourse analysis, the book is not only a powerful argument for reconsidering the concept of "propaganda" and a persuasive analysis of the role of propaganda in the Iraq invasion public discourse, but also a useful model for methodologically robust rhetorical analysis."
"A timely and thoughtful challenge to our terrifying political misinformation culture that relies on numerous sophisticated modes of deception. John Oddo makes an important distinction between democratic civic rhetoric that fights for human rights and undemocratic propaganda that reinforces power. His detailed and convincing intertextual critical analyses demonstrate the dangers of war propaganda and reveal propaganda's tragic consequences in human suffering."
John Oddo is Associate Professor of English at Carnegie Mellon University and the author of Intertextuality and the 24-Hour News Cycle: A Day in the Rhetorical Life of Colin Powell's U.N. Address.
Contents
AcknowledgmentsIntroduction: Approaching Propaganda with a Critical EyePart 1: Defining Propaganda and Historicizing America's Wars in the Middle East1. Theorizing Propaganda: Intertextuality, Manipulation, and Power2. The Persian Gulf War and the War on Terror: A Brief HistoryPart 2: Manufacturing an Atrocity3. How the Incubator Story Became news: The Power of Performative Semiotics4. Keeping War Fever Alive: The Circulation of the Incubator StoryPart 3: Infiltrating Network News5. Message Force Multipliers: Rewarding Recontextualization6. Enacting and Entextualizing the Voice of the Expert7. The Evolution of a Talking PointPart 4: The Art of the Slogan8. "Support Our Troops" as Portable Text and Cultural Tradition9. "Support Our Troops" as Vertical and Horizontal PropagandaConclusion: War Propaganda and the Prospects for ResistanceAppendixesA Studying Discourse in ContextB Factors Facilitating Detachability and RecontextualizationC Data and Methods for Intertextual Analysis of the Incubator StoryD Transcript of Nayirah's Performance at the HRCE Generic Components of George H. W. Bush's Incubator AllegationsF Featured News Analysts and News BroadcastsG Incentives for Recontextualizing Pro-war and Pro-government ClaimsH Analysis of Speech Act VerbsI Recurring Themes in News Analyst DiscourseJ Themes Repeated by Analysts and Administration OfficialsK Reports About Aluminum Tubes in Classified Documents and Public DiscourseNotesBibliographyIndex
Mailing List
Subscribe to our mailing list and be notified about new titles, journals and catalogs.