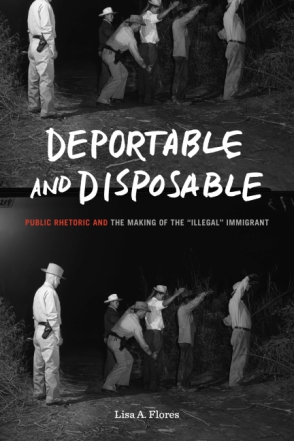 Deportable and Disposable
Public Rhetoric and the Making of the "Illegal" Immigrant
Lisa A. Flores
Buy
Deportable and Disposable
Public Rhetoric and the Making of the "Illegal" Immigrant
Lisa A. Flores
Winner of the 2021 Book Award from the Rhetoric Society of America
"Flores's historical work makes an incredibly unique contribution to the field. Moreover, given her work on race and racialization and the dearth of such work in the broader field of rhetoric, her contribution is even more significant. She provides a wonderful example of how to do what she elsewhere calls 'racial rhetorical criticism.'"
Description

Reviews

Bio

Table of Contents

Sample Chapters

Subjects
In the 1920s, the US government passed legislation against undocumented entry into the country, and as a result the figure of the "illegal alien" took form in the national discourse. In this book, Lisa A. Flores explores the history of our language about Mexican immigrants and exposes how our words made these migrants "illegal."
Deportable and Disposable brings a rhetorical lens to a question that has predominantly concerned historians: how do differently situated immigrant populations come to belong within the national space of whiteness, and thus of American-ness? Flores presents a genealogy of our immigration discourse through four stereotypes: the "illegal alien," a foreigner and criminal who quickly became associated with Mexican migrants; the "bracero," a docile Mexican contract laborer; the "zoot suiter," a delinquent Mexican American youth engaged in gang culture; and the "wetback," an unwanted migrant who entered the country by swimming across the Rio Grande. By showing how these figures were constructed, Flores provides insight into the ways in which we racialize language and how we can transform our political rhetoric to ensure immigrant populations come to belong as part of the country, as Americans.
Timely, thoughtful, and eye-opening, Deportable and Disposable initiates a necessary conversation about the relationship between racial rhetoric and the literal and figurative borders of the nation. This powerful book will inform policy makers, scholars, activists, and anyone else interested in race, rhetoric, and immigration in the United States.
"Flores's historical work makes an incredibly unique contribution to the field. Moreover, given her work on race and racialization and the dearth of such work in the broader field of rhetoric, her contribution is even more significant. She provides a wonderful example of how to do what she elsewhere calls 'racial rhetorical criticism.'"
"Combining a rhetorical and historical approach, Deportable and Disposable will redefine the way that scholars think about deportation, deportability, the racialization of migrants, and the performativity of race."
Lisa A. Flores is Associate Professor of Communication at the University of Colorado Boulder.
Preface
Acknowledgements
Abbreviations
Introduction
Chapter One
Chapter Two
Chapter Three
Chapter Four
Conclusion
Notes
Bibliography
Index
Mailing List
Subscribe to our mailing list and be notified about new titles, journals and catalogs.