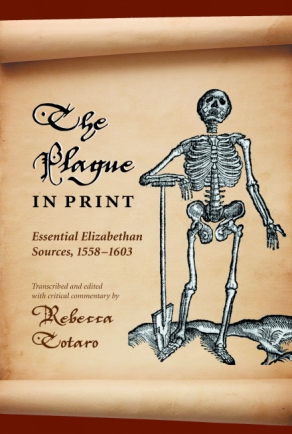 The Plague in Print
Essential Elizabethan Sources, 1558–1603
Rebecca Totaro
Buy
The Plague in Print
Essential Elizabethan Sources, 1558–1603
Rebecca Totaro
"The effects of plague and plague literature can be felt throughout the works of dramatists and playwrights as canonical as Shakespeare and Ben Jonson, yet it is only after reading pamphlets and dramas like those in this collection that we can come to more fully understand the weight of those references."
Description

Reviews

Bio

Table of Contents

Sample Chapters

Subjects
In
The Plague in Print
, Rebecca Totaro takes the reader into the world of plague-riddled Elizabethan England, documenting the development of distinct subgenres related to the plague and providing unprecedented access to important original sources of early modern plague writing. Totaro elucidates the interdisciplinary nature of plague writing, which raises religious, medical, civic, social, and individual concerns in early modern England. Each of the primary texts in the collection offers a glimpse into a particular subgenre of plague writing, beginning with Thomas Moulton's plague remedy and prayers published by the Church of England and devoted to the issue of the plague. William Bullein's
A Dialogue, both pleasant and pietyful
, a work that both addresses concerns related to the plague and offers humorous literary entertainment, exemplifies the multilayered nature of plague literature. The plague orders of Queen Elizabeth I highlight the community-wide attempts to combat the plague and deal with its manifold dilemmas. And after a plague bill from the Corporation of London, the collection ends with Thomas Dekker's
The Wonderful Year
, which illustrates plague literature as it was fully formed, combining attitudes toward the plague from both the Elizabethan and Stuart periods.
These writings offer a vivid picture of important themes particular to plague literature in England, providing valuable insight into the beliefs and fears of those who suffered through bubonic plague while illuminating the cultural significance of references to the plague in the more familiar early modern literature by Spenser, Donne, Milton, Shakespeare, and others. As a result, The Plague in Print will be of interest to students and scholars in a number of fields, including sixteenth- and seventeenth-century English literature, cultural studies, medical humanities, and the history of medicine.
"The effects of plague and plague literature can be felt throughout the works of dramatists and playwrights as canonical as Shakespeare and Ben Jonson, yet it is only after reading pamphlets and dramas like those in this collection that we can come to more fully understand the weight of those references."
"The Plague in Print is a useful collection, the introductions and choice of examples excellent, and the three glossaries—a Medical and Herbal Glossary, a Glossary of Names, and a General Glossary—very helpful. Totaro, as a scholar of this critical, if unpleasant, aspect of early modern life, also recognizes its current relevance."
Rebecca Totaro is Professor of English at Florida Gulf Coast University. She is the author of Suffering in Paradise and coeditor of Representing the Plague in Early Modern England. A member of the Folger Institute Year-Long Colloquium "Vernacular Health and Healing" (2007-08), she was awarded a short-term fellowship at the Folger Shakespeare Library for her work on early modern meteorology and physiology, and recently received the 2010 Monroe Kirk Spears Award for the best essay of the year published in SEL Studies in English Literary Studies 1500–1900 for her essay, "Securing Sleep in Hamlet."
Contents
Illustrations
Acknowledgments
Introduction
Editorial Notes
1. Plague Remedies. Thomas Moulton: Plague remedy (1531)
2. Plague Prayers. The Church of England: A Form to be used in Common prayer (1563)
3. Plague Literature. William Bullein: A Dialogue both pleasant and pietyful (1564)
4. Plague Orders. Queen Elizabeth I: Orders thought meet (1578)
5. Plague Bills. Worshipful Company of Parish Clerks: The Number of all those that hath died (c. 1583)
6. Plague Literature. Thomas Dekker: The Wonderful Year (1603)
Notes
Medical and Herbal Glossary
Glossary of Names
General Glossary
Suggestions for Further Reading
Index
Mailing List
Subscribe to our mailing list and be notified about new titles, journals and catalogs.