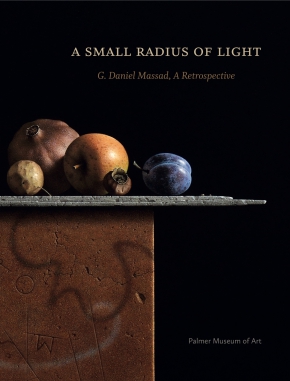 A Small Radius of Light
G. Daniel Massad, A Retrospective
Joyce Henri Robinson and G. Daniel Massad
BUY
A Small Radius of Light
G. Daniel Massad, A Retrospective
Joyce Henri Robinson and G. Daniel Massad
A Small Radius of Light
maps the territory artist G. Daniel Massad has explored for almost four decades. After earning degrees in English at Princeton and the University of Chicago and working for a time as a psychotherapist, Massad made the decision to pursue graduate work in painting in 1979. Two years later, while working on his MFA at the University of Kansas, Massad made an unexpected shift from abstraction to still life, and from oil to pastel as a painting medium. His abandonment of painterly gesture for knife-edge precisionism led him in the late 1980s to the painstaking reenactment of minute detail in order to express, as he puts it, "the way I encounter the world."
A Small Radius of Light
maps the territory artist G. Daniel Massad has explored for almost four decades. After earning degrees in English at Princeton and the University of Chicago and working for a time as a psychotherapist, Massad made the decision to pursue graduate work in painting in 1979. Two years later, while working on his MFA at the University of Kansas, Massad made an unexpected shift from abstraction to still life, and from oil to pastel as a painting medium. His abandonment of painterly gesture for knife-edge precisionism led him in the late 1980s to the painstaking reenactment of minute detail in order to express, as he puts it, "the way I encounter the world."
Since 1990, still life's traditional tabletop and its implied interior space have given way in his work to less easily definable architectural fragments of brick or stone; the darkness surrounding these broken walls and cairns is deep, immeasurable, and richly potent. Over the last two decades, Massad has moved past description and metaphor, layering into his images other kinds of data—maps, words, numbers, constellations, personal symbols—all of which suggest readings of his remarkable still lifes as aniconic portraiture, implied narrative, and visual autobiography.
This book accompanies an exhibition of the same name organized by the Palmer Museum of Art and features a comprehensive essay by curator Joyce Henri Robinson and forty-three "backstories" by the artist. These memoir-like reflections invite us to peer into Massad's artistic, emotional, and mental process as he moves from making the intangible tangible, revealing along the way sources and associations that precede the final reenactment of the world around him—a world brought into focus by a small radius of light.
Joyce Henri Robinson is Curator at the Palmer Museum of Art and Associate Professor in the Department of Art History at Penn State.
G. Daniel Massad lives and works in Annville, Pennsylvania, where he is artist in residence at Lebanon Valley College. His pastel still lifes can be found in numerous private collections across the United States and in major museum collections, including the Art Institute of Chicago, Metropolitan Museum of Art, Philadelphia Museum of Art, Pennsylvania Academy of the Fine Arts, National Gallery of Art, and the Palmer Museum of Art.
Mailing List
Subscribe to our mailing list and be notified about new titles, journals and catalogs.