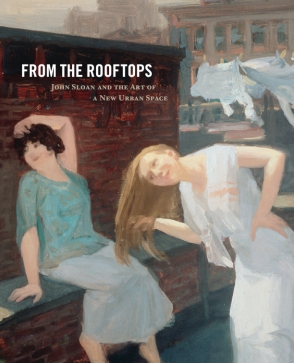 From the Rooftops
John Sloan and the Art of a New Urban Space
Adam Thomas
BUY
From the Rooftops
John Sloan and the Art of a New Urban Space
Adam Thomas
"From the Rooftops is an intelligent, well-written and extensively researched catalogue, which happily closes with the author's sound advice: 'Sometimes in order to see differently we must ignore the sign that reads "No roof access."'"
Description

Reviews

Bio
The celebrated Ashcan School artist John Sloan produced a distinctive body of work depicting life on the rooftops of early twentieth-century New York City. Designed to accompany the major loan exhibition of the same name organized by the Palmer Museum of Art,
From the Rooftops: John Sloan and the Art of a New Urban Space
examines the allure of rooftop locales for Sloan, as well as for more than a dozen of his contemporaries.
From his early career as an illustrator in Philadelphia to the final years of his life, Sloan nurtured a fascination with what he called the "roof life of the metropolis." Devoted to the importance of this setting in Sloan's oeuvre, From the Rooftops features paintings, prints, and photographs by Sloan, alongside examples from other notable artists of the time, such as George Ault, William Glackens, Hughie Lee-Smith, Edward Hopper, and Reginald Marsh—artists who were likewise enthralled by "the city above the city." In this book, art historian Adam Thomas explores the pivotal role that New York's City's rooftops played in Sloan's thinking about urban space and places Sloan's work within its broader artistic and cultural context. In his analysis, Thomas considers the liminal status of the rooftop and its complexities as both an extension of the domestic sphere and an escape from it during a period of profound social and architectural transformation in New York City.
Featuring insightful analysis and more than eighty full-color illustrations, this catalog will appeal to art historians and art enthusiasts alike.
"From the Rooftops is an intelligent, well-written and extensively researched catalogue, which happily closes with the author's sound advice: 'Sometimes in order to see differently we must ignore the sign that reads "No roof access."'"
Adam Thomas is Curator of American Art at the Palmer Museum of Art and Affiliate Assistant Professor of Art History at Penn State University.
Mailing List
Subscribe to our mailing list and be notified about new titles, journals and catalogs.