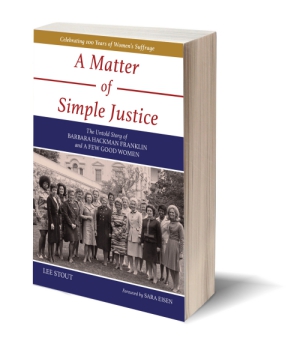 A Matter of Simple Justice
The Untold Story of Barbara Hackman Franklin and a Few Good Women
Lee Stout
BUY
A Matter of Simple Justice
The Untold Story of Barbara Hackman Franklin and a Few Good Women
Lee Stout
"The words 'untold story' always pique my interest, since those stories often contain wonderful surprises. A Matter of Simple Justice is just such a story. I am thrilled that our friend Barbara Hackman Franklin—along with President Nixon—is finally getting the credit she deserves for advancing the cause of women in the workplace."
Description

Reviews

Bio

Subjects
In August 1972,
Newsweek
proclaimed that "the person in Washington who has done the most for the women's movement may be Richard Nixon." Today, opinions of the Nixon administration are strongly colored by foreign policy successes and the Watergate debacle. Its accomplishments in advancing the role of women in government have been largely forgotten. Based on the "A Few Good Women" oral history project at the Penn State University Libraries,
A Matter of Simple Justice
illuminates the administration's groundbreaking efforts to expand the role of women—and the long-term consequences for women in the American workplace.
At the forefront of these efforts was Barbara Hackman Franklin, a staff assistant to the president who was hired to recruit more women into the upper levels of the federal government. Franklin, at the direction of President Nixon, White House counselor Robert Finch, and personnel director Fred Malek, became the administration's de facto spokesperson on women's issues. She helped bring more than one hundred women into executive positions in the government and created a talent bank of more than a thousand names of qualified women. The Nixon administration expanded the numbers of women on presidential commissions and boards, changed civil service rules to open thousands more federal jobs to women, and expanded enforcement of antidiscrimination laws to include gender discrimination. Also during this time, Congress approved the Equal Rights Amendment and Nixon signed Title IX of the Education Amendments into law.
Featuring a new forward by Sara Eisen, this updated edition of A Matter of Simple Justice celebrates the 100th anniversary of women's suffrage in the United States through the story of Barbara Hackman Franklin and those "few good women" and shows how the advances that were made in this time by a Republican presidency both reflected the national debate over the role of women in society and took major steps toward equality in the workplace for women.
"The words 'untold story' always pique my interest, since those stories often contain wonderful surprises. A Matter of Simple Justice is just such a story. I am thrilled that our friend Barbara Hackman Franklin—along with President Nixon—is finally getting the credit she deserves for advancing the cause of women in the workplace."
"[This] book is important for the light it sheds on a chapter of our history that was largely overshadowed by President Nixon's fall from grace."
"

The book is an educational read, and an inspirational one for women graduating from high school or college. It will remind them of what they can accomplish more easily now, thanks to their female forebears.

"
"A Matter of Simple Justice

is an outstanding resource for information on women and politics in the 1970s, a window into the extensive oral history resources housed at Penn State, and a source for the background and chronology of women's political history since World War II.

"
"

Every great movement and advancement in society is built upon a foundation of courageous, passionate, and tireless leaders.

A Matter of Simple Justice

is a fascinating look at a tipping-point moment in American history and the visionaries, like Barbara Hackman Franklin, who helped create it. It is a timely read as we journey into a decade of unprecedented opportunity for women's leadership in business, government, and civil society all around the world.

"
"

Each generation produces visionary pioneers who recognize existing injustices and strive to change them.

A Matter of Simple Justice

chronicles how—with the leadership of one of these pioneers, Barbara Hackman Franklin—my father and the Nixon administration were instrumental in opening doors previously closed to women. Thanks to their efforts, women have made enormous contributions to our nation in government, business, the military, academics, sports, and medicine.

"
"A Matter of Simple Justice

recounts a momentous chapter in women's history: namely, the efforts to advance the role of women in government. As an eyewitness to those exciting times, I saw many women breaking through barriers, earning jobs never before held by women, and establishing successful careers. I am delighted that this important story has been told at last.

"
"

Many younger people may not realize what a significant cultural change in women's rights began with Nixon, and I hope they will find it an illuminating bit of history.

"
Lee Stout is Librarian Emeritus at the Penn State University Libraries, author of Ice Cream U, and coauthor of Lair of the Lion, both also available from PSU Press.
Mailing List
Subscribe to our mailing list and be notified about new titles, journals and catalogs.