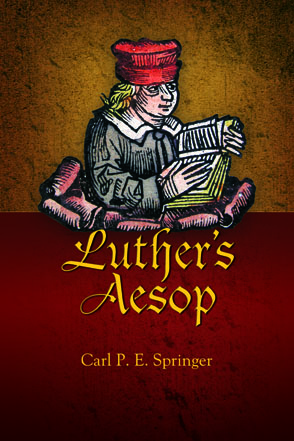 Luther's Aesop
Carl P. E. Springer
Buy
Luther's Aesop
Carl P. E. Springer
"Luther's Aesop is a useful contribution to a little studied aspect of Martin Luther's literary work. The argument is well articulated, offering chapters on Luther's study of the classics, his use of Aesop in various writings, his translation of thirteen fables done in Coburg in 1530, an edition with translation and commentary of these fables, and a survey of Aesopic aspects of Luther's other writings."
Description

Reviews

Bio

Table of Contents
Reformer of the church, biblical theologian, and German translator of the Bible Martin Luther had the highest respect for stories attributed to the ancient Greek author Aesop. He assigned them a status second only to the Bible and regarded them as wiser than "the harmful opinions of all the philosophers." Throughout his life, Luther told and retold Aesop's fables and strongly supported their continued use in Lutheran schools. In this volume, Carl Springer builds on the textual foundation other scholars have laid and provides the first book in English to seriously consider Luther's fascination with Aesop's fables. He looks at which fables Luther knew, how he understood and used them, and why he valued them. Springer provides a variety of cultural contexts to help scholars and general readers gain a deeper understanding of Luther's appreciation of Aesop.
"Luther's Aesop is a useful contribution to a little studied aspect of Martin Luther's literary work. The argument is well articulated, offering chapters on Luther's study of the classics, his use of Aesop in various writings, his translation of thirteen fables done in Coburg in 1530, an edition with translation and commentary of these fables, and a survey of Aesopic aspects of Luther's other writings."
"This book is an important contribution to Luther scholarship and to the study of Christianity and the classics. It brings us closer to the real human being behind the reformer and makes our knowledge of his sources more precise."
"Springer deserves praise for his unbiased writing and his informative approach. He has crafted a narrative of Luther's use of Aesop's fables, from his days as a translator of the stories into German, all the way to his use of the fables as parables for his religious arguments."
"Carl Springer offers a breadth of background and interpretative information on Luther's appreciation and use of these succinct, yet edifying narratives.... End material in this volume reveals Springer's masterful scholarship as well as his role as a consummate teacher.... Truman State University Press is to be commended for this publication, with its attractive jacket/binding and clear formatting. This work provides a valuable contribution to early modern and Luther studies, and is an exemplary resource for future studies."
"Springer takes his readers on a fascinating journey, culminating in thorough presentations of each fable and extending to perplexing questions about where, how, and why Luther employed fable material.... A significant contribution to the growing examination of Luther's facility with ars rhetorica and its contribution to theology."
"Carl P. E. Springer's study of Luther's views on Aesop is a notable achievement for (at least) two reasons. First, it sheds light on an aspect of his thinking that has often been overlooked by historians, namely the prominent place of Aesop's fables in Luther's mind as he prepared his theology for a reading public, particularly when it came to issues of Christian ethics... Second, Springer's careful reconstruction of Luther's preoccupation with the fables also sheds important light on broader questions relating to the Reformer's views on the relationship between theology and the classics and indeed the place of pagan thought in Reformation thought tout court."
Carl P. E. Springer is professor of English and classical studies at Southern Illinois University-Edwardsville. Springer has written extensively about the relationship between the classics and Christianity. He is best known for his work on the early Christian Latin poet Sedulius, whose collected works he is in the process of editing and translating. He has also produced numerous studies on Martin Luther's use of classical Greek and Latin authors as well as Luther's own Latin poetry.
Abbreviations
Preface
Wittenberg and Athens
"The Best after the Bible"
Luther the Editor
A Lutheran Fable Book
Luther as Aesop
Appendix A Other Versions of the Coburg Fables
Appendix B Selected Latin Poems of Luther
Appendix C Varia
Works Cited
About the Author
Index
Index of Scriptural References