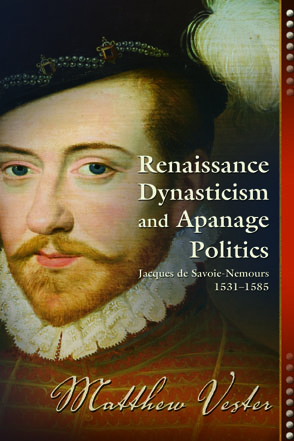 Renaissance Dynasticism and Apanage Politics
Jacques de Savoie-Nemours, 1531–1585
Matthew Vester
Buy
Renaissance Dynasticism and Apanage Politics
Jacques de Savoie-Nemours, 1531–1585
Matthew Vester
"Characterizing Jacque as of one of the most brilliant courtiers and military leaders in Renaissance Europe, Vester (history, West Virginia U.) presents a rather unconventional biography that balances events in his life with the position of a dynasty and the political culture that embraced them both. He shows how Jacque's life embodied such aspects of early modern political culture as dynastic relations, kinship, institutional developments, aristocratic culture, warfare, and strategic interests. The French version Jacques de Savoie-Nemours was translated from the original English text."
Description

Reviews

Bio

Table of Contents
One of the most brilliant courtiers and military leaders in Renaissance France, Jacques de Savoie, duke of Nemours, was head of the cadet branch of the house of Savoy, a dynasty that had ruled over a collection of lands in the Western Alps since the eleventh century. Jacques' cousin Emanuel Filibert, duke of Savoy and ruler of the Sabaudian lands, fought against Jacques, and each expanded their influence at the other's expense, while also benefitting from the other's position. This study examines the complex and rich relationship of the noble cousins that spanned the battlefields, bedchambers, courts, and backrooms of taverns from Paris to Turin to the frontiers between the Genevois and Geneva. Each prince played key roles in sixteenth-century European politics due to their individual and dynastic identities. Jacques' apanage of the Genevois was a virtual state-within-a-state, the institutional expression of a simultaneously competitive and cooperative relationship between two branches of a sovereign house. Here Matthew Vester provides a new picture of the nobility and of the European political landscape that moves beyond old views and taps into the unspoken cultural rules governing dynastic relations.
"Characterizing Jacque as of one of the most brilliant courtiers and military leaders in Renaissance Europe, Vester (history, West Virginia U.) presents a rather unconventional biography that balances events in his life with the position of a dynasty and the political culture that embraced them both. He shows how Jacque's life embodied such aspects of early modern political culture as dynastic relations, kinship, institutional developments, aristocratic culture, warfare, and strategic interests. The French version Jacques de Savoie-Nemours was translated from the original English text."
"[review of the original French edition] Vester's study takes Nemours well beyond his fictional life in Lafaette's novel to reveal a man who embodied the aristocratic attributes of birth, valor, and magnificence, along with prudent financial investments, a splendid marriage and patronage of the arts.... He emerges indeed, as a great Renaissance prince. Vester achieves this "thick description" through an impressive body of archival research."
"[review of the original French edition] The archives have yielded much to Matthew Vester's patient hard work. A history of the life of Jacques de Savoy-Nemours (not a biography) has required the mastery of what are really sub-fields such as dynastic mentality, social history (for the study of income and expenditures), diplomatic history and political-cultural history, to mention only a few. In Matthew Vester, Jacques de Savoy-Nemours has found his historian, and now the often simplified history of the territorial construction of France must be revised to take this into account."
"[review of the original French edition] Vester moves beyond presenting the multiplicity of factors that shaped the careers and actions of Renaissance noblemen, and places Jacques de Savoie-Nemours into a larger pattern of social and political change, especially in France. … Vester's study sorts through the complexities of the topic very well, and makes a valuable contribution to the field."
"[review of the original French edition] This work effectively makes the point that in the sixteenth century, the leading families of Europe did not restrict their energies and interests to their own lands, but instead set their dynastic concerns in a broader perspective. Jacques de Savoie's life and career provide an excellent illustration of this phenomenon. Vester's work is well-researched and sets the account in its historical and historiographical context. … Scholars and graduate students focusing on patronage networks and dynastic rivalries in early modern Europe will find this work very helpful."
Matthew Vester grew up in Virginia Beach, VA, attended university in Washington DC, and received his graduate training at the University of Virginia and UCLA. He taught at Southern Illinois University and is now a member of the History Department at West Virginia University. He and his wife Annastella have two children.
Maps, Portraits, and Figures
Acknowledgments
1. Dynasties and Political Culture in Renaissance Europe
2. Violence and Honor: Jacques de Savoie in the Service of Henry II, 1546–­1558
3. Honor, Sexuality, and Marriage in the Françoise de Rohan Scandal
4. Treaties, Tragedy, Tumults, and the First War of Religion, 1558–­1563
5. The Apanage of the Genevois and Its New Duchess, 1564–­1566
6. Renaissance Warrior and Courtier, ca. 1566–­1570
7. Dynastic Prestige, A Self-­Regulating Mechanism: Dynastic Relations among Members of the House of Savoy
8. Local Political Autonomy in the Apanage of the Genevois
9. Conflicts of the Late 1570s
10. Piedmontese Postlude
Conclusion
Bibliography
Index