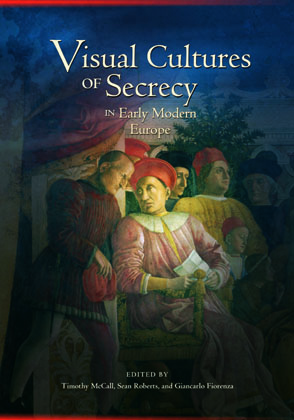 Visual Cultures of Secrecy in Early Modern Europe
Edited by Timothy McCall, Sean Roberts, with Contributions by Giancarlo Fiorenza, Patricia Simons, William Eamon, Maria Ruvoldt, Henry Dietrich Fernández, Allie Terry-Fritsch, and Lyle Massey
Buy
Visual Cultures of Secrecy in Early Modern Europe
Edited by Timothy McCall, Sean Roberts, with Contributions by Giancarlo Fiorenza, Patricia Simons, William Eamon, Maria Ruvoldt, Henry Dietrich Fernández, Allie Terry-Fritsch, and Lyle Massey
"Secrecy was a prominent concern for early modern Europeans in many walks of life, not only statesmen and princes. Artists, craftsmen and those who were their patrons were no exception, as this fascinating collection of illustrated essays consistently shows. Treating a wide range of artistic products and practices, from engraving and acting to printing, architecture and painting, Visual Cultures of Secrecy in Early Modern Europe breaks new ground in the study of visual secrets and their unveiling, chiefly in Italy, between the fifteenth and seventeenth centuries. Interwoven with the detailed analysis of material objects and archival documents are to be found fresh insights into the discourses of early modern philosophy, medicine, religion, cartography, politics, and gender."
Description

Reviews

Bio

Table of Contents
Secrets in all their variety permeated early modern Europe, from the whispers of ambassadors at court to the emphatically publicized books of home remedies that flew from presses and booksellers' shops. This interdisciplinary volume draws on approaches from art history and cultural studies to investigate the manifestations of secrecy in printed books and drawings, staircases and narrative paintings, ecclesiastical furnishings and engravers' tools. Topics include how patrons of art and architecture deployed secrets to construct meanings and distinguish audiences, and how artists and patrons manipulated the content and display of the subject matter of artworks to create an aura of exclusive access and privilege. Essays examine the ways in which popes and princes skillfully deployed secrets in works of art to maximize social control, and how artists, printers, and folk healers promoted their wares through the impression of valuable, mysterious knowledge.
The authors contributing to the volume represent both established authorities in their field as well as emerging voices. This volume will have wide appeal for historians, art historians, and literary scholars, introducing readers to a fascinating and often unexplored component of early modern culture.
"Secrecy was a prominent concern for early modern Europeans in many walks of life, not only statesmen and princes. Artists, craftsmen and those who were their patrons were no exception, as this fascinating collection of illustrated essays consistently shows. Treating a wide range of artistic products and practices, from engraving and acting to printing, architecture and painting, Visual Cultures of Secrecy in Early Modern Europe breaks new ground in the study of visual secrets and their unveiling, chiefly in Italy, between the fifteenth and seventeenth centuries. Interwoven with the detailed analysis of material objects and archival documents are to be found fresh insights into the discourses of early modern philosophy, medicine, religion, cartography, politics, and gender."
"The wide range of matters addressed in this volume makes it a fascinating and varied read for anyone interested in Renaissance culture."
"This book stands out for the diversity of secrets it investigates. Yet, in all this diversity, its focus on the performance of secrecy and the sociability of secrets lends it coherence. This is a worthy addition to the growing literature on secrecy in early modern cultures of knowledge."
Timothy McCall is assistant professor of art history at Villanova University. His research primarily investigates gender, power, and visual culture in fifteenth-century Italian courts. He has published in journals including Renaissance Studies and Studies in Iconography and was recently a fellow at Villa I Tatti, the Harvard University Center for Italian Renaissance Studies.
Sean Roberts is assistant professor in the Art History Department at the University of Southern California.. He has published in journals including Imago Mundi, Print Quarterly and Renaissance Studies and is the author of Printing a Mediterranean World: Florence, Constantinople, and the Renaissance of Geography (2013).
Giancarlo Fiorenza is associate professor in the Department of Art and Design at California Polytechnic State University, San Luis Obispo. His book, Dosso Dossi: Paintings of Myth, Magic, and the Antique, was published by the Pennsylvania State University Press in 2008.
Illustrations
Acknowledgments
Introduction: Revealing Early Modern Secrecy
Timothy McCall and Sean Roberts
1 The Visual Dynamics of (Un)veiling in Early Modern Culture
Patricia Simons
2 On the Skins of Goats and Sheep: (Un)masking the Secrets of Nature in Early Modern Popular Culture
William Eamon
3 Secrecy and the Production of Seignorial Space: The Coretto of Torrechiara
Timothy McCall
4 Michelangelo's Open Secrets
Maria Ruvoldt
5 Hebrew, Hieroglyphs, and the Secrets of Divine Wisdom in Ludovico Mazzolino's Devotional Paintings
Giancarlo Fiorenza
6 A Secret Space for a Secret Keeper: Cardinal Bibbiena at the Vatican Palace
Henry Dietrich Fernández
7 Networks of Urban Secrecy: Tamburi, Anonymous Denunciations, and the Production of the Gaze in Fifteenth-Century Florence
Allie Terry-Fritsch
8 Tricks of the Trade: The Technical Secrets of Early Engraving
Sean Roberts
9 The Alchemical Womb: Johann Remmelin's Catoptrum Microcosmicum
Lyle Massey
About the Contributors
Index