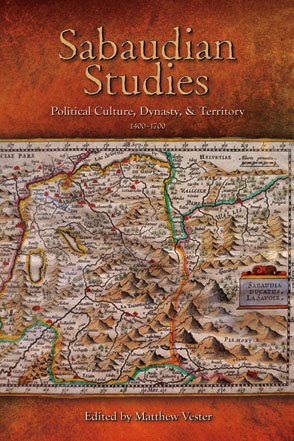 Sabaudian Studies
Political Culture, Dynasty, and Territory (1400–1700)
Edited by Matthew Vester
Buy
Sabaudian Studies
Political Culture, Dynasty, and Territory (1400–1700)
Edited by Matthew Vester
""... contributors make excellent use of the magnificent materials in the Archivio di Stato in Turin, but the use of other archives helps to ensure an analysis of key historical problems embracing a variety of perspectives, as well as an emphasis on broader European context.""
Description

Reviews

Bio

Table of Contents
This collection of interdisciplinary essays introduce the history and culture of the lands ruled by the sovereign house of Savoy during the late medieval and early modern periods, territories now part of France, Italy, and Switzerland. Because the Sabaudian realms were geographically, linguistically, and culturally diverse and did not evolve into a single modern nation-state, their early history has been overlooked by historians whose perspectives were often informed by a narrow, national framework.
An international team of scholars offers new research that de-provincializes many of the existing rich scholarly assessments of the historical significance of these lands, which were important for rulers and subjects throughout early modern Europe. The volume explores the concept of "Sabaudian studies" and identifies historiographic developments and current trends in the field. Beginning with the geography and the history of the area, the essays examine Sabaudian political culture (diplomatic practice, judicial institutions, and political thought), dynastic representation (court festivals and celebrations, and the projection of dynastic prestige abroad, with attention to the sacred heritage of the house), and territorial domination (its fiscal, religious, feudal, and composite dimensions).
Contributors include Eva Pibiri, Laurent Perrillat, Rebecca Boone, Alessandro Celi, Thalia Brero, Stéphane Gal and Preston Perluss, Michel Merle, Toby Osborne, Kristine Kolrud, Guido Alfani, Marco Battistoni, Matthew Vester, and Blythe Alice Raviola.
""... contributors make excellent use of the magnificent materials in the Archivio di Stato in Turin, but the use of other archives helps to ensure an analysis of key historical problems embracing a variety of perspectives, as well as an emphasis on broader European context.""
Matthew Vester grew up in Virginia Beach, VA, attended university in Washington DC, and received his graduate training at the University of Virginia and UCLA. He taught at Southern Illinois University and is now a member of the History Department at West Virginia University. He and his wife Annastella have two children.
Illustrations and Maps
Abbreviations
Dukes of Savoy, 1343–1730
Introduction
The Sabaudian Lands and Sabaudian Studies....Matthew Vester
1 Sabaudian Studies
The Historiographic Context....Matthew Vester
Policies and Institutions
2 The Practice of Diplomacy at the Court of Amadeus VIII of Savoy (1391–1440)....Eva Pibiri, trans. Matthew Vester
3 Justice and Politics
The Conseil de Genevois during the Early Sixteenth Century....Laurent Perrillat
4 From Piedmont to Tenochtitlan
Social Conflict and Mercurino di Gattinara's Imperial Policies in New Spain....Rebecca Boone
5 Philibert-Albert Bailly, or The Origins of Valdostano Particularism....Alessandro Celi
Representing the Dynasty
6 Recollecting Court Festivals
Ceremonial Accounts in Sixteenth-Century Savoy....Thalia Brero
7 Charles Emanuel I's Foreign Policy
The Duke of Savoy's French Voyage (1599–1600)....Stéphane Gal and Preston Perluss
8 The Model of the Holy Savoyard Prince
A Religious Discourse for Political Ends....Michel Merle, trans. Matthew Vester
9 The House of Savoy and the Theatre of the World
Performances of Sovereignty in Early Modern Rome....Toby Osborne
10 The Prolonged Minority of Charles Emanuel II
Territorial Practices....Kristine Kolrud
11 Fiscality and Territory
Ivrea and Piedmont between the Fifteenth and Seventeenth Centuries....Guido Alfani
12 Reshaping Local Public Space
Religion and Politics in the Marquisate of Saluzzo between the Reformation and Counter-Reformation....Marco Battistoni
13 Composite Politics in the Vallee d'Aoste....Matthew Vester
14 Sabaudian Spaces and Territories
Piedmont as a Composite State (Ecclesiastical Enclaves, Fiefs, Boundaries)....Blythe Alice Raviola
Postscript
In Memory of Robert Oresko....Geoffrey Symcox, Matthew Vester, Toby Osborne, and Blythe Alice Raviola
Index