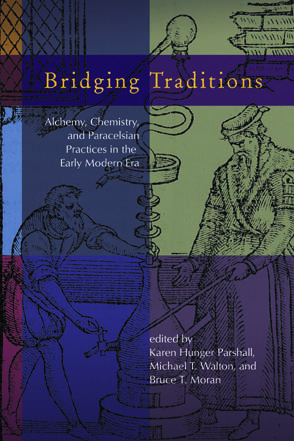 Bridging Traditions
Alchemy, Chemistry, and Paracelsian Practices in the Early Modern Era
Edited by Karen Hunger Parshall, Michael T. Walton, and Bruce T. Moran
Buy
Bridging Traditions
Alchemy, Chemistry, and Paracelsian Practices in the Early Modern Era
Edited by Karen Hunger Parshall, Michael T. Walton, and Bruce T. Moran
"This collection of essays is a fitting tribute to Allen Debus's radically contrarian and visionary work. On topics ranging from Paracelsian medicine in Spain to the enigma of John Dee, the essays demonstrate that Debus's legacy continues, though shaped and reshaped by new perspectives. Just as Debus confounded the traditional narrative of the Scientific Revolution by following the trail of alchemy and magic to discover a different Scientific Revolution, Bridging Traditions probes deeply into issues once snubbed as suitable only for the trash bin of history. An engaging and thought-provoking volume, Bridging Traditions will be important reading for anyone interested in early modern science and medicine."
Description

Reviews

Bio

Table of Contents
Bridging Traditions explores the connections between apparently different zones of comprehension and experience—magic and experiment, alchemy and mechanics, practical mathematics and geometrical mysticism, things earthy and heavenly, and especially science and medicine—by focusing on points of intersection among alchemy, chemistry, and Paracelsian medical philosophy. In exploring the varieties of natural knowledge in the early modern era, the authors pay tribute to the work of Allen Debus, whose own endeavors cleared the way for scholars to examine subjects that were once snubbed as suitable only to the refuse heap of the history of science.
"This collection of essays is a fitting tribute to Allen Debus's radically contrarian and visionary work. On topics ranging from Paracelsian medicine in Spain to the enigma of John Dee, the essays demonstrate that Debus's legacy continues, though shaped and reshaped by new perspectives. Just as Debus confounded the traditional narrative of the Scientific Revolution by following the trail of alchemy and magic to discover a different Scientific Revolution, Bridging Traditions probes deeply into issues once snubbed as suitable only for the trash bin of history. An engaging and thought-provoking volume, Bridging Traditions will be important reading for anyone interested in early modern science and medicine."
"Allen Debus fundamentally altered the received storyline of the Scientific Revolution by introducing the "chemical philosophy" into the larger narrative. Bridging Traditions is a historiographical tour de force that interprets, corrects, and extends this vital legacy. It offers an unusually strong collection of essays that serves as a fitting tribute to Debus and his faithful and humane student Michael Walton, who tragically passed away while preparing the volume. Essential reading for serious students of the history of early modern science and other aspiring adepts."
"Bridging Traditions pays tribute to the work of the late Allen Debus, a historian of science. Such scholarly tributes run the risk of being perceived as lacking coherence and/or independence. this volume quickly gets beyond any such misconceptions...Nicely done: a useful contribution to the literature for both scholars and the occasional curious chymist."
"Of special note is Karen Hunger Parshall's "Crafting the Chemical Interpretation of Nature: The Work of Allen G. Debus" and Heinz Schott's "On the Imagery of Nature in the Late medieval and Early Modern Periods". A unique and highly recommended addition to academic library collections..."
Karen Hunger Parshall is professor of history and mathematics at the University of Virginia. She is the author of James Joseph Sylvester: Jewish Mathematician in a Victorian World (2006), Taming the Unknown: A History of Algebra from Antiquity to the Early Twentieth Century (with Victor J. Katz, 2014), and Experiencing Nature: Proceedings of a Conference in Honor of Allen G. Debus (coedited with Paul H. Theerman, 1997).
Michael T. Walton was the author of Genesis and the Chemical Philosophy: True Christian Science in the Sixteenth and Seventeenth Centuries (2011); and Anthonius Margaritha and the Jewish Faith: Jewish Life and Conversion in Sixteenth Century Germany (2012).
Bruce T. Moran is professor of history at the University of Nevada, Reno. Among many articles and books are Distilling Knowledge: Alchemy, Chemistry, and the Scientific Revolution (2005) and Andreas Libavius and the Transformation of Alchemy: Separating Chemical Cultures with Polemical Fire (2007).
Illustrations
Introduction
Chapter 1: Crafting the Chemical Interpretation of Nature: The Work of Allen G. Debus • Karen Hunger Parshall
Part One: Curious Practices and Practices of Curiosity
Chapter 2: Johann Hayne and Paracelsian Praxis: Chemical Physiology as a Link between Semeiotics and Therapeutics • Jole Shackelford
Chapter 3: Andreas Libavius and the Art of Chymia: Words, Works, Precepts, and Social Practices • Bruce T. Moran
Chapter 4: Chymical Curiosities and Trusted Testimonials in the Journal of the Leopoldina Academy of Curiosi • Margaret D. Garber
Chapter 5: Phlogiston and Chemical Principles: The Development and Formulation of Georg Ernst Stahl's Principle of Inflammability • Ku-ming (Kevin) Chang
Part Two: Regional Contexts and Communities of Texts
Chapter 6: "If they are not pages that cure, they are pages that teach how to cure": The Diffusion of Chemical Remedies in Early Modern Spain • Mar Rey Bueno
Chapter 7: Prescriptions of Alchemy: Two Austrian Medical Doctors and Their Alchemical Manuscripts • Anke Timmermann
Chapter 8: The Chemical Philosophy and Kabbalah: Pantheus, Khunrath, Croll, and the Treasures of the Oratory and the Laboratory • Michael T. Walton
Part Three: Evaluations and Perceptions
Chapter 9: Paracelsus on the Sidereal Powers: Revisiting the Historiographical Debate between Walter Pagel and Kurt Goldammer • Dane T. Daniel
Chapter 10: John Dee at 400: Still an Enigma • Nicholas H. Clulee
Chapter 11: On the Imagery of Nature in the Late Medieval and Early Modern Periods • Heinz Schott
Contributors
Index