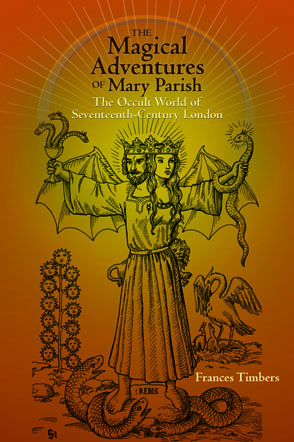 The Magical Adventures of Mary Parish
The Occult World of Seventeenth-Century London
Frances Timbers
Buy
The Magical Adventures of Mary Parish
The Occult World of Seventeenth-Century London
Frances Timbers
"The Magical Adventures of Mary Parish is a gripping read that I found hard to put down. Mary Parish's remarkable story provides a fascinating window into the rough and tumble world of love and life, healers and treasure hunters, alchemy and the world of fairies in seventeenth-century London. As she weaves together the many strands of Mary's life, Frances Timbers displays an evenhanded compassion for her subjects that helps the reader view even the most fantastical elements of Mary's story within the context of her world. In Timbers's hands, the mixture of Mary's often gritty and difficult life and her adventures in the occult and supernatural realms creates a tale that rivals even the finest magical realism novels of our day."
Description

Reviews

Bio

Table of Contents
Mary Parish wasn't your ordinary seventeenth-century woman. She was a "cunning woman," who spent her time in the realm of magic, interacting with fairies, hunting for buried treasures, and communicating with the spirit world, along with her partner, the young aristocrat Goodwin Wharton. Drawing largely from Goodwin's personal journals, Frances Timbers reconstructs Mary's life in this microhistory, and explores themes of class, gender, and relationships in seventeenth-century England. Mary's story provides insight into magical beliefs and practices of early modern history, and sheds light on how class and gender affected everyday life.
"The Magical Adventures of Mary Parish is a gripping read that I found hard to put down. Mary Parish's remarkable story provides a fascinating window into the rough and tumble world of love and life, healers and treasure hunters, alchemy and the world of fairies in seventeenth-century London. As she weaves together the many strands of Mary's life, Frances Timbers displays an evenhanded compassion for her subjects that helps the reader view even the most fantastical elements of Mary's story within the context of her world. In Timbers's hands, the mixture of Mary's often gritty and difficult life and her adventures in the occult and supernatural realms creates a tale that rivals even the finest magical realism novels of our day."
"...Timbers's account is an important stepping stone to a better understanding of the mystical culture of the 17th century as well as of this fascinating and talented woman."
"The newest addition to the outstanding 'Early Modern Studies Series' from Truman State University Press, The Magical Adventures of Mary Parish: The Occult World of Seventeenth-Century London is an outstanding contribution to academic library 17th Century British Spiritualism and Metaphysical Studies reference collections. Enhanced with the inclusion of historical illustrations, an informative Prologue, and a thirteen page Index, it should be noted for academia and the non-specialist general reader with an interest in the history of Western Metaphysics."
Frances Timbers holds a PhD in British history from the University of Toronto (2008). She has a long-standing relationship with Trent University in Peterborough, Ontario, where she is a sessional lecturer. Her dissertation research was published as Magic and Masculinity: Ritual Magic and Gender in the Early Modern Era (I. B. Taurus, 2014). An essay entitled "Mary Squires: A Case Study in Constructing Gypsy Identity in Eighteenth-Century England" was included in Worth and Repute: Valuing Gender in Late Medieval and Early Modern Europe (Centre for Reformation and Renaissance Studies, 2011). Timbers also has two peer-reviewed articles: "Witches' Sect or Prayer Meeting? Matthew Hopkins Revisited" in Women's History Review (2008), and "Liminal Language: Boundaries of Magic and Honor in Early Modern Essex" in Magic, Ritual, and Witchcraft (2007).
Illustrations
Acknowledgments
Prologue
Chapter 1: Down the Rabbit Hole
Chapter 2: A Cunning Woman
Chapter 3: The Queen of the Fairies
Chapter 4: Finding a Familiar
Chapter 5: Matters of Marriage
Chapter 6: Sex and Succession
Chapter 7: The Pleasures of Venus and the Pains of Eve
Chapter 8: The Traumas of Treasure Hunting
Chapter 9: Heavenly Hosts
Chapter 10: Mary's Crucible
Chapter 11: Plots and Piety
Epilogue: April 1703
Appendix: A Timeline of Mary's Life
Bibliography
Index
About the Author