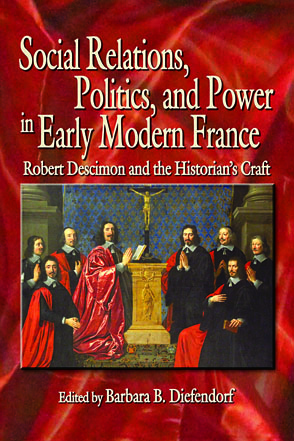 Social Relations, Politics, and Power in Early Modern France
Robert Descimon and the Historian's Craft
Edited by Barbara B. Diefendorf
Buy
Social Relations, Politics, and Power in Early Modern France
Robert Descimon and the Historian's Craft
Edited by Barbara B. Diefendorf
"Honoring the path-breaking social and political history of Robert Descimon, these essays describe and themselves display the innovative methods and insight that mark his scholarship on early modern France. Following Descimon's lead into archives, manuscripts, and marginalia, the authors add to our understanding of the construction of the absolute state and the networks and loyalties of the elites on which it depended. Social Relations, Politics, and Power is also a testimony to the networks of friendship that sustain historians in their work on both sides of the Atlantic. A book full of riches!"
Description

Reviews

Bio

Table of Contents
The study of history is a fundamentally sociable practice, with the exchange of ideas taking place in writing, over the seminar table, and often in informal discussions over food. These essays grew out of a web of sociability centered around French historian Robert Descimon, and focus on the nexus of social relations, politics, and power in France as it moved from the age of religious wars into the age of absolutism. Using a wide variety of historical approaches and methods, these essays offer new insights into the evolving role of early modern elites and the social, familial, and cultural influences that shaped their values and priorities.
"Honoring the path-breaking social and political history of Robert Descimon, these essays describe and themselves display the innovative methods and insight that mark his scholarship on early modern France. Following Descimon's lead into archives, manuscripts, and marginalia, the authors add to our understanding of the construction of the absolute state and the networks and loyalties of the elites on which it depended. Social Relations, Politics, and Power is also a testimony to the networks of friendship that sustain historians in their work on both sides of the Atlantic. A book full of riches!"
"The selections in this volume build on Robert Descimon's critical work on the workings and nature of the early modern state by focusing on the complexities underlying actions and contentions among French elites during the crucial transition to Bourbon rule."
Barbara B. Diefendorf (PhD, University of California–­Berkeley) is professor of history emerita at Boston University. Her books include Paris City Councillors in the Sixteenth Century: The Politics of Patrimony (1983), Beneath the Cross: Catholics and Huguenots in Sixteenth-Century Paris (1991), and From Penitence to Charity: Pious Women and the Catholic Reformation in Paris (2004, winner of the J. Russell Major Prize from the American Historical Association). She is currently completing a book manuscript on the contested early stages of France's Catholic Reformation.
Introduction: Robert Descimon and the Historian's Craft
by Barbara B. Diefendorf
1. Robert Descimon, the Annales Tradition, and the Social History of the Ruling Classes
by Jonathan Dewald
2. Law and Social History in Early Modern France
by Michael P. Breen
3. Local Officials and Torture in Seventeenth-­Century Bordeaux
by Sara Beam
4. Urban Elites and Politics in Sixteenth-­Century Dijon
by Mack P. Holt
5. The Notary as Rural Power Broker: Maître Coujard and Pierre Collenot, Syndic of Alligny
by James B. Collins
6. Reading Municipal Lists, Interpreting Civic Practice from the Insights of Robert Descimon to Seventeenth-­Century Bourges
by Hilary J. Bernstein
7. Qui étaient les députés? An Unknown Group of Protestant Leaders on the Eve of the First War of Religion
by Philip J. Benedict
8. Civic Engagement and Public Assistance in Sixteenth-­Century Paris
by Barbara B. Diefendorf
9. Unfinished Business: An Edition of the "Manuscript History of the League"
by Mark Greengrass, with Marco Penzi and Mark Critchlow
10. Gallicans Not Magistrates: The Dupuy Cabinet in the Age of Richelieu
by Robert A. Schneider
11. Intellectual Trajectories and Relationships of a French Historian
by Robert Descimon
Bibliography of Robert Descimon's Writings
Glossary
Contributors
Index
Also of Interest
Mailing List
Subscribe to our mailing list and be notified about new titles, journals and catalogs.