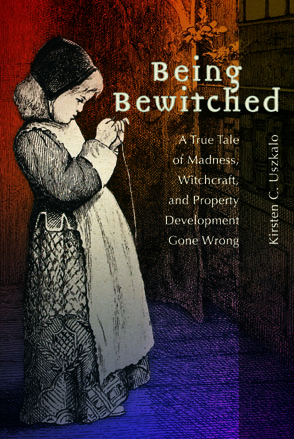 Being Bewitched
A True Tale of Madness, Witchcraft, and Property Development Gone Wrong
Kirsten C. Uszkalo
Buy
Being Bewitched
A True Tale of Madness, Witchcraft, and Property Development Gone Wrong
Kirsten C. Uszkalo
"In lively and vivid prose, Uszkalo's analysis of the 1622 possession of Elizabeth Jennings exposes the social, political, and intellectual fault lines running across the sprawl of early modern London. The product of painstaking research, this history will be of great use to scholars and students alike."
Description

Reviews

Bio

Table of Contents
In 1622, thirteen-year-old Elizabeth Jennings fell strangely ill. After doctors' treatments proved useless, her family began to suspect the child had been bewitched, a suspicion that was confirmed when Elizabeth accused their neighbor Margaret Russell of witchcraft. In the events that followed, witchcraft hysteria intertwines with family rivalries, property disputes, and a web of supernatural beliefs.
Starting from a manuscript account of the bewitchment, Kirsten Uszkalo sets the story of Elizabeth Jennings against both the specific circumstances of the powerful Jennings family and the broader history of witchcraft in early modern England. Fitting together the intricate pieces of this complex puzzle, Uszkalo reveals a story that encompasses the iron grip of superstition, the struggle among professionalizing medical specialties, and London's lawless and unstoppable sprawl. In the picture that emerges, we see the young Elizabeth, pinned like a live butterfly at the dark center of a web of greed and corruption, sickness and lunacy.
"In lively and vivid prose, Uszkalo's analysis of the 1622 possession of Elizabeth Jennings exposes the social, political, and intellectual fault lines running across the sprawl of early modern London. The product of painstaking research, this history will be of great use to scholars and students alike."
Kirsten C. Uszkalo is a specialist in seventeenth-century literature, early modern cultural studies, and women's writing. She is the author of numerous scholarly articles on witchcraft, possession, and digital culture. She is the lead of the Witches in Early Modern England Project and the founding editor of Preternature: Critical and Historical Studies in the Preternatural (Penn State University Press). Her first book, Bewitched and Bedeviled (Palgrave Macmillan, 2015) uses cognitive science and neuroscience to understand possession phenomenon in early modern England. She is currently teaching digital humanities at Athabasca University.
List of Illustrations
Principal Dramatis Personæ
Genealogical Charts
Chronology
Introduction: "My mother sawe her in the kitchin"
Provenience and Pattern
Chapter 1: The Background: Landed Power, Lunacy, and Libraries
Power in the Land
The Lunatic Lord
Being in Thistleworth
Chapter 2: Blood Evidence: Sickness in the Blood
Summoning Simeon Foxe
Mentioning Margaret Russell
Chapter 3: Comparables: Familial Witchcraft
Scandalized Cecils
Bad Manners
Chapter 4: Models and Accusations for Being Bewitched
Dazzling Demoniacs
Preternatural Authority
Chapter 5: Tensions: Prohibitions and Projects
Law Men and Long Acre
Langford, Churchill, Fenlands
Chapter 6: Tensions: Magics and Medicines
Gunpowder Alley
Black and White Court
Clerkenwell & Newgate
The Female Physician
Chapter 7: The New Suspect: The Apothecary
The House of Higgins
Piccadillies and Piccadilly
Chapter 8: Witnesses and Persons of Interest, Bedside & Barside
Frequent Visitors
Ordinary Visitors
Chapter 9: Wrap Up: The Final Expert Assessment
Richard Napier
Chapter 10: Post-bewitchment: Elizabeth Jenyns of St. Mary le Savoy
"East, west, north and south, all these lye"
Conclusion: "They had power over all them"
Appendix 1: "Of Elizabeth Jennings being bewitched," 1622
Appendix 2: Indictments, October 27, 1616 / December 3, 1616
Appendix 3: Napier on Jennings, 1622
Appendix 4: Napier on Bulbeck, Arpe, and Latch, 1623
Appendix 5: John Latch's signature, 1620, 1622
Bibliography
Inde
About the Author