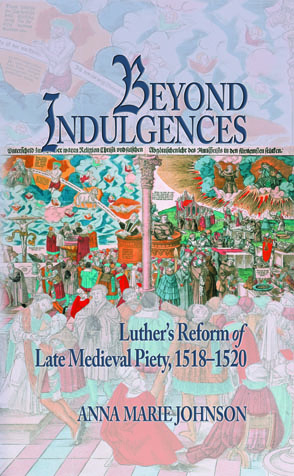 Beyond Indulgences
Luther's Reform of Late Medieval Piety, 1518–1520
Anna Marie Johnson
Buy
Beyond Indulgences
Luther's Reform of Late Medieval Piety, 1518–1520
Anna Marie Johnson
"For Lutheran pastors and laypeople, grasping Luther's pastoral concerns in his early years is vital for understanding the nature of his reform and the resulting Lutheran confession of the gospel, and thus of Lutheran identity and practice today. These early pastoral writings are an important but often neglected body of Luther's works. . . . This book provides an excellent introduction."
Description

Reviews

Bio

Table of Contents
Between Luther's Ninety-Five Theses in 1517 and his excommunication from the church in 1520, he issued twenty-five sermons and treatises on Christian piety, most of them in German. These pastoral writings extended his criticisms of the church beyond indulgences to the practices of confession, prayer, clerical celibacy, the sacraments, suffering, and death. These were the issues that mattered most to Luther because they affected the faith of believers and the health of society. Luther's conflict with Rome forced him to address the issue of papal authority, but on his own time, he focused on encouraging lay Christians to embrace a simpler, self-sacrificing faith. In these pastoral writings, he criticized theologians and church officials for leading people astray with a reliance on religious works, and he began to lay the foundation for a reformed Christian piety.
"For Lutheran pastors and laypeople, grasping Luther's pastoral concerns in his early years is vital for understanding the nature of his reform and the resulting Lutheran confession of the gospel, and thus of Lutheran identity and practice today. These early pastoral writings are an important but often neglected body of Luther's works. . . . This book provides an excellent introduction."
Anna Marie Johnson earned her PhD from Princeton Theological Seminary. She is Assistant Professor of Reformation History at Garrett-Evangelical Theological Seminary in Evanston, Illinois. She was the recipient of a Mellon Foundation/American Council of Learned Societies fellowship, and co-edited the book The Reformation as Christianization with John A. Maxfield.
Abbreviations
Acknowledgments
Introduction: The Pastoral Writings of 1518 to 1520
Chapter One: The Practical Early Luther
Piety and Vernacular Literature
The Search for the Reformation Discovery
Confessional Polemics and Luther's Religiosity
Luther as Pastor
Practical Theology in Early Modern Europe: Mysticism, Monasticism, and Scholasticism
Chapter Two: Scholasticism, Indulgences, and Christian Life: 1516–1517
Luther's Work in Wittenberg
Luther's Early Lectures
The First Pastoral Writings
Anti-Scholastic Initiatives in Wittenberg
The Practice of Indulgences
Luther's Earliest Comments on Indulgences
The Treatise on Indulgences
The Ninety-Five Theses and the Letter to Archbishop Albrecht
Conclusion: Interpreting the Indulgence Controversy
Chapter Three: Reshaping Confession, Reorienting Piety: Lent 1518
From the Ninety-Five Theses to the Heidelberg Disputation
Preparing for Confession: The Centrality of the Ten Commandments
The Goal of Confession: Faith in the Words of Absolution
Satisfaction, Suffering, and Good Works
Meditating on the Passion, Embracing Suffering
Redefining Relics, Prayer, and the Saints
Conclusion: Reorienting Piety
Chapter Four: Piety in the Shadow of Conflict: Summer 1518
From the Heidelberg Disputation to the Meeting with Cajetan
Penance and Polemics
Sin, Sincerity, and Suffering
Conclusion: Piety and the Reformation Discovery
Chapter Five: Reforming Prayer and Good Works: Early 1519
From the Meeting with Cajetan to the Leipzig Debate
Revisiting Penance and the Passion
"Lifting Up the Heart": Instruction on Prayer
Religious Works and Good Works
Piety and the Papacy
Conclusion: Escalating Conflict, Expanding Criticisms
Chapter Six: Reinterpreting Sacraments and Saints: Fall 1519 to Summer 1520
From the Leipzig Debate to Excommunication
Confession in a New Key
Baptism and Christian Life
The Communion of the Saints
Suffering with the Saints
Dying in the Faith
The Practice of Usury and the Works of Faith
Conclusion: The Piety of a New Church
Conclusion: Piety and Luther's Protest
Appendix
Works Cited
Index
About the Author