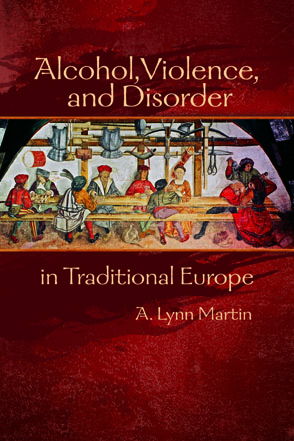 Alcohol, Violence, and Disorder in Traditional Europe
A. Lynn Martin
Buy
Alcohol, Violence, and Disorder in Traditional Europe
A. Lynn Martin
"Although the "drunken brawl" is one of the oldest tropes in social history, Lynn Martin's fascinating analysis of alcohol and violence in early modern western Europe argues that both are cultural constructions of enormous complexity that cannot be reduced to a mechanical pairing. This book offers a highly readable introduction to the social history of alcohol, but its particular triumph is in its exploration of how historians and anthropologists make sense of cultural phenomena like drinking and disciplinary regimes."
Description

Reviews

Bio

Table of Contents
Traditional Europe had high levels of violence and of alcohol consumption, both higher than they are in modern Western societies, where studies demonstrate a link between violence and alcohol. A. Lynn Martin uses an anthropological approach to examine drinking, drinking establishments, violence, and disorder, and compares the wine-producing south with the beer-drinking north and Catholic France and Italy with Protestant England, and explores whether alcohol consumption can also explain the violence and disorder of traditional Europe.
Both Catholic and Protestant moralists believed in the link, and they condemned drunkenness and drinking establishments for causing violence and disorder. They did not advocate complete abstinence, however, for alcoholic beverages had an important role in most people's diets. Less appreciated by the moralists was alcohol's function as the ubiquitous social lubricant and the increasing importance of alehouses and taverns as centers of popular recreation.
The study utilizes both quantitative and qualitative evidence from a wide variety of sources to question the beliefs of the moralists and the assumptions of modern scholars about the role of alcohol and drinking establishments in causing violence and disorder. It ends by analyzing the often-conflicting regulations of local, regional, and national governments that attempted to ensure that their citizens had a reliable supply of good drink at a reasonable cost but also to control who drank what, where, when, and how.
No other comparable book examines the relationship of alcohol to violence and disorder during this period.
"Although the "drunken brawl" is one of the oldest tropes in social history, Lynn Martin's fascinating analysis of alcohol and violence in early modern western Europe argues that both are cultural constructions of enormous complexity that cannot be reduced to a mechanical pairing. This book offers a highly readable introduction to the social history of alcohol, but its particular triumph is in its exploration of how historians and anthropologists make sense of cultural phenomena like drinking and disciplinary regimes."
"There is much that is interesting about this book. Lynn A Martin has collected a vast array of material from a wide geographical and chronological spread and this gives a vivid and complex picture of the problem that he sets out to explore. … The questions Martin raises about the History of the understandings of violence are important. He has combed published source collections and the work of other historians for many fragments of evidence and his findings provide intriguing challenges to scholars of violence and disorder in early modern European communities."
"Martin's argument and his synthetic, comparative approach, have not only (once again) make a valuable contribution to the growing literature on alcohol studies, he also offers a model of what can be done once even more archivally-driven investigations into early modern European production and consumption practices emerge."
"Martin skillfully investigates the role of alcohol and drinking establishments in early modern England, France, and Italy.... Martin's historical anthropological approach is cleverly constructed and offers a valuable model for alcohol studies research. Highly recommended."
"This study is a fascinating overview of a segment of society that seems universal but, on closer examination, turns out to demonstrate the subtle differences between the world views of the past and our own."
"This book also opens up many new ways to think about alcohol in literature and the arts."
"Martin's warning to avoid simply identifying drinking with disorder is a good one, and his shift of the focus to the inherent disorderliness of inns and taverns, rather than the effects of alcohol consumption itself, is illuminating."
A. Lynn Martin is an award-winning historian, a fellow of the Royal Historical Society and of the Australian Academy of the Humanities, and a recipient of a Centenary Medal from the Australian government for his contribution to Australian society through history. Born in Iowa, Professor Martin received his education at the University of Oregon and the University of Wisconsin before moving to Australia in 1973. His publications include Alcohol, Sex, and Gender in Late Medieval and Early Modern Europe; Henry III and the Jesuit Politicians; The Jesuit Mind: The Mentality of an Elite in Early Modern France; and Plague? Jesuit Accounts of Epidemic Disease in the Sixteenth Century. In 1997, Professor Martin became founder and director of the University of Adelaide's Research Centre for the History of Food and Drink, a position he held until 2004. Although retiring at the end of 2003, Professor Martin still keeps active as a visiting research fellow.
Figures and Tables
Acknowledgments
The Problem of Alcohol and Violence
The Condemnations of the Moralists
The Consumption of Alcohol
Recreational Drinking
Disorder: Places
Disorder: Persons
Violence
Regulations
Alcohol, Violence, and Disorder
Bibliography
About the Author
Index