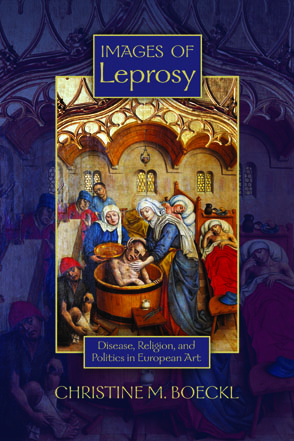 Images of Leprosy
Disease, Religion, and Politics in European Art
Christine M. Boeckl
Buy
Images of Leprosy
Disease, Religion, and Politics in European Art
Christine M. Boeckl
"The history of plague and leprosy, the two most persistently stereotyped diseases, needs constant revision. Boeckl has contributed significantly to this revision, in 2000 by broadening our perspective on the imagery of plague, and now with this spirited study on the depictions of leprosy. Defying the danger of retrospective diagnosis, she matches premodern representations of leprosy to current knowledge about Hansen's disease. Assiduous research, incisive analysis, and ample illustrations support her theses, especially when she challenges conventional interpretations. Most importantly, by laying bare religious and political dynamics in iconography, this book opens new insights on the relationships between imagery and "reality" and between power and disease in history."
Description

Reviews

Bio

Table of Contents
From biblical times to the onset of the Black Death in the fourteenth century, leprosy was considered the worst human affliction, both medically and socially. Only fifty years ago, leprosy, or Hansen's disease, was an incurable infectious illness, and it still remains a grave global concern. Recently, leprosy has generated attention in scholarly fields from medical science to the visual arts. This interdisciplinary art-historical survey on lepra and its visualization in sculpture, murals, stained glass, and other media provides new information on the history of art, medicine, religion, and European society. Christine M. Boeckl maintains that the various terrifying aspects of the disease dominated the visual narratives of historic and legendary figures stricken with leprosy. For rulers, beggars, saints, and sinners, the metaphor of leprosy becomes the background against which their captivating stories are projected.
"The history of plague and leprosy, the two most persistently stereotyped diseases, needs constant revision. Boeckl has contributed significantly to this revision, in 2000 by broadening our perspective on the imagery of plague, and now with this spirited study on the depictions of leprosy. Defying the danger of retrospective diagnosis, she matches premodern representations of leprosy to current knowledge about Hansen's disease. Assiduous research, incisive analysis, and ample illustrations support her theses, especially when she challenges conventional interpretations. Most importantly, by laying bare religious and political dynamics in iconography, this book opens new insights on the relationships between imagery and "reality" and between power and disease in history."
"This is, to my knowledge, the only general study of leprosy in art and in context, although there have been a number of specialized studies of individual cases and regions, all of which Boeckl seems to have consulted and cited. Supplementing her extensive research, she received excellent medical advice, and the resulting book is clearly organized and well documented. Images of Leprosy reviews modern research on Hansen's disease, and traces the history and historiography of the disease in religious contexts and its identification with sin, discussing biblical and other literary sources, the leprosaria and saintly caregivers, and the Christological cycles and their exploitation for political and religious purposes. Two appendices present pertinent texts from the Bible and other literary sources."
"Images of Leprosy is a compassionate study that seeks not only to clarify how medieval people saw and understood Hansen's disease, but also to counter modern perceptions of the disease and those who suffer from it. Boeckl makes a clear and direct argument supported by literary and visual evidence further bolstered by modern medical data.... Overall, this fascinating book provides compelling support for the argument in favor of incorporating medical knowledge with art historical analysis. It is well written, clearly outlined, with comprehensive conclusions in each chapter. Boeckl summarizes the studies of others quite well and builds on their foundations, drawing her own conclusions in places and opening up avenues for further discussion."
Christine M. Boeckl was born in Vienna, Austria, and studied art history and classical archaeology at the University of Vienna. She emigrated to the U.S. and received her PhD in the history of art from the University of Maryland. She is a professor emerita at the University of Nebraska at Kearney.
Illustrations
Acknowledgments
Introduction: An Ancient Disease in European Images
Leprosy Worldwide and the State of Modern Research
Historiography of Hansen's Disease in Europe
Societal Responses to Leprosy in Europe
Development of the Leprosy Iconography
Christ Healing a Leper in Christological Cycles: The Political Significance of Imperial and Royal Commissions, ca. 800–1200
Patron Saints of Leprosy and Their Images in Religious and Political Contexts, ca. 1200–1800
Diversity in Leprosy Subjects: Biblical Themes and Increasing Secularization, ca. 1450–1750
Conclusions: Images of Leprosy as a European Cultural Phenomenon
Appendix A: Sources Related to Leprosy Images
Appendix B: The Most Prominent Saints Associated with Leprosy
Endnotes
Bibliography
About the Author
Index
Mailing List
Subscribe to our mailing list and be notified about new titles, journals and catalogs.