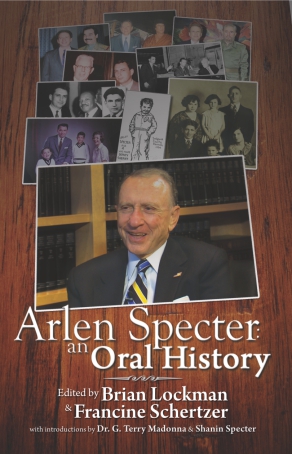 Arlen Specter
An Oral History
Edited by Brian Lockman and Francine Schertzer, Introduction by G. Terry Madonna, and Shanin Specter
BUY
Arlen Specter
An Oral History
Edited by Brian Lockman and Francine Schertzer, Introduction by G. Terry Madonna, and Shanin Specter
"A remarkable book about an incredible public figure whose work benefited Pennsylvanians more than anyone other than Ben Franklin. From Kansas to Philadelphia to Washington, D.C., [the editors] chronicle the triumphs and failures of Arlen Specter in a way that gives the reader insight into who he was."
Description

Reviews

Bio

Subjects
Between February 2011 and February 2012, Senator Arlen Specter sat down before the cameras of the Pennsylvania Cable Network (PCN) to record his oral history. The result was a fifteen-hour television series, which ran on cable systems across Pennsylvania over five nights in May 2012. This book is drawn from the transcripts of those interviews, in which Specter recalled his time as Philadelphia district attorney, his service on the Warren Commission, his questioning of Robert Bork and Anita Hill, and his visits with world leaders. The result is a unique insight into the longest-serving U.S. Senator in Pennsylvania history.
"A remarkable book about an incredible public figure whose work benefited Pennsylvanians more than anyone other than Ben Franklin. From Kansas to Philadelphia to Washington, D.C., [the editors] chronicle the triumphs and failures of Arlen Specter in a way that gives the reader insight into who he was."
Brian Lockman is president and chief executive officer of the Pennsylvania Cable Network. He joined PCN in 1994 after more than fifteen years with C-SPAN. At PCN he has been on-air host of the weekly interview series PA Books and is a frequent host of Journalists Roundtable and the PCN Call-In program. He is author/editor of four books: PCN Tours, World War II: In Their Own Words, Pioneers of Cable Television, and World War II Reflections.
Francine Schertzer is vice president of programming at the Pennsylvania Cable Network. She oversees PCN's coverage of state House and Senate floor proceedings and is intimately involved with producing specialty programming and with various legislative and political events. Additionally, Francine serves as a regular on-air host.