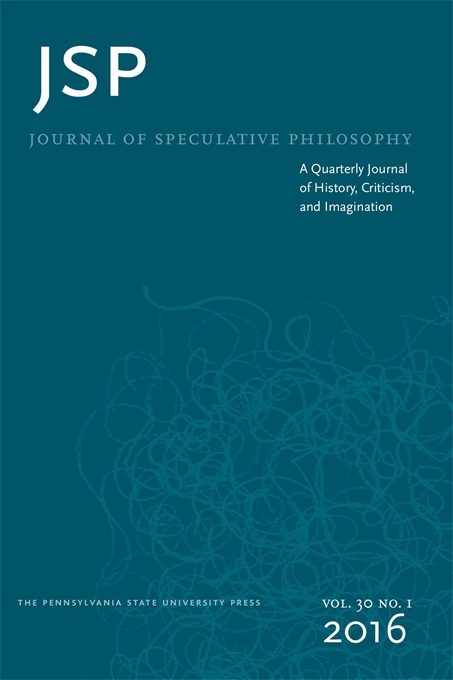 Journal of Speculative Philosophy
John J. Stuhr, Editor
SUBSCRIBE / RENEW
Journal of Speculative Philosophy
John J. Stuhr, Editor
Description

Board

Submissions

Pricing

Indexing
"[T]his journal is unique in contemporary philosophy. It provides a place where ideas that follow no one school or doctrine can appear on the fundamental and traditional questions of philosophy. In my view it keeps alive what real philosophy is all about." —Donald Phillip Verene, Emory University
"[T]he premier place for systematic philosophic essays in the United States." —Robert C. Neville, Boston University
The Journal of Speculative Philosophy publishes systematic and interpretive essays about basic philosophical questions. Scholars examine the constructive interaction between Continental and American philosophy, as well as novel developments in the ideas and theories of past philosophers that have relevance for contemporary thinkers. The journal also features discussions of art, religion, and literature that are not strictly or narrowly philosophical.
Editor
John J. Stuhr, Department of Philosophy, Emory University
Consulting Editor
Vincent M. Colapietro, Department of Philosophy, The Pennyslvania State University
Editorial Board
Amy Allen, Penn State University
Alia Al-Saji, McGill University
Robert Bernasconi, Penn State University, US
Sara Brill, Fairfield University
Alisa Carse, Georgetown University
Megan Craig, Stony Brook University
Miguel de Beistegui, University of Warwick
Rossella Fabbrichesi, Università degli Studi di Milano
Lori Gallegos, Texas State University
Russell Goodman, University of New Mexico
Jennifer Hansen, St. Lawrence University
Leonard Harris, Purdue University, US
Diana Heney, Vanderbilt University
David Hildebrand, University of Colorado, Denver
Christopher Hookway, University of Sheffield
Mark Johnson, University of Oregon
John Lachs, Vanderbilt University
Céline Leboeuf, Florida Atlantic University
Jessica Locke, Loyola University, Maryland
Christopher P. Long, Michigan State University
John Lysaker, Emory University
Lee McBride, College of Wooster
Erin McKenna, University of Oregon
José Medina, Northwestern University, US
Eduardo Mendieta, Pennsylvania State University, US
Michele Moody-Adams, Columbia University
Kelly Oliver, Vanderbilt University
José-Antonio Orosco, Oregon State University
Mariana Ortega, The Pennsylvania State University, US
Lucius Outlaw, Vanderbilt University, US
Helmut Pape, Humboldt University zu Berlin
Gregory Pappas, Texas A&M University
James Pawelski, University of Pennsylvania
Nikita Pokrovsky, National Research University Moscow Higher School of Economics
Melvin Rogers, Brown University
Sandra Rosenthal, Loyola University, New Orleans
John Russon, University of Guelph
Naoko Saito, University of Tokyo
Lucia Santaella, Sao Paulo Catholic University
Charles E. Scott, Vanderbilt University and Penn State University
Richard Shusterman, Florida Atlantic University
Ellen Suckiel, University of California, Santa Cruz
Shannon Sullivan, University of North Carolina, US
Emil Visnovsky, Slovak Academy of Sciences
Gail Weiss, George Washington University
Sun Youzhong, Beijing Foreign Studies University
Emily Zakin, Miami University
Editorial Assistant
Jordan Daniels, Emory University

SUBMISSIONS: The journal will consider only one submission from any author during any one calendar year. Authors who have submitted a manuscript should not submit any additional manuscript until the following calendar year and until they receive a publication decision about any and all earlier submissions.
If you would like to submit an article to Journal of Speculative Philosophy, please visit http://www.editorialmanager.com/jsp/ and create an author profile. The online system will guide you through the steps to upload your article for submission to the editorial office.
HOW TO PREPARE A MANUSCRIPT FOR SUBMISSION: Before you submit an essay to Journal of Speculative Philosophy, please make sure that your essay follows the submission guidelines for authors. You can access those guidelines by visiting http://www.editorialmanager.com/jsp/ and clicking the "Instructions for Authors" link, located on the navigation bar at the top of the page.
Institutional Print & Online - $333.00
Institutional Print or Online - $234.00
Institutional Single Issue - $65.00
Individual Print & Online - $98.00
Individual Print or Online - $70.00
Individual Single Issue - $24.00
Outside US add Shipping & Handling - $24.00
Arts & Humanities Citation Index
European Reference Index for the Humanities and Social Sciences (ERIH PLUS)
IBZ
MLA International Bibliography
SCOPUS