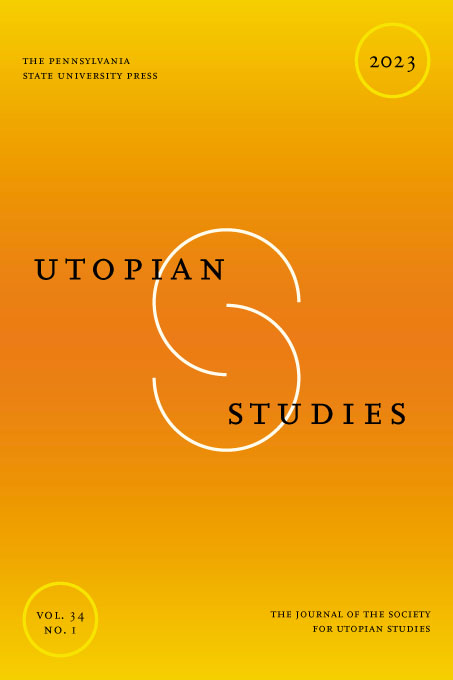 Utopian Studies
Nicole Pohl, Editor
SUBSCRIBE / RENEW
Utopian Studies
Nicole Pohl, Editor
Description

Board

Submissions

Pricing

Indexing
Utopian Studies publishes scholarly articles on a wide range of subjects related to utopias, utopianism, utopian literature, utopian theory, and intentional communities. Contributing authors come from a diverse range of fields, including American studies, architecture, the arts, classics, cultural studies, economics, engineering, environmental studies, gender studies, history, languages and literatures, philosophy, political science, psychology, sociology and urban planning. Each issue also includes dozens of reviews of recent books.
Utopian Studies is a peer-reviewed publication of the Society for Utopian Studies.
Editor
Nicole Pohl, Oxford Brookes University, England
Book Review Editors
Alexandra Sippel, Université Toulouse Jean-Jaurès, France
Sarah E. Slye, University of Cambridge
Book Reviews Assistant
Holly Marlow, Oxford Brookes University, England
Editorial Board
Miguel A. Ramiro Avilés, Universidad de Alcalá, Spain
Antonis Balasopoulos, University of Cyprus, Cyprus
Gregory Claeys, Royal Holloway, University of London, England
Peter Fitting, Innis College, University of Toronto, Canada
Carrie Hintz, Queens/CUNY, United States
Naomi Jacobs, University of Maine, United States
Timothy Miller, University of Kansas, United States
Tom Moylan, Professor Emeritus, University of Limerick, Ireland
Kenneth M. Roemer, University of Texas at Arlington, United States
Lyman Tower Sargent, Professor Emeritus, University of Missouri, St. Louis, United States
Jennifer Wagner-Lawlor, The Pennsylvania State University, United States
Phillip E. Wegner, University of Florida, United States
Advisory Board
Merritt Abrash, Professor Emeritus, Rensselaer Polytechnic Institute, United States
Kristine Anderson, Purdue University, United States
Raffaella Baccolini, Universitá di Bologna, Italy
Artur Blaim, University of Gdansk, Poland
Ronald R. Creagh, Université Paul Valery, France
Michael S. Cummings, University of Colorado at Denver, United States
J. C. Davis, Professor Emeritus, University of East Anglia, England
Jacqueline Dutton, University of Melbourne, Australia
Eóin Flannery, Mary Immaculate College, University of Limerick, Ireland
Vita Fortunati, Universitá do Bologna, Italy
Carl Guarneri, St Mary's College of California, United States
Dennis Hardy, Middlesex University, England
Gilbert Hottois, Université de Bruxelles, Belgium
Hinrich Hudde, Universität Erlangen-Nürnberg, Germany
Fredric Jameson, Duke University, United States
Zorica Joksimovic, University of Novi Sad, Serbia
Carol Farley Kessler, The Pennsylvania State University, Brandywine, United States
Lise Leibacher, University of Arizona, Tucson, United States
Ruth Levitas, Universrity of Bristol, Great Britain
Miguel Martinez Lopez, Universitat de València, Spain
William J. Metcalf, Griffith University and University of Queensland
Andrew Milner, Monash University, Australia
Dunja M. Mohr, University of Erfurt
Diane Morgan, University of Leeds, England
Gerard Raulet, Maison des Sciences de l'Homme, Paris, France
Pierre Ronzeaud, Université de Provence, France
Richard Saage, Professor Emeritus, Sächsische Akademie der Wissenschaften zu Leipzig, Germany
David N. Samuelson, California State University, Long Beach, United States
Lucy Sargisson, University of Nottingham, England
Hans Ulrich Seeber, Professor Emeritus, Universität Stuttgart, Germany
Howard Segal, University of Maine, United States
Peter G. Stillman, Vassar College, United States
Darko Suvin, Professor Emeritus, McGill University, Canada
Wilhelm Vosskamp, Universität zu Köln, Germany
Editorial Assistants
Kirsten Harris, University of Warwick, England
Kelsey Paige Mason, The Ohio State University, United States
Founding Editor
Lyman Tower Sargent, Professor Emeritus, University of Missouri, St. Louis, United States
To submit a manuscript to the editorial office, please visit http://www.editorialmanager.com/uts/ and create an author profile. The online system will guide you through the steps to upload your manuscript. Submissions must follow the most recent edition of The Chicago Manual of Style and should include an abstract and brief biographical statement. Essays should be no more than 6000 words, inclusive of an abstract and citations. Please see the complete submission guidelines here.
Books for review should be sent directly to the Editor:
Dr. Nicole Pohl
Utopian Studies
Faculty of Humanities and Social Sciences
Oxford Brookes University
Gipsy Lane
Oxford OX3 6BP
England
Institutional Print & Online - $293.00
Institutional Print or Online - $210.00
Institutional Single Issue - $78.00
Individual Print & Online - $92.00
Individual Print or Online - $66.00
Individual Single Issue - $28.00
Outside US add Shipping & Handling - $18.00
Arts & Humanities Citation Index
European Reference Index for the Humanities and Social Sciences (ERIH PLUS)
IBZ
MLA International Bibliography
SCOPUS