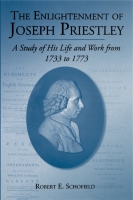 The Enlightenment of Joseph Priestley
A Study of His Life and Work from 1733 to 1773
Copyright: 1997
Dimensions: 6 x 9
Page Count: 320 pages
Illustrations: 9 illustrations
Hardcover ISBN: 978-0-271-01662-7
Paperback ISBN: 978-0-271-02510-0
CHOICE Outstanding Academic Title for 1998
"This volume stands alone as the definitive study of the making of an intellectual giant."
"Schofield vivifies the life and thought of an elusive, demanding figure. . . . [His book] combines masterful scholarship with balanced historical judgment."
"This is a magnificent book, a real monument in modern scholarly letters. Robert Schofield has brought together the many different strands of Priestley's life and achievement and has related them to the general background in which his thought was forged. The result is a readable, interesting, scholarly, perceptive, and generally splendid book."
Joseph Priestley (1733–1804) is one of the major figures of the English Enlightenment. A contemporary and friend of Benjamin Franklin and Thomas Jefferson, he exceeded even these polymaths in the breadth of his curiosity and learning. Yet no one has attempted an all-inclusive biography of Priestley, probably because he was simply too many persons for anyone easily to comprehend in a single study. Robert Schofield has devoted a lifetime of scholarship to this task. The result is a magisterial book, covering the life and works of Priestley during the critical first forty years of his life.
Although Priestley is best known as a chemist, this book is considerably more than a study in the history of science. As any good biographer must, Schofield has thoroughly studied the many activities in which Priestley was engaged. Among them are theology, electricity, chemistry, politics, English grammar, rhetoric, and educational philosophy. Schofield situates Priestley, the provincial dissenter, within the social, political, and intellectual contexts of his day and examines all the works Priestley wrote and published during this period.
Schofield singles out the first forty years of Priestley's life because these were the years of preparation and trial during which Priestley qualified for the achievements that were to make him famous. The discovery of oxygen, the defenses of Unitarianism, and the political liberalism that characterize the mature Priestley—all are foreshadowed in the young Priestley. A brief epilogue looks ahead to the next thirty years when Priestley was forced out of England and settled in Pennsylvania, the subject of Schofield's next book. But this volume stands alone as the definitive study of the making of Joseph Priestley.
Contents
List of Illustrations
Preface
1. Birstall Fieldhead and Heckmondwike, 1733-1752
2. Daventry Academy, 1752-1755
3. Needham Market and Nantwich, 1755-1761
4. Warrington Academy, 1761-1767: Language, Rhetoric
5. Warrington Academy, 1761-1767: Liberal Education, History, Biography
6. Warrington Academy, 1761-1767: Electricity
7. Leeds, 1767-1773: Theology, Natural Religion
8. Leeds, 1767-1773: Religious Polemics, Theology
9. Leeds, 1767-1773: Politics
10. Leeds, 1767-1773: Electricity, Perspective, Optics
11. Leeds, 1767-1733: Cooke, Pyrmont Water, Chemistry, Shelburne
Epilogue
Select Bibliography
Index
Other Ways to Acquire
Buy from Amazon.com

Buy from an Independent Bookstore
Buy from Powell's Books
Buy from Barnes and Noble.com
Get a License to Reuse
Find in a Library
Get the
Google Play Edition
Join
Sign up for e-mail notifications about new books and catalogs!
Related Subjects
Also of Interest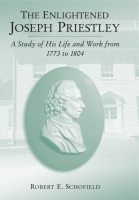 A Study of His Life and Work from 1773 to 1804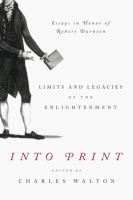 Limits and Legacies of the Enlightenment; Essays in Honor of Robert Darnton